NEWS
Revival fires are burning in the prairie provinces of Canada (see December 3 issue, page 33), and some church leaders predict the movement will flare into a great spiritual awakening across the entire nation—making it Canada's first nationwide revival in history.
"All these years I've been building my church, and now I've seen everything I built completely crumble. I saw my board members, my deacons, my Sunday-school teachers—the best people I had—all coming forward to get right with God.
"Then I saw God take that crumbled structure and build a real church, his church. It's beautiful to behold."
That is how pastor William L. McLeod of the Ebenezer Baptist Church in Saskatoon, Saskatchewan, described the revival that began in his church in mid-October. It has spread to thousands of persons, to churches and Bible colleges in Regina, Winnepeg, Edmonton, Toronto, to towns like Moose Jaw and Swift Current.
It all began when evangelists Ralph and Lou Sutera, 37-year-old twins from Mansfield, Ohio, arrived at Ebenezer for a ten-day crusade that had been the subject of congregational prayer for two years. The Suteras brought with them a team of lay people who told what God had done during meetings in Prince George, British Columbia.
Ebenezer's people crowded to the altar night after night, confessing their sins, voicing their praises, making amends, vowing renewed dedication, relating how God had given them personal spiritual victories.
"People throw arms around one another in genuine Christian brotherly love and concern," observed a school principal who attends Ebenezer. "A person with a problem knows that all these people love him and are praying for him. To me it is an overwhelming manifestation of God's love."
One night Sam and Arnold Derkson, brothers who had not spoken to each other for two years, were reconciled; they sang a duet the next night. Husbands and wives testified how their faltering, loveless marriages were rejuvenated by the love of God. A woman whose husband had left her said she was on the verge of suicide until she committed her life to Christ. A few nights later her husband was on his knees at the altar, and the two were reconciled.
People from many denominations began pouring in, and soon a dozen churches were cooperating. The University Drive Christian and Missionary Alliance Church canceled its annual missionary convention to participate. The nightly meetings continued through October and November and were moved to the city's largest sanctuary, which belongs to the United Church of Canada. Thousands jammed into double sessions Sunday afternoons and evenings, with hundreds spilling into an overflow sanctuary across town. On the last Sunday of November more than 3,000 attended double services in the city's 1,800-seat civic auditorium.
"Afterglow" meetings, lasting into the wee hours, are held in the various churches. Regular Sunday-morning services in the churches go on for hours, following the same pattern as the larger gatherings. There is little singing, sometimes no preaching, but much prayer and sharing, intense but not ecstatic or charismatic.
Pastors and church officials say the revival has brought unity to the churches, with virtually every evangelical pastor in the area participating. "Our churches were united organizationally at the beginning of this revival, but we're united organically now," commented pastor Walter Boldt of the University Drive Alliance church this month. "We've got a lot of follow-up to do, and we need to do it together."
Although theologically liberal ministers have all but ignored the revival, many of their members are involved. "I couldn't handle so much enthusiasm," remarked a prominent liberal clergyman.
The revival has been contagious. People have come from all over Canada to observe and participate, in many cases sparking revival back home. Young people from Golden Prairie upon their return home called a special meeting at their church, staged a skit depicting the deadness and apathy of the church, then told the congregation about their own new commitment to Christ. "It worked!" reported one. "Now we have a Saskatoon revival in Golden Prairie."
Chaplain W. Gordon Searle of Toronto's Central Baptist Seminary arrived skeptical about what was happening, but went home revived. At his invitation McLeod and a team staked by a Saskatoon businessman flew to Toronto and related their experiences to the seminary's eighty students. Two full-day sessions of spiritual outpouring later, the students themselves began sending out teams to scores of Toronto area churches. At one CMA church there were all-night services for a week. Seminary teams carried the revival to churches in Hamilton, North Bay, and even Pontiac, Michigan.
"In thirty-five years of ministry I have never witnessed such a spiritual movement as this," remarked Central's president, Dr. Donald Loveday.
Similar sentiments were uttered by presidents Kenneth Hanna of the 150-student Winnepeg Bible College and Alvin Martin of the 225-student Canadian Bible College (CBC) in Regina after revival teams stirred their schools. "This revival is not personality-centered or program-centered," observed Martin, who also said he was impressed by how the revival reached below the ecstasy level "clear down to a person's will."
After a stirring extended session at CBC, many students hit the streets to witness, circulate news of the revival, and invite townspeople to nightly meetings that began November 16 and were still going on early this month in a CMA church and the civic hall.
Hanna said that his students had reported numerous conversions in outreach efforts and were already spiritually high when the Saskatoon team arrived in Winnepeg, but that the ensuing revival nevertheless uprooted deep problems. The Suteras were to open a community-wide crusade in that city December 6.
Revival also spread to the 120-student Emmanuel Bible College in Kitchener, Ontario, where chapel services overflowed. Meanwhile, pastoral-lay teams traveled from Saskatoon to other areas.
A team led by pastor Boldt met with people gathered for an all-night prayer meeting in an Edmonton church. "The same thing happened," he said. "People were struck down in deep conviction. They trembled and wept in remorse over their sinfulness." Boldt was invited to speak—and give an invitation—at a business convention the next day in Edmonton. And revival flared at Beulah Alliance Church in that city with small-group afterglow sessions lasting past midnight. Boldt tells about a doctor who phoned a dentist friend at 1 A.M. and said, "I have to get right with God. Will you pray with me?"
Further south, at Wetaskiwin, Alberta, a church was already packed out when Boldt and his team arrived in town. People began weeping and coming forward to the altar during the opening song, says Boldt.
"There is such brokenness and weeping in these meetings that we're all carrying boxes of Kleenex along with our Bibles," he adds.
There is ample evidence that the revival is more than a tear-drenched catharsis or passing spiritual high. The movement has received little media attention, but the Saskatoon Star Phoenix noted that merchants were besieged by repentant shoplifters wanting to make restitution. Police noticed a sudden decline in night-time crime and brawls involving young people. Principals and teachers remarked about the dramatic changes in student behavior.
Two deacons of a Regina church said to have been feuding for twelve years forgave each other and were reconciled. Family life improved for many. Numerous youths testified that they had kicked drugs and turned on to Jesus during the revival, and that Jesus had given them a new love for their parents. A father spoke out: "I used to literally hate my son because of his long hair. Now I couldn't care less about hair. The Lord has given me a love for him that goes way beyond things like that."
A troubled Saskatoon high-school teacher said he found the peace of God at one of the meetings, adding: "I used to take tranquilizers. That used to be my saviour. Without them I'd just be such a bundle of nerves that teaching was agony. Now I have such a deep peace that I roll out of bed singing in the morning."
Pastor McLeod's 17-year-old son Timothy declared he was through with play acting, accepted Christ, and proceeded to witness to classmates. Boldt's teen-age son Wayne saw five of the "seven impossibles" among his classmates receive Christ during the first week of revival. Recently they have been traveling as a testimony team to churches and schools elsewhere.
The generation gap never had a chance. Young people declined to be segregated into their own afterglow groups. It was common to see youths and middle-aged people praying together and counseling one another.
Denominational barriers dissolved; doctrinal differences were ignored. Love prevailed. Catholics, Lutherans, Baptists, Nazarenes, and others prayed, wept, and shared together as if they had been in the same family for years.
Crusade rulebooks have been set aside in favor of flexibility, says Ralph Sutera. There are no structures or schedules, "thus freeing the Holy Spirit." There are no counselors; instead, volunteers are asked to pray with those who express needs. Leadership and preaching chores are shared among the evangelists, ministers, and lay people "as the Spirit leads."
Teacher Leslie Tarr of the Toronto seminary sees a three-fold emphasis in the revival: self-crucifixion, the Holy Spirit's ministry, and the lordship of Christ. He says it is Canada's biggest revival to date, preceded by only three other major occurrences: an eighteenth-century revival in the Maritime Provinces, a nineteenth-century movement in the Ottawa Valley, and a happening in Hamilton, Ontario, early in this century.
Baptist executive David Clink, one of the many clergymen whose lives have been deeply affected in the current revival, says: "I think that this is God's hour for Canada. We've never had a nationwide revival, but I sense that this could be it."
Although there have been many conversions, there has been no organized outreach to non-Christians. Crusade spokesmen say this will be a natural by-product when believers are revived and right with God.
Last Respects
On a gray, chilly day, the last of November, J. Howard Pew was paid final tribute as an extraordinary Christian layman whose life had influenced three generations. Pew died November 27 in his Ardmore, Pennsylvania, home at the age of 89 (see also editorial, page 22). The funeral service was held in the Ardmore Presbyterian Church, where he had served as a ruling elder. The large stone structure was filled to capacity.
In keeping with Pew's personal wishes, the thirty-five minute service was simple and restrained. The minister, Dr. William Faulds, uttered but one superlative in his eulogy. He declared that it could be said of Pew, as it was said of Herbert Hoover, whom Pew greatly admired: "He was not capable of a dishonest act."
Faulds recalled that Pew himself had helped to plan the service ("he left few things unplanned"), suggesting Scripture readings. He quoted Pew as telling him with a characteristic twinkle, "I've never told you what to preach, and I won't now, but don't say too much."
Faulds quoted Psalm 112, which sets forth principles for philanthrophy. Pew had been a leading benefactor of Christian causes, particularly those relating to education and literature. He was also one of the world's most respected businessmen, but because he shunned recognition for his generosity and enterprise, he was not a noted public figure.
Pew had asked evangelist Billy Graham to participate in the funeral service. Graham read several psalms, including the first and twenty-third, and gave a prayer.
Pew and Graham played leading roles in the establishment of CHRISTIANITY TODAY in 1956. Both have served on the magazine's board of directors through its life.
Have something to add about this? See something we missed? Share your feedback here.
Our digital archives are a work in progress. Let us know if corrections need to be made.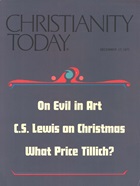 This article is from the December 17 1971 issue.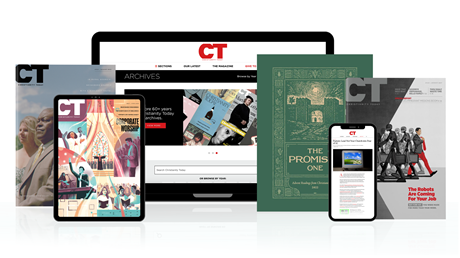 Subscribe to Christianity Today and get access to this article plus 65+ years of archives.
Home delivery of CT magazine
Complete access to articles on ChristianityToday.com
Over 120 years of magazine archives plus full access to all of CT's online archives
Subscribe Now
Read These Next
Trending

Died: Pat Robertson, Broadcast Pioneer Who Brought Christian TV to the Mainstream

With CBN, "The 700 Club," Regent, the Christian Coalition, and a run for president, he changed evangelicals' place in public life.

FrançaisIndonesianрусскийУкраїнська

From the Magazine

When Politics Saved 25 Million Lives

Twenty years ago, Republicans, Democrats, evangelicals, gay activists, and African leaders joined forces to combat AIDS. Will their legacy survive today's partisanship?

Editor's Pick

PCA's 50th Anniversary Comes During a Season of Grief

Presbyterians expect less fight and more fatigue as they gather following the Covenant shooting and the deaths of Harry Reeder and Tim Keller.
A Great Awakening?: Revival in Canada
A Great Awakening?: Revival in Canada