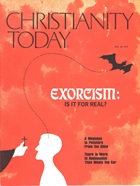 This article is from the July 26 1974 issue. Subscribers can read all of CT's digital archives.
"What will make this assembly memorable," observed the Reverend Robert C. Lamar, new moderator of the United Presbyterian Church in the U.S.A. (UPC), shortly before he was elected by the 186th General Assembly in Louisville last month, "is its meeting with the Presbyterian Church in the U. S. (Southern)." That may be true. Except for the vote to receive for study a plan that could unite the two denominations by 1977, little that was new or even striking emerged during the ten-day marathon of discussions and resolutions.
The Plan of Union will now be studied by the presbyteries; no official action is expected before 1976. Then, if the plan is passed, presbyteries would need to ratify the revised union document, and another churchwide convocation would need to finalize their recommendations.
Underlying nearly every action of this year's assembly was a report of sharply declining giving to General Assembly causes, a trend that has already caused major cutbacks in denominational staff and may produce yet another 25 per cent cut for 1975. Several years ago the General Assembly budget stood at $40 million. It is now $32 million and will drop to $26 million for next year. Unrestricted reserves were drawn upon to make up deficits in recent years, and the 1975 budget reflects the depletion of these. It rather than higher budgets will now be normative. The denomination still has reserves totaling approximately $20 million, but these are committed to other causes. "The grim fact is that the United Presbyterian Church could face claims against it totaling more than it has in reserve funds," declared Richard H. Miller, chairman of the General Assembly Mission Council's section on budgeting.
Last year, total UPC giving rose $37.6 million ...
1
Our digital archives are a work in progress. Let us know if corrections need to be made.
A Crisis of Confidence