My deadline for writing this column came shortly after the terrorist attacks of September 11. A dozen different potential columns passed through my mind. In the end, I decided to devote this space to excerpts from a letter faxed to me on September 12, one day after the tragedy. It gives personal, individual focus to a conflict normally discussed in global terms—and poses an important challenge to the church. For me, everything going on in the world took on a different slant because of this letter.
Dear Mr. Yancey,
Considering the terrible tragedy that happened yesterday in this nation, I don't know whether this is the appropriate time to write about something personal. But perhaps because of what happened, I think I should write this letter, because I am convinced now that evil does exist in this world.
Growing up in Pakistan, I was a moderately religious Muslim. During the past few months, some of the events in my life caused me to think about God. A friend of mine had a brain tumor, and that caused me an immense amount of pain and sent me searching for the answer for "Why?" I read some books about the prophet Muhammad and the Islamic faith by Western scholars. I was shocked to learn a lot of things about my religion that I never knew. I felt—and still feel—betrayed and hurt. In a closed society like Pakistan, any sort of criticism of Islam is punishable by death, so one cannot have an unbiased view of the faith.
As I found out all these not so agreeable things about Islam, I found myself drawn toward the Christian faith. So I just called [a local pastor in the United States]. Over the past few months, I met with him regularly, and every time I asked him a lot of questions. Each time he would give me books to read.
For a Muslim person to be that interested in the Christian faith is unthinkable. [My family and I] have talked about issues like the concept of salvation in Islam (which is through deeds) and that of Christianity. They find it quite ridiculous—the concept of a Savior and one person dying for everyone's sins, and that all you have to do is to believe in him. To be honest, I find this concept a little strange too.
Islam does believe in the Virgin Birth of Jesus, but it says that he was a prophet of God and no more. It also says that he was lifted up by God and was not crucified; the Jews only thought that they crucified him. Islam even believes in the Second Coming of Jesus. I have found myself defending the Christian beliefs against my family, arguing that the Crucifixion is a historical fact and that someone who is so special as to be born of a virgin—and who would even come back to the world—can't be just a prophet of God.
But the most painful discovery for me about the Islamic faith has been its concept of militancy. I always used to think that these fanatics were just misguided people who give Islam a bad name. To be sure, Islam does not permit killing of innocent women and children, but as I have found out, its teachings are quite different from those of Jesus, who wants you to turn the other cheek. As I know now, violence does have a strong precedent in Islam.
The terrible tragedy that happened yesterday in this country seems to be the logical outcome of teachings that tell you it's okay to reply in kind. I think that's what happens when you try to enforce God's will in this earthly world rather than believing that his kingdom is not of this world but of the other world.
My mom is so distressed. She has been pleading with me not to abandon my faith. I love her so much. But how can I force my heart to believe in something that just doesn't seem right? I still have a lot of questions about Christian beliefs, but I know that if I decide to convert, I will be causing an immense amount of heartbreak. I would be ostracized by all my relatives. Also, my legal status in this country expires next year, and considering my views about Islam now—and my sympathetic and favorable view about the Christian faith—I can't imagine going back to Pakistan.
Do you think I would find loving and open-minded friends in the church? Would it be fair to say some people would put their guards up and won't want anything to do with someone who belongs to some different Asian Indian race? Someone who has a different color of skin and speaks with an accent?
I really am so confused, so lost. Please tell me what to do. God bless you.
Related Elsewhere
Muslim perspectives on Jesus and Christianity are ubiquitous online. They include Al-Sunnah, Harakah, Islam 101, Answering Christianity, and WhatIsIslam.com
Christian sites discussing Muslim beliefs about Jesus and Christianity are available at Answering Islam, Campus Crusade for Christ, and FarsiNet.
Previous Christianity Today articles on Muslim-Christian relations include:
How Muslims See Christianity | Many Muslims don't understand Christianity—especially the idea of salvation by grace through faith. (March 29, 2000)
Islamic Fundamentals | Christians have a responsibility to understand our Muslim neighbors and their beliefs. (March 28, 2000)
Article continues below
Islam, U.S.A. | Are Christians prepared for Muslims in the mainstream? (March 27, 2000)
Recent Yancey columns for Christianity Today include:
Honest Church Marketing | We enhance our 'image' by offering the world a realistic picture of faith. (October 24, 2001)
Compassion Confusion | We should serve the needy even when it has bad political consequences. (August 28, 2001)
Fixing Our Weakest Link | Evangelicals should be more "needful of the minds of others." (July 13, 2001)
Replenishing the Inner Pastor | Churches should take greater interest in their shepherds' spiritual health. (May 14, 2001)
Beyond Flesh and Blood | I used to disdain biblical talk of "invisible spirits." No more. (Mar. 27, 2001)
God at Large | A look around the globe reveals a God as big as we want him to be. (Jan. 31, 2001)
Humility's Many Faces | Everyone I've looked up to has shared one trait. (Dec. 4, 2000)
Getting a Life | The most fully alive persons are those who give their lives away. (Oct. 16, 2000)
To Rise, It Stoops | How parenting mirrors the character of God. (Aug. 29, 2000)
Lessons From Rock Bottom | The church can learn about grace from the recovery movement. (July 11, 2000)
Chess Master | God brings victory even from our bad moves. (May 15, 2000)
Philip Yancey previously reflected on September 11 in his essay, "Where was God on 9/11?"
Yancey's Where is God When it Hurts, Special Edition and Soul Survivor: How My Faith Survived the Church are available on Christianbook.com
For more perspective on the aftermath of the September 11 terrorist attacks, see Christianity Today's previous essays and editorials:
Blame Game | Seeking mercy is a better response to 9/11 than seeking meaning. (Nov. 8, 2001)
Blood, Sweat, and Prayers | One man's journal of ministry among New York City's firefighters and police officers at Ground Zero. (Nov. 8, 2001)
Rally Round the Flag | America may not be God's chosen nation, but it does have a mission that churches can support. (Nov. 7, 2001)
Wake-up Call | If September 11 was a divine warning, it's God's people who are being warned. (Nov. 5, 2001)
Where Was God on 9/11? | Reflections from Ground Zero and beyond. (Oct. 23, 2001)
Prayer After 9.11.01 | The author of The Prayer of Jabez says now, more than ever, we need to seek God's power. (Sept. 28, 2001)
Judgment Day | God promised that calamity would follow disobedience. So why are we quick to dismiss it as a reason for the September 11 attacks? (Sept. 25, 2001)
Article continues below
Now What? | A Christian response to religious terrorism. (Sept. 21, 2001)
To Embrace the Enemy | Is reconciliation possible in the wake of such evil? (Sept. 21, 2001)
After the Grave in the Air | True reconciliation comes not by ignoring justice nor by putting justice first, but by unconditional embrace. (Sept. 21, 2001)
Taking It Personally | What do we do with all this anger? (Sept. 14, 2001)
A Wake-Up Call to Become Global Christians | The deadly attacks on America will provoke many responses, but Christians are commanded to love our neighbors. (Sept. 12, 2001)
God's Message in the Language of Events | In the face of evil, we must focus on keeping our hearts right. (Sept. 11, 2001)above all else.
When Sin Reigns | An event like this shows us what humans are capable of becoming—both as children of darkness and of light. (Sept. 13, 2001)
Have something to add about this? See something we missed? Share your feedback here.
Philip Yancey
Philip Yancey is editor at large of Christianity Today and cochair of the editorial board for Books and Culture. Yancey's most recent book is What Good Is God?: In Search of a Faith That Matters. His other books include Prayer (2006), Rumors of Another World (2003), Reaching for the Invisible God (2000), The Bible Jesus Read (1999), What's So Amazing About Grace? (1998), The Jesus I Never Knew (1995), Where is God When It Hurts (1990), and many others. His Christianity Today column ran from 1985 to 2009.
Previous Philip Yancey Columns:
Our digital archives are a work in progress. Let us know if corrections need to be made.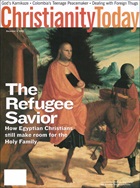 This article is from the December 3 2001 issue.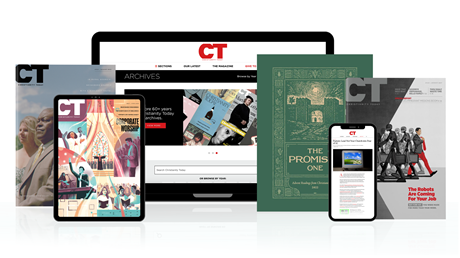 Annual & Monthly subscriptions available.
Print & Digital Issues of CT magazine
Complete access to every article on ChristianityToday.com
Unlimited access to 65+ years of CT's online archives
Member-only special issues
Subscribe
Letter from a Muslim Seeker
Letter from a Muslim Seeker