John Paul Lederach was on his way home from Colombia on September 10. Instead, like thousands of others, he spent the next few days stranded at an airport, and reflecting on pacifism after the September 11 terrorist attacks.
Lederach was due in class at Notre Dame, where he teaches international peacebuilding. Lederach has worked with Colombians for more than ten years, addressing that nation's bloody conflict. While stranded, Lederach pulled out his laptop computer and began to write.
A Mennonite and a pacifist, he drafted a wide-ranging proposal to treat the terrorists as criminals and to erode their networks from within their own cultures.
By the time Lederach arrived home, his piece had been posted online (www.mediate.com) and had gained wide readership among pacifists.
Global terrorism has provided a new challenge to the commitments of Lederach and other members of historic peace churches (mainly Quakers, Brethren, and Mennonites).
Lederach and others remain committed to pacifism. But many Christian pacifists have been shaken by the events of September 11.
Scott Simon, a National Public Radio reporter and a Quaker, said during a September 25 lecture that he had seen the "fatal flaw" of his former pacifism: "All the best people could be killed by all the worst ones."
In confronting terrorists, "the United States has no sane alternative but to wage war with. … unflinching resolution," he said. Simon repeated this declaration in a Wall Street Journal column.
Echoes of Simon's perspective rattled through many peace-church congregations. But in the weeks since, many activists have regained their footing. Largely drowned out by widespread support for the war on terrorism, they have begun carrying on an equally persistent alternative witness.
Disappointed
Christian pacifist scholars acknowledge that members of their churches have joined military efforts in the last 150 years. Many, in fact, signed up for duty in both world wars.
"Simon's conclusions are disappointing but not surprising," says Patrick Nugent, director of the Center for Quaker Thought and Practice at Earlham College in Richmond, Indiana. "Pacifists whose convictions are the fruit of secular strategic reasoning tend to collapse when confronted with the strategic weaknesses of pacifism. Quaker pacifism was originally, and at its best still is, a response
of discipleship, an attempt to be faithful to Jesus' clear instructions to love our enemies, pray for those who persecute us, be peacemakers, suffer for righteousness' sake, and not resist the evildoer."
Simon told Christianity Today that a key to his own change was reporting on the wars in Bosnia and Kosovo: "I could not figure out any effective pacifist response. I could figure out one that would be morally impeccable, but not one that would work."
Ruth Krall directs the Peace, Justice, and Conflict Studies program at Goshen College, a Mennonite school in Indiana. "Yes, my initial reaction [on September 11] was complete shock," she says. "But I still affirm the Mennonite position that the call of Christ is to nonparticipation in violence and war."
Krall's pacifism is not only a matter of doctrine; her program sends students into war zones. While there, they work on long-term projects aimed at building peace. And she has been in war zones herself. Students at Goshen have gathered more than a thousand signatures on an antiwar statement. They have organized vigils and forums.
The Long Haul
Ron Kraybill teaches peacebuilding at Eastern Mennonite University in Harrisonburg, Virginia. "I have had flashes—moments—in recent weeks when my feeling has been, Bomb the hell out of them!" he says. "Other Christian pacifists I know have had the same feelings. But we have other commitments, and I believe these also align with pragmatic alternatives to war." Kraybill is well aware that views like his are in the minority.
For his part, John Paul Lederach is in for the long haul. "Peacebuilding is tough, complex work," he says. "I don't expect to have overnight accomplishments. Many of the conflicts we face have been going on for generations and may take generations to resolve."
But terrorist assaults on civilians are different from attacking standing armies in battle. Ron Mock, director of the Peace Learning Center at George Fox University, an evangelical Quaker school in Newberg, Oregon, has reexamined his own commitments, because a terrorist attack may happen anywhere, anyplace.
"For instance, if I had been on Flight 93 over Pennsylvania, I believe I would have joined the assault on the hijackers," Mock says. "But I think that would have been a Christian pacifist thing to do—though it's hard for me to explain exactly why, and I'm not fully comfortable with it."
Related Elsewhere:
John Paul Lederach's "Quo Vadis? Reframing Terror from the Perspective of Conflict Resolution" is online at Mediate.com.
At the end of September, Christian History Corner ran an excerpt from a document written by Hans Schnell in about 1575. It retains immediacy because it still sums up the position of many Christian pacifists, and because among the enemies early Anabaptists refused to fight were aggressive Ottoman Turks—a serious Muslim threat in Europe.
Article continues below
Christian History Corner also examined Augustine's "just war" theory that still guides the west.
In a Weekly Standard article, J. Bottum criticized "soft pacifism" among American evangelicals.
For a more modern defense of Christian pacifism, see Don Murphy's 1986 article, "Can a Christian Be a Pacifist?" from the Dominican journal Spirituality Today.
A Christianity Today Weblog shortly after September 11 examined what Christian leaders were saying about just-war theory and pacifism.
Previous Christianity Today's essays and editorials on Christian response to September 11 include:
Blame Game | Seeking mercy is a better response to 9/11 than seeking meaning. (Nov. 8, 2001)
Rally Round the Flag | America may not be God's chosen nation, but it does have a mission that churches can support. (Nov. 7, 2001)
Wake-up Call | If September 11 was a divine warning, it's God's people who are being warned. (Nov. 5, 2001)
Where Was God on 9/11? | Reflections from Ground Zero and beyond. (Oct.23, 2001)
Judgment Day | God promised that calamity would follow disobedience. So why are we quick to dismiss it as a reason for the September 11 attacks? (Sept. 25, 2001)
Now What? | A Christian response to religious terrorism. (Sept. 21, 2001)
To Embrace the Enemy | Is reconciliation possible in the wake of such evil? (Sept. 21, 2001)
After the Grave in the Air | True reconciliation comes not by ignoring justice nor by putting justice first, but by unconditional embrace. (Sept. 21, 2001)
Taking It Personally | What do we do with all this anger? (Sept. 14, 2001)
A Wake-Up Call to Become Global Christians | The deadly attacks on America will provoke many responses, but Christians are commanded to love our neighbors. (Sept. 12, 2001)
God's Message in the Language of Events | In the face of evil, we must focus on keeping our hearts right. (Sept. 11, 2001)above all else.
When Sin Reigns | An event like this shows us what humans are capable of becoming—both as children of darkness and of light. (Sept. 13, 2001)
Fear and Hate | In times like this, as in all other times, Christians have a responsibility to love above all else. (Sept. 11, 2001)
Have something to add about this? See something we missed? Share your feedback here.
Our digital archives are a work in progress. Let us know if corrections need to be made.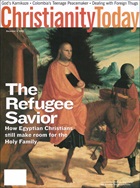 This article is from the December 3 2001 issue.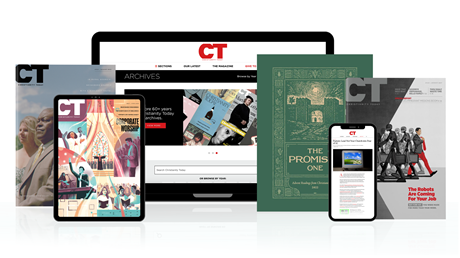 Subscribe to Christianity Today and get access to this article plus 65+ years of archives.
Home delivery of CT magazine
Complete access to articles on ChristianityToday.com
Over 120 years of magazine archives plus full access to all of CT's online archives
Subscribe Now
Rethinking Pacifism
Rethinking Pacifism