Dennis Fulton's closest call as a missionary pilot wasn't amid a hail of bullets during a flight but with armed, drunken soldiers on an airfield in the central African country of Zaire. They threatened to shoot.
"We have had hijacking; we have had hostages in the history of our organization," says Fulton, now chief operating officer of Mission Aviation Fellowship (MAF). The Redlands, California-based ministry support organization operates more than 70 aircraft in remote regions of 24 countries. Last year it logged 41,000 flights.
But generally, he says, "Getting shot out of the sky is not a big concern." Only six MAF planes have ever been hit by gunfire, and none of those crashed. "Being shot on the ground is another story. I'm much more concerned about driving from the house to the airport on the roads in a lot of these countries."
On April 20, a Peruvian Air Force plane downed a Cessna belonging to the Harrisburg, Pennsylvania-based Association of Baptists for World Evangelism (ABWE), mistaking it for a drug-running craft. While the tragic deaths of ABWE missionary Veronica Bowers, 35, and her 7-month-old adopted daughter Charity may prompt agencies to rethink safety and security issues, representatives agree that doing everything by the book, as the ABWE Cessna's pilot Kevin Donaldson apparently did, does not guarantee safety.
"We feel that this is an isolated incident," says Arthur Lightbody, vice president of communications for JAARS (formerly the Jungle Aviation and Research Service), the Waxhaw, North Carolina-based aviation arm of Wycliffe Bible Translators. JAARS-trained pilots in 10 countries average 15,000 flights a year.
"Missions are used to chaos," Fulton says, citing corruption and crumbling infrastructure in many countries. "What we haven't realized is that we've gone from living in a crazy world to a dangerous world. That's what we're seeing now: the upswing in hostage-taking [and] hijackings. Those are more threats than actually being shot out of the sky."
"There are a lot of bullet holes in missionary aircraft, especially in Africa," says Edward H. Robinson, director of missionary aviation technology for Moody Aviation, a pilot training program in Elizabethton, Tennessee.
But those bullet holes came from ground-to-air fire, according to Chris Donesa, staff director and chief counsel of the U.S. House of Representatives Subcommittee on Criminal Justice, Drug Policy, and Human Resources. Peru and Colombia are the primary problem countries in South America, where the United States cooperates with other governments in shooting down planes suspected of carrying drugs. Donesa says the ABWE incident in Peru is unique.
That cooperative program has been suspended in Peru and Colombia pending the results of a U.S. government investigation. Jim Bowers, husband of Veronica, and their 6-year-old, son, Cory, were not hurt. Pilot Donaldson was seriously injured with multiple wounds to his legs.
Balancing Risks, Benefits
Missionary aviators, who consider themselves guests of the countries where they work, are careful to respect local laws, obey regulations, file flight plans, know the territory, maintain relationships with authorities and with locals, heed advice on travel and safety, keep equipment in top condition, and attend safety seminars every three to four years.
Both JAARS and MAF sometimes fly in volatile areas. MAF has pulled its workers out of Congo and Haiti several times but left its ministry infrastructure in place and later returned. But both JAARS and MAF have pulled out of Colombia, where internal warfare has raged for years. Lightbody believes that flying small aircraft to support missionaries generally is a safe activity.
"Generally, what we're doing is not dangerous," he says. "I would feel very secure flying with any of our aviation personnel because of the training and orientation that they have. They don't push the limit."
But Fulton and others acknowledge that not all dangers can be eliminated from their ministry work. "It's a risk," he says.
Many missionary pilots are graduates of the well-regarded Moody Aviation program, Robinson says. Moody's missionary aviation technology program requires two years of Bible study at Moody Bible Institute in Chicago and three years of pilot and mechanic training in Elizabethton. About 25 pilots graduate from the program each year, Robinson says. About 30 to 35 missionary organizations operate aircraft, he says. The largest air fleets belong to MAF, JAARS, Africa Inland Mission, and New Tribes Mission.
Moody graduate, former MAF pilot and Moody flight instructor Joe Hopkins founded Mission Safety International (MSI) in 1983 to help mission agencies with safety. Hopkins estimates that 500 to 600 missionary aircraft log 100,000 flights annually.
Fifteen missionary planes crashed in 2000, resulting in 16 deaths and six serious injuries, he says. "Unfortunately, the missionary rate is probably equivalent to the accident rate for general aviation in the U.S.," Hopkins says. "My goal in MSI is to help make missionary aviation as safe as flying on [commercial] airlines."
In 1998 and 1999, there were only three fatal accidents during 16.9 million domestic commercial flights, killing 13 people. That was a particularly safe period. In 1996, however, three fatal accidents killed 342 people during 8.2 million domestic commericial flights.
Hopkins believes the higher missionary accident rate is understandable. "When you look at the conditions, too, there is some justification for that," he says.
Missionary pilots are their own meteorologists, and they fly on no-frills airstrips, doing for themselves what other specialists would do for them in more developed settings—loading, unloading, maintenance, and scheduling. "They have to be a jack of all trades," Hopkins says. "There are a lot of demands on a missionary pilot."
Ministries that operate aircraft have drawn up criteria to help them decide whether to pull out of a country. MAF, Fulton says, is often among the last ministries to leave an area deemed risky. "Our service is to support the mission of the local church," he says. "We have a fairly lengthy security checklist," which varies from country to country.
Much depends on how crucial MAF's presence is in a place, he says. As a rule, "As long as there are missionaries, we'll need to be there."
While ABWE temporarily has curtailed flights in Peru, it is "absolutely not" looking to scale back its work there, says E. C. Haskell, ABWE's director of communications
The mission has assigned 47 full-time workers to that country. Before the April crash, its two airplanes logged a total of about 180 flights per year.
Says Haskell, "We certainly anticipate we're going to go ahead full steam."
Related Elsewhere
See our earlier coverage of the shooting, "Peru's Churches Want Inquiry into Why Missionary Plane Was Shot Down | Christian leaders lament 'absurd, excessive use of force' that killed Roni Bowers and her infant daughter." (May 2, 2001)
The ABWE has many resources about the tragedy on its site, including photos, biographical sketches of Roni Bowers and others, links to media coverage, and other items.
The aviation area of the JAARS site has an article on "The 'Glamour' of a Jungle Pilot," recruiting information, and other resources.
Mission Aviation Fellowship's site has MAF-related news from around the world, an "e-mail a missionary" program, and other resources.
Mission Safety International's site doesn't have much apart from a few paragraphs describing the organization.
Article continues below
Other media coverage of the shooting includes:
Peru Sees Missionary Jet Probe Concluded Next Week — Reuters (May 7, 2001)

Risking their lives for faith | The mistaken killing of a missionary and her daughter in Peru underscores the serious peril that many face. Believers say that fearlessness is the essence of their calling. — Los Angeles Times (May 5, 2001)

Downed U.S. Plane Inspected in Peru — Associated Press (May 4, 2001)

Law agencies estimate 50 planes shot or forced down in drug war — CNN (May 2, 2001)

Missionaries facing world of new perils | Hostage-takings, robberies among on-the-job risks — Chicago Tribune (Apr. 28, 2001)

Simple, devoted lives on the Amazon | Tragedy does not appear to have weakened the ardor of the five remaining American missionary families who troll the Amazon around Iquitos on their houseboats for weeks at a time, playing gospel music from loudspeakers like pied pipers playing for souls. — The New York Times (Apr. 28, 2001)

Missionaries are a daring, dauntless band inspired by faith | As a foreign correspondent in Peru, I was awed by the almost indescribable passion missionaries brought to their work. Georgie Anne Geyer, Universal Press Syndicate/Chicago Tribune (Apr. 27, 2001)

Peru missionaries face dangers | For the two dozen or so U.S. missionaries who work in northeastern Peru, it's a life of risks. — Associated Press (Apr. 27, 2001)
Have something to add about this? See something we missed? Share your feedback here.
Our digital archives are a work in progress. Let us know if corrections need to be made.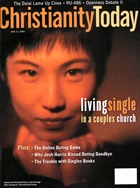 This article is from the June 11 2001 issue.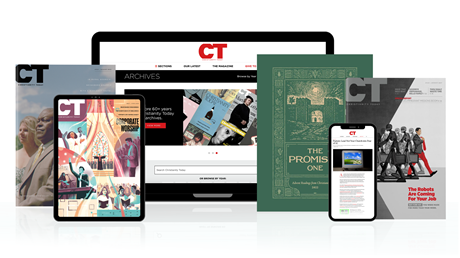 Subscribe to Christianity Today and get access to this article plus 65+ years of archives.
Home delivery of CT magazine
Complete access to articles on ChristianityToday.com
Over 120 years of magazine archives plus full access to all of CT's online archives
Subscribe Now
Nigeria: Teens 'Rescued' from Muslim Marriages
Nigeria: Teens 'Rescued' from Muslim Marriages