High atop the pentagon, a few yards from the jet-sized hole in the wall, workmen carefully unfurl a huge American flag. As they secure the Stars and Stripes to the broken building, one of the men lifts his hand in a quiet salute.
A picture of this scene landed on the front page of newspapers across the country, symbolizing what has suddenly become deeply important to Americans: national unity.
In the weeks following the terrorist attacks, Americans have crowded into churches. Many congregations rebroadcast President Bush's memorable address to Congress and gave stirring patriotic sermons. Mostly it was the right kind of civil religion, urging us to be the best of citizens wherever God places us.
We are also busy comforting the grief-stricken and reminding our leaders about Christian teaching on the just use of military force. But what's missing in the flurry of flag-waving and comfort-giving is something that should be the church's primary task: calling itself, and then the nation, to repentance.
For years, many of us have only half-jokingly said that if God doesn't bring judgment on America soon, he'll have to apologize to Sodom and Gomorrah. I approach this subject gingerly because it's easy to be misunderstood, and I try to avoid end-times prophecy that makes Christians appear irrelevant to the world.
Still, the question must be asked: Can we discern God's purposes in these earthshaking events? Might God be using these attacks as a warning of impending judgment?
We must be careful how we raise this question. One prominent religious leader publicly blamed homosexuals and abortionists for bringing God's judgment on America. But this is not a time for angry finger-pointing; our job is to bring Americans together so we can teach them. Besides, when it comes to judgment, we need to look a little closer to home.
Judgment always begins with God's people. So the first message of the church must point to our own need for repentance. And if we are honest, we have much to repent for; our idols look little different from the culture's.
Time after time, throughout the Old Testament, we see God's people falling into the sin of idolatry, being oppressed by their enemies, repenting, and then being delivered by God. The message is clear: We must repent for ourselves and our nation, just as Nehemiah did before God appointed him to leadership. Later he led the Jews (recently returned from Persian exile) in corporate confession and repentance.
Jesus himself was confronted by people asking why bad things happen to good people—for instance, those who had recently been murdered in the temple. Jesus gave no soothing explanations. Instead, he reminded them of others killed by a falling tower and said, "Repent or you, too, will perish." We should understand repentance as Martin Luther did—central to life in Christ.
Let's say, for the sake of argument, that God is using these attacks as a sign of judgment. What will save us, then, are not the Marines, cruise missiles, satellites or smart bombs; the only thing that will save us is deep and genuine repentance. William Wilberforce was a Christian member of Parliament who fought to abolish slavery in the British Empire. During a crucial moment in that campaign he said that his hope for Britain depended "not so much on her navies and armies, nor on the wisdom of her rulers, as on the persuasion that she still contains many who love and obey the gospel of Christ, that their prayers may yet prevail."
We must always be careful about how we express this to our friends. We're not blaming God for terrorist attacks. God does not create evil, but he does use it to his purposes. That's a big difference. I've been deeply burdened since September 11. I find myself at times crying out for God's mercy—for myself, the church, my ministry, and our country.
If I am correct in thinking God may be using these events to wake up America, we must face the same sobering reality Wilberforce faced. We will prevail not so much because of the diplomatic or military efforts of our government, but only if God in his mercy decides to forgive us, heal our land, and give America another chance. This means that the role of the church is of life-and-death importance.
So, yes, keep those flags waving and comfort those who mourn, but don't stop there. While we cannot know God's great purposes in these tumultuous and terrifying events, we should be seeking his mercy through repentance, in the full Greek sense of metanoia: a changing of our hearts and our ways.
Related Elsewhere:
Shortly after the attacks, Jerry Falwell blamed pagans, abortionists, feminists, gays, lesbians and the ACLU for the devastation. See The Washington Post and The New York Times for further coverage.
Frederica Mathewes-Green wrote in September that God promised calamity would follow disobedience—so why are we quick to dismiss judgment as a reason for the September 11 attacks?
Other Christianity Today essays and analysis following the September 11 attacks include:
Article continues below
Bush's Defining Moment | The President, facing a grief-stricken nation under attack, finds his voice and his mission. (Nov. 2, 2001)
White-Powder Worries | The anthrax scare has put us on edge. How shall we deal with wartime fears? (Nov. 1, 2001)
Where Was God on 9/11? | Reflections from Ground Zero and beyond. (Oct.23, 2001)
Apocalypse Not | As speculations mount regarding the significance of recent events in God's plan for the end of the world, voices from the past urge restraint. (Oct. 12, 2001)
Books & Culture Corner: Myths of the Taliban | Misinformation and disinformation abounds. What do we know? (Sept. 24, 2001)
Now What? | A Christian response to religious terrorism. (Sept. 21, 2001)
To Embrace the Enemy | Is reconciliation possible in the wake of such evil? (Sept. 21, 2001)
After the Grave in the Air | True reconciliation comes not by ignoring justice nor by putting justice first, but by unconditional embrace. (Sept. 21, 2001)
Was September 11 the Beginning of the End? | Observers say geography and gravity of attacks have led to little prophecy speculation. (Sept. 19, 2001)
Books & Culture Corner: The Imagination of Disaster | "We thought we were invulnerable." Really? (Sept. 17, 2001)
Taking It Personally | What do we do with all this anger? (Sept. 14, 2001)
A Wake-Up Call to Become Global Christians | The deadly attacks on America will provoke many responses, but Christians are commanded to love our neighbors. (Sept. 12, 2001)
God's Message in the Language of Events | In the face of evil, we must focus on keeping our hearts right. (Sept. 11, 2001)above all else.
Reflections on Suffering | Classic and contemporary quotations for dark times. (Sept. 13, 2001)
When Sin Reigns | An event like this shows us what humans are capable of becoming—both as children of darkness and of light. (Sept. 13, 2001)
Recent Charles Colson columns for Christianity Today include:
The New Tyranny | Biotechnology threatens to turn humanity into raw material. (Oct. 5, 2001)
Merchants of Cool | We should be angry that the media hawks violence and that parents allow it. (June 6, 2001)
Slouching into Sloth | The XFL is but the latest sign of the coarsening of our culture. (Apr. 17, 2001)
Checks and (out of) Balance | Moral truth is in jeopardy when the courts enter the business of making law. (Feb. 27, 2001)
Pander Politics | Poll-driven elections turn voters into self-seeking consumers.(Jan. 3, 2001)
Neighborhood Outpost | Changing a culture takes more than politics. (Nov.8, 2000)
MAD No More | In this post-Cold War era, it's time to rethink our nation's defensive strategy. (Sept. 27, 2000)
Salad-Bar Christianity | Too many believers pick and choose their own truths. (Aug. 8, 2000)
A Healthy 'Cult' | A lively response by one unusual audience shows how God's power transforms culture. (June 12, 2000)
Have something to add about this? See something we missed? Share your feedback here.
Our digital archives are a work in progress. Let us know if corrections need to be made.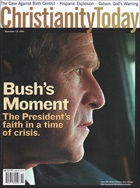 This article is from the November 12 2001 issue.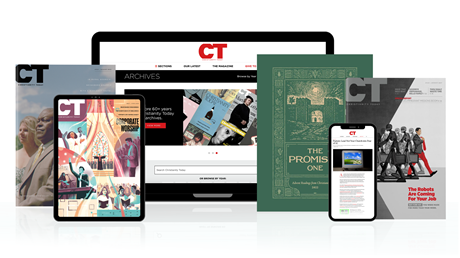 Subscribe to Christianity Today and get access to this article plus 65+ years of archives.
Home delivery of CT magazine
Complete access to articles on ChristianityToday.com
Over 120 years of magazine archives plus full access to all of CT's online archives
Subscribe Now
Wake-up Call
Wake-up Call