true
Sounds like … a stirring acoustic roots-rock concert right in your living room, with hints of James Taylor, John Lennon, Jim Croce, and Bob Dylan
At a Glance … this Christian music pioneer, just beginning his fourth decade in the business, delivers one of his finest albums ever, a keeper for the longtime Stonehill fan and a great introduction to a legend for the novice.
Long before anyone coined the phrase "contemporary Christian music," Randy Stonehill was one of a few pioneers laying the foundation for what has since become a multimillion-dollar industry. More than three decades ago, Stonehill and a handful of others-including Larry Norman, Barry McGuire, Phil Keaggy and the band Love Song-began shattering the radical notion that the term "Christian rock" was an oxymoron. Instead, that notion grew into a movement, a movement that over the next 30-odd years ultimately would give birth to everything from A(my Grant) to Z(OEgirl). Thanks to Stonehill and a select few contemporaries, Jesus Music was here to stay.
It's fitting, then, that Stonehill begins his fourth decade in the biz by returning to his roots with Edge of the World, his 18th album. Stonehill's legions of fans have always enjoyed not only his studio recordings, but also his live shows. One of Christian music's best live entertainers, Stonehill has long been the quintessential troubadour, a roaming singer/songwriter traveling the globe with just his acoustic guitar and a passion for playing his songs. Those intimate shows have, in many ways, reflected the "true" Stonehill, and friends and fans have long hoped he would make an album capturing the essence of his live gigs. "People have asked me for years if I had a record that was more akin to my live shows, more acoustic-based and intimate," Stonehill says. "I always had to answer, 'Well, not really.'"
Not any more. Edge of the World is as close to a live Stonehill acoustic gig as you'll get without actually buying a ticket to one of his shows. There are few of the slick tricks of production that mark – and even mar – many of today's popular CDs. This album is all about the live musicianship-the songwriting, guitar playing, and vocals that have defined Stonehill all along. While his original plan was to hit the studio alone-with just his acoustic guitar and voice-Stonehill and producer Bob Kilpatrick reconsidered and recruited some old friends. Enter multi-instrumentalist and studio whiz Phil Madeira (who has backed up Amy Grant, Emmylou Harris, Rich Mullins, and many others), lending a hand on lap-steel guitar, string arrangements, Hammond B3 organ, sitar, and slide guitar, and Michael Roe (77s, Lost Dogs) with additional guitars. The Madeira/Roe connection adds depth without taking away from the sonic core of the album-Stonehill's signature guitar playing and distinctive vocals. "The record did bloom into something more fleshed out instrumentally than I had originally planned," Stonehill says, "but it was a very natural blooming."
But that's just the beginning. A virtual Who's Who shows up on this CD, most notably in the nostalgic centerpiece, "We Were All So Young," a look back at the old days of Jesus Music that features Norman and Stonehill singing together for the first time in over 20 years. The track also features vocals by Keaggy, Russ Taff (formerly of the Imperials, now with the Gaithers), Annie Herring (of 2nd Chapter of Acts), Noel Paul Stookey (of Peter, Paul & Mary), Barry McGuire, and all five members of Love Song (together for the first time in three decades). It's like traveling back in time as Taff sings: "It was rock and roll about the gospel Truth / And it caused a stir that was front-page news / And we quickly learned that you can't please everyone." Herring follows up with: "But we wanted to stand for what is real / For more than the money or a record deal." And then Stonehill and Taff together: "And as the critics all sneered we sang at the top of our lungs / We were all so young."
While the nostalgic "We Were All So Young" is definitely the sentimental highlight of the album, it's not necessarily its finest track. That nod might just go to "Take Me Back," a lovely duet with the angel-voiced Sara Groves, one of the best of the "new generation" of Jesus Music makers. The story goes that Stonehill heard Groves sing at the Gospel Music Association's annual conference last spring, and asked a friend, "Who is that? I've got to sing with her." When the word got to Groves, a longtime Stonehill fan, she was ecstatic and jumped at the opportunity to sing with a living legend. The formula worked so well that Groves duets with Stonehill on another track as well, "Hey Pauline," a precious song Stonehill wrote to his mother for her 74th birthday.
Other notables include the opening track, "Dare to Believe," a catchy acoustic rocker with a rousing chorus, sure to become a concert sing-along; "That's the Way It Goes," a marvelous duet with Keaggy that sounds remarkably like the Beatles (Keaggy is a dead ringer for McCartney on this one); and "All I Know," a poignant picture of our fallenness and God's grace-and one of the most stirring songs Stonehill has ever written. Always a fine poet, Stonehill is at the top of his lyrical game with "All I Know": "And I curse my duality, this darkness that dwells in me / And marks me to the marrow as an orphan of the Fall / But in the middle of my turbulence I see / It's amazing grace that grips me after all // What can be said of this mystery within? / I have only one answer to give / If Jesus didn't die to be the Savior of my soul / Truly I do not want to live // Oh, for what would living be without a meaning and a hope? / Precious little more than just some cruel, cosmic joke / It's like being all dressed up and there was never anywhere to go / That's all I know."
I've followed Stonehill's career for more than 20 years now, and I have most of his music in my collection. I still think 1976's Welcome to Paradise (with "King of Hearts," my all-time favorite Stonehill song) is his finest hour, and there have been many gems since-most notably 1983's Equator, 1989's Return to Paradise, 1991's Wonderama, and 1998's Thirst. But Edge of the World is easily one of Stonehill's top three CDs ever, and in time, it might just become known as his best. Truly an anointed piece of work.
Browse All Music Reviews By: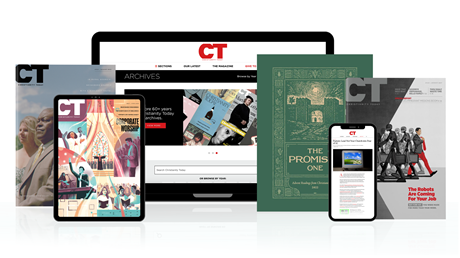 Annual & Monthly subscriptions available.
Print & Digital Issues of CT magazine
Complete access to every article on ChristianityToday.com
Unlimited access to 65+ years of CT's online archives
Member-only special issues
Subscribe
Edge of the World
Edge of the World