On TV tonight: Peter and Paul
Most PBS stations tonight will air Peter and Paul and the Christian Revolution, a two-hour documentary from filmmakers Margaret Koval and Patricia Asté (who earlier teamed together for the PBS documentary The Roman Empire in the First Century).
Weblog hasn't seen the film (a preview copy came through the offices, but there's a war on and we got distracted), so there's no indication of how good it is. Many of the advisers are predictable: there's the Jesus Seminar's John Dominic Crossan and evangelical scholar N.T. (Tom) Wright, who was recently appointed the Bishop of Durham for the Church of England.
In an interview on the PBS promotional website, Koval explains that she tried to make a historical, not religious, documentary. "It is structured around the career of Paul, mostly, and his evolving relationship with fellow Jesus followers such as Peter," she says. "That personal journey is our central storyline. It's full of great conflicts and dilemmas that enable the film to introduce other topics which, inevitably, take a back seat to the story of Peter and Paul."
The documentary will emphasize early Christianity as a Jewish sect. "Most people raised within the modern Judeo-Christian tradition are accustomed to hearing that Paul of Tarsus 'converted' from Judaism to Christianity after a vision on the road to Damascus," Koval says. "Well, if you read his letters carefully—and if you talk to scholars who specialize in Pauline studies—it becomes clear that Paul didn't convert because there was nothing to convert to. Christianity as we understand it today simply did not exist. Paul certainly joined forces with the new sect, but it was very self-consciously a Jewish sect. What Paul did do was become the focal point for a heated debate about who else could join that sect and under what terms. Could non-Jews join? It seems that most said yes. Did they have to convert to Judaism? It was this issue that polarized the early Jesus followers and it is explored at some length in our film."
Few reviews appear in today's papers. The Courier-Journal of Louisville, Kentucky, says the documentary "paints a picture of Peter as a simple, unschooled, dedicated man who overcame his fears to lead. We also learn that Paul, an educated, cosmopolitan man, once prosecuted Christians. One of the surprising revelations is how Christ's early followers thought Jesus would return in their lifetimes to redeem the faithful."
On a related note, check out Christianity Today's 1997 article, "The Quest for the Historical Paul" (adapted from a Christian History article), and 1998's "In Search of the Lost Churches of Paul." Two years ago, Christian History Corner reviewed the History Channel's similar documentary on Paul.
The early church loved the Bible
PBS isn't the only one looking at the early church this week. The New York Times Book Review examines Robert Louis Wilken's The Spirit of Early Christian Thought: Seeking the Face of God. Wilken's point is that the Bible was very important to early Christians. That's not a surprise at all, as reviewer G. W. Bowersock notes. "No one has ever imagined that the Bible was unimportant to them, but other sources of inspiration, particularly Platonic or Neoplatonic philosophy, have also seemed obvious," he writes. "Wilken wants to establish the primacy of the Bible."
Bowersock generally gives Wilken high marks ("He skillfully integrates the writings of various Fathers into a highly readable account"), but has his complaints. Chief among them: "In much of it there is an unmistakably confessional triumphalism. At the end of a challenging chapter entitled 'The Reasonableness of Faith' he declares: 'Faith, then, is the way of reason. By putting itself in service of truth, faith enables reason to exercise its power in realms to which it would otherwise have no access.'" The horror.
Wilken, a Christianity Todayadvisory editor, has contributed to our sister publication Christian History, including "What Would Augustine Say About Pluralism?" and an interview on evangelism in the early church. In 1996, Christopher Hall reviewed his book Remembering the Christian Past for CT.
More articles
War in Iraq:
Missions and ministry:
Other religions and interfaith relations:
Books:
Church life:
Sexual ethics:
AIDS in Africa:
Ten Commandments:
Related Elsewhere
Suggest links and stories by sending e-mail to weblog@christianitytoday.com
See our past Weblog updates:
April 8 | 7
April 4 | 3 | 2 | 1 | March 31
March 28 | 27 | 26 | 25 | 24
March 21 | 20 | 19 | 18 | 17
March 14 | 13 | 12 | 11 | 10
March 7 | 6 | 5 | 4 | 3
February 28 | 27 | 26 | 25 | 24
and more, back to November 1999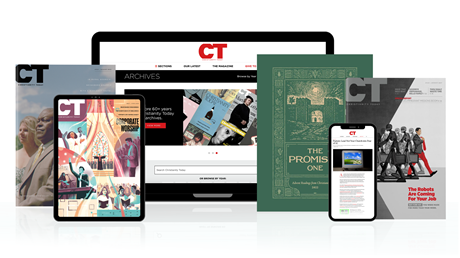 Annual & Monthly subscriptions available.
Print & Digital Issues of CT magazine
Complete access to every article on ChristianityToday.com
Unlimited access to 65+ years of CT's online archives
Member-only special issues
Subscribe
"Weblog: PBS, The New York Times Book Review Examine the Early Church"
"Weblog: PBS, The New York Times Book Review ...