If you've seen many movie previews at the theater recently, you've probably heard these words spoken over Civil War imagery: "They carried the same Bible, they believed in the same God. One side fought for God's glory, the other for his kingdom on earth."
Ron Maxwell is writer, director, producer of the new film Gods and Generals, which is part of what he calls his "civil war trilogy." This second film, set before Maxwell's 1993 Gettysburg, explores issues of faith, patriotism, and war at a time when our nation is again asking many of the same questions.
Were you raised in a spiritual home?
Yes, I was born at Wheelus Air Force Base in Tripoli, Libya, after World War II. My dad taught Sunday school, and he took us as kids to church every week. So church and singing hymns have been part of life from an early age.
How has that affected your sense of calling about the work that you do?
If it has, it's in a very internalized, subconscious way. I'm not on an overt mission of any sort. It has shaped my values and perhaps, the choices I make as a filmmaker.
If I didn't know that I was holding on to the Lord's hand the whole way, I wouldn't have the strength to take the rejection and the doors slamming in my face. I wouldn't have enough patience, and I wouldn't have the peace of mind required to do this kind of work.
What draws you to the Civil War era?
I feel that I'm in the company of a lot of great historians, novelists, and filmmakers who have, grappled with it, tried to understand it, and tried to cope with it in artistic ways. Hopefully we each are adding to the illumination and understanding of that epic, tragic moment in American history where we were forged in a fiery manner into the nation we are today.
What is Christianity's role in the movie and in the Civil War?
Every character in this film, save for one, are believers. This is typical of the mid-19th century. The one man who doesn't believe is Maxcy Gregg, a Confederate general who has been mortally wounded. He knows he's going to die. Stonewall Jackson visits him in the confederate camp. Jackson says, "You must put your mind at ease and concentrate on the world to which you are going."
Gregg answers, "But General Jackson, you know I'm not a believer." There's a pause and Jackson says, "Well then, I will believe for the both of us."
What I like about that moment from history is that even though Jackson himself was a man of faith, he did not judge someone who wasn't. Even though he was a hard man and a tough soldier, he was filled with compassion and Christian forgiveness all the time.
What other themes are stressed in Gods and Generals?
Patriotism, in this film, moves from abstract notion to concrete reality because every character we meet in this film has to ask, "Where do I live? What am I prepared to defend?"
For every character, this is not a simple answer. Lee and Jackson, for instance, swore an oath to the United States. Suddenly they were in a situation where their states were seceding, and they had to make the hardest decision of their life: Do I stay with the United States of America or do I stay with the State of Virginia? It's hard for us to understand, but that generation had conflicting loyalties.
African American characters were also conflicted. Oftentimes in the popular culture we have dehumanized African Americans into a kind of caricature of how they were supposed to behave during the American Civil War. But when you study the diaries and the letters and the newspapers of the time, you find African Americans as conflicted as whites were.
They, too, shared a sense of "What is my country?" In this film you meet Jim Lewis, who like everyone else in the film is a real historical character. He never leaves the side of Stonewall Jackson because he has an allegiance to his home in the Shenandoah Valley, which he wants to defend. Now at the same time, of course, he understands he has an allegiance to the blacks held under oppression and under bondage. He's very conflicted.
How do you approach telling this story of real life?
One has to acknowledge at the outset that a motion picture is ultimately a work of the imagination. Otherwise, it can't live as entertainment. At the same time, I strongly believe that if you're doing a historical film, you have to do your homework. You have to find out what really happened and what didn't happen.
I have a responsibility to get it right. What I mustn't do as a filmmaker is add to all the folklore, mythology, tall tales, and exaggerations. I also cannot indulge in the perpetuation of caricature or bow to the whims of political correctness. The whole society has been infected by this kind of fear, whether you're in the media or mainline churches, that if you step out of the politically correct way you're supposed to talk about things, it could be a career-ender.
If my work is too influenced by the political pressures of today, I cannot get to where I want to go. I need to get to the 1860s. Even if the costumes and sets are great, we haven't taken one step from our own time. We need to go where those people lived and see how we are like them and how we are different.
My point is this: Let's look at this generation in their context and without judgment, lest we be judged by a future generation. We think we have it all figured out. We think we are smarter and more ethical than any generation before us. That is nonsense. We are figuring it out as we go just like other generations.
Human life is a continuum. There's no walls or dividing points. The Civil War generation is made of our great-grandparents. It's a continuum of life and a family of man over generations, borders, and time. As a filmmaker, ultimately I have to get to that time in their ethical, moral universe, and faith system.
We actually saw a startling parallel between our two generations as we were filming. On September 11, 2001, we were filming the Battle of Antietam, which is the bloodiest single day in American history. We had thousands of Confederates and Yankees all bloodied up and filming the battle. Then, we heard about the second tower. It quickly dawned on everyone it was not an accident.
We stopped filming and gathered the crew around, hundreds of people in the crew, thousands of re-enactors. I needed a bullhorn to be heard because so many people were there. When I reported what happened, you could hear the collective breath being sucked in.
What we talked about in those moments was that whatever we were feeling—shock, dismay, anger, grief, fear—was also felt on that day of battle. We were perhaps fortunate because we were working on a film about another generation of Americans that was sorely and severely tested over a period of years. Like us, they could not know what would happen the next day, and yet they endured. Perhaps those of us working on this film that day could take solace and strength from that.
Related Elsewhere
Previous Christianity Today article by or about Maxwell include:
Why I Hate "The Messenger: The Story of Joan of Arc" | Ron Maxwell, director of Gettysburg and an upcoming Joan of Arc film (tentatively titled The Virgin Warrior) lets loose on his competition. (Nov. 15, 1999)
Rated BQ (for Big Questions) | From Gettysburg to Joan of Arc, filmmaker Ronald Maxwell produces movies that leave audiences pondering deeper issues. (Oct. 6, 1997)
Thumbnail reviews of the film are available at RottenTomatoes.com.
Visit DickStaub.com for audio and video of his radio program (4-7 p.m. PST), media reviews, and news on "where belief meets real life."
Article continues below
Recent Dick Staub Interviews include:
Why Don Richardson Says There's No 'Peace Child' for Islam | The author and missionary says he has tried to find bridge-building opportunities with Islam, but failed. (Feb. 11, 2003)
Did Martin Luther Get Galileo In Trouble? | David Lindberg talks about the early relationship between science and faith and his own journey on the subject (Feb. 4, 2003)
Dan Bahat on Jerusalem Archaeology  | One of Israel's leading archaeologists talks about the importance of the Temple Mount and key historical finds in the Holy Land. (Jan. 27, 2003)
Eddie Gibbs Reconsiders Gen X Churches | The author of Church Next and Fuller's professor of church growth says his views on church leadership have grown. (Jan. 21, 2003)
Peter Jenkins Finds Jesus While Walking America | The author of A Walk Across America talks about why angels smiled down at him at a revival in Mobile, Alabama. (Jan. 7, 2003)
R.C. Sproul's Testimony | The theologian and author of Five Things Every Christian Needs to Grow talks about how he met Jesus and why playing the violin is like reading the Bible. (Dec. 31, 2002)
Calvin Miller on a Southern Baptist's View of Advent | The author of The Christ of Christmas celebrates the season around the one great miracle (Dec. 17, 2002)
Phillip Johnson | Asking the right questions is at the heart of the evolution debate. (Dec. 3, 2002)
Connie Neal | The author of The Gospel According to Harry Potter talks about leading a friend to Christ through the wizard hero. (Nov. 19, 2002)
Chris Rice | The author of Grace Matters talks about his friendship with racial reconciliation leader Spencer Perkins, his former coauthor and best friend. (Nov. 12, 2002)
John Polkinghorne | The 2002 Templeton Prize winner sees the Bible as "the laboratory notebook" of the Holy Spirit. (Nov. 5, 2002)
The Dick Staub Interview
Dick Staub was host of a eponymous daily radio show on Seattle's KGNW and is the author of Too Christian, Too Pagan and The Culturally Savvy Christian. He currently runs The Kindlings, an effort to rekindle the creative, intellectual, and spiritual legacy of Christians in culture. His interviews appeared weekly on our site from 2002 to 2004.
Previous The Dick Staub Interview Columns: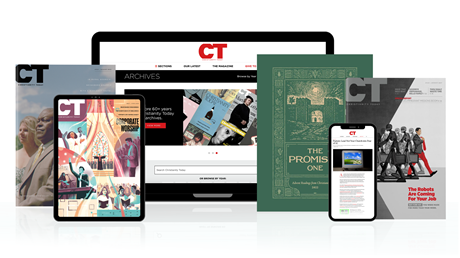 Subscribe to Christianity Today and get access to this article plus 65+ years of archives.
Home delivery of CT magazine
Complete access to articles on ChristianityToday.com
Over 120 years of magazine archives plus full access to all of CT's online archives
Subscribe Now
Read These Next
Trending

Died: Pat Robertson, Broadcast Pioneer Who Brought Christian TV to the Mainstream

With CBN, "The 700 Club," Regent, the Christian Coalition, and a run for president, he changed evangelicals' place in public life.

FrançaisIndonesianрусскийУкраїнська

From the Magazine

When Politics Saved 25 Million Lives

Twenty years ago, Republicans, Democrats, evangelicals, gay activists, and African leaders joined forces to combat AIDS. Will their legacy survive today's partisanship?

Editor's Pick

PCA's 50th Anniversary Comes During a Season of Grief

Presbyterians expect less fight and more fatigue as they gather following the Covenant shooting and the deaths of Harry Reeder and Tim Keller.
Gods and Generals' Director Links the Civil War with Today
Gods and Generals' Director Links the Civil War with Today