An hour after anti-aircraft fire stopped crackling overhead, the Christian Peacemaker Teams (CPT) delegation walked the streets of Baghdad. From the bomb shelter on the first floor of the Al Dar Hotel in the Iraqi capital, they heard and felt the first strike in the battle for Iraq by American-led coalition forces.
On Wednesday flashes lit up the sky like lightning. The ground shook. Explosions, air raid sirens, and anti-aircraft fire roared in a horrific cacophony of noise. Yet, hours after the first military exchanges between Iraq and the coalition, members of Christian Peacemaker Teams walked to an orphanage to comfort sobbing children and feed toddlers.
Six CPT staff members remain in Iraq as the war heats up. Almost daily since October, CPT volunteers and staffers have visited the orphanage run by the Missionaries of Charity, the order founded by Mother Teresa. After the attack they also went to the Al Monsur Hospital to encourage staff and pray with patients. Later they erected a tent beside the Al Wathba water treatment center, yards from the spot where they had planted a tree and prayed for peace just six days before.
"Some of us will sleep in [the tent] overnight," says Scott Kerr, an American CPT volunteer. "We are already vulnerable by being here, so we hope to protect the water treatment center because it is vital to civilians' survival."
He says CPT's delegation has taken a perilous stand. Kerr says members are willing to risk their lives to chronicle the conditions and impact of the war on civilians. Hours after President George Bush delivered a 48-hour ultimatum to Saddam Hussein, Canadian CPT volunteer Lisa Martens said the team was not contemplating leaving Iraq—although war had become a certainty. She said she was willing to remain in Iraq throughout the conflict.
Martens and Kerr say Iraqi citizens have not expressed hostility toward them. Although Iraqi forces are in place and civilians reportedly have stocked up on guns and weapons, CPT has not ordered its staff out of the country.
Kerr says simple and small kindnesses prevail in even the worst circumstances.
"I was short some money to buy pop and chips," says Kerr. "We wanted to stock up the bomb shelter with some comfort foods, and the store owner said, 'Take you money back. Don't worry about it. You can pay me tomorrow.' I don't think the average citizen here hates Americans."
On Iraqi television hours after the first exchange, Saddam Hussein and his officials described the conflict as a jihad or "holy war" directed at the Muslim world by the United States. Hussein declared, "Draw your swords. I am not afraid."
Kerr and CPT say they have remained in Iraq to show Iraqis that violence is not the only answer to their situation and that Western citizens are not seeking their destruction.
Christian Peacemaker Teams, founded in 1986 by Mennonites and the Church of the Brethren in Toronto and U.S. and Canadian peace groups, does not believe its presence in Iraq can be equated with a form of civil disobedience. It also denies that it disregards the security concerns of nations such as the United States and Britain. Its Canadian and American directors say the organization exists to train volunteers to intervene in crises and promote nonviolent solutions. Still, the organization's goal in placing staff in Baghdad before the military campaign began was to avert war. The delegation has remained in Iraq to stand in solidarity with civilians throughout the conflict—however long it lasts. It's a stand that means they will live—and could die—in a war zone.
Stewart Vriesinga's Quaker convictions brought him to Iraq as a CPT volunteer. In the days leading up to the commencement of hostilities, he says the group was meeting for daily prayer and to discuss contingency plans. He says the group never planned to leave Iraq in the event of a ground war. Vriesinga says staffers live with the daily reality that they could be die from a stray bomb or amid rioting.
"In the last Gulf War there were massive revolts, and the majority of Iraqis rely on food rations, so we realize there may be a civil war," Vriesinga says. "Yes, I am afraid. I was afraid long before coming to Baghdad about what this war will mean for the people of the world."
Previous CT articles on Christian Peacemaker Teams include:
Standing for Peace on the Eve of War | Christian group seeks nonviolent solution in Iraq. (March 12, 2003)
Risking Life for Peace | Caught between rebels, paramilitaries, and crop-dusters, peacemaking Christians put their lives on the line in violent Colombia. (September 7, 2001)
Hebron's Peacemakers Find No Shalom in Olive Branches | Christian Peacemaker Teams, a social-justice group working overseas, is testing the boundaries of nonviolent intervention in its mission to Hebron. (Sept. 16, 1996)
Previous Christianity Today articles and commentary on the current war with Iraq include:
Standing for Peace on the Eve of War | Christian group seeks nonviolent solution in Iraq. (March 12, 2003)
Article continues below
Weapons of the Spirit | Regardless of their positions on Iraq, Christians have much they can do. (Feb. 25, 2003)
Just War in Iraq | Sometimes going to war is the charitable thing to do. (Dec. 10, 2002)
Bully Culprit | Can a pre-emptive strike against the tyrant of Baghdad be justified? (Sept. 30, 2001)
Christian Leaders Respond to Bush's National Security Strategy | The White House outlines foreign policy in a changing world. (September 25, 2002)
Is Attacking Iraq Moral? | Christian leaders disagree, too. (September 4, 2002)
Recently, Christianity Today associate news editor Stan Guthrie reported on the plight of Iraqi Christians.
A downloadable Bible study on the implications of war with Iraq is available at CurrentIssuesBibleStudy.com. These unique Bible studies use articles from current issues of Christianity Today to prompt thought-provoking discussions in adult Sunday school classes or small groups.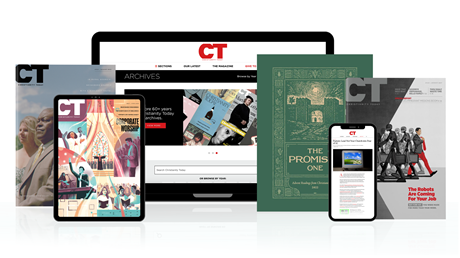 Subscribe to Christianity Today and get access to this article plus 65+ years of archives.
Home delivery of CT magazine
Complete access to articles on ChristianityToday.com
Over 120 years of magazine archives plus full access to all of CT's online archives
Subscribe Now
Peacemakers Seek to Show War from Point of View of Iraqi Civilians
Peacemakers Seek to Show War from Point of View of ...