Along with duffels full of wet, dirty clothes and an assortment of cuts and bruises, the kids who leave central Michigan's SpringHill Camp every summer take with them a videotaped chronicle of their stay. Shot in the quick-cut style of mtv, the tape documents the standard activities of camp: mud fights, tetherball, tugs-of-war, horses, archery, screaming teenagers, a variety of water sports, and the occasional softball game.
It also depicts a new range of activities: mountain and BMX bikes, a skate park, rappelling, something called a zip line, a winding water slide worthy of an amusement park, dramatic productions, and a rock band complete with what looks for all the world like a mosh pit.
Welcome to the new world of Christian camping.
The setting is familiar. SpringHill, 750 acres of pine trees and lakes, lies just outside of Evart, a town of fewer than 2,000 people close to the center of Michigan's lower peninsula. Every summer 13,500 campers pass through SpringHill (and another 18,300 camp in the fall and spring). They billet in a variety of habitations: a string of cabooses, tepees, a frontier village, covered wagons, a MASH compound, an old military transport aircraft.
Activities abound. The junior-high campers staged a hoedown one evening, complete with a tug-of-war, a bubble gum-chewing contest, potato-sack races, a chance to toss inner tubes, and competitive root-beer belching.
"This is awesome," a camper named Mindy beams. Another says, "I think I'm sick."
At the ropes course, an elaborate web of ropes and poles requiring balance and skill and sheer determination, a counselor shouts encouragement to a sixth-grader. "I can't feel my legs," the climber says frantically, before completing the course to a cascade of cheers. Nearby at the climbing wall, a female counselor calls up to a nervous camper, "Nice work, girlfriend. You're doing great."
Affirmation is a major component of any counselor's job description at SpringHill. "As a culture, we are trying to raise sons without fathers, daughters without mothers, children without guidance," one of SpringHill's brochures reads. Scott, a 16-year-old from Midland, Michigan, has been coming to SpringHill since age 8.
"'Cause it's fun," he says, when asked why. "I enjoy learning about God." He adds that he came from a single-parent household and that Big Brothers Big Sisters of America financed his camping. Indeed, even a casual stroll through the campground yields stories about everything from drunkenness and drug abuse to parents with schizophrenia.
SpringHill also makes a conscious effort to integrate disabled campers into the program. The camp has constructed a special facility, Freedom Hall, to accommodate their needs. SpringHill even provides one-on-one counselors to those who require it.
"All kids are crucial in the eyes of God," says Jenny Weinberg, coordinator of the program for the disabled. "There is no better place to be accepted than at camp."
Christian camping is on the upswing. According to Bob Kobielush, president of Christian Camping International/USA, an association of 1,075 evangelical camps and conference centers, the number of campers and guests has risen from 5.1 million in 1989 to 8.5 million today.
But the "camping industry," as he calls it, has changed. Small camps of fewer than 150 beds are struggling, in part because they are unable to offer the range of amenities that young people have come to expect. Larger camps like SpringHill, on the other hand, thrive because of their marketing savvy and because they have developed what Kobielush calls "a respectable business model."
Kobielush compares what is going on in Christian camping to the megachurch phenomenon—the move from denominational identity toward an independence that allows the leadership to make decisions quickly and respond to changing markets without wrestling with cumbersome bureaucracies.
The brief history of SpringHill, which Kobielush identifies as one of the leaders in the camping industry, illustrates these trends.
Seedlings
In the early fall of 1967, the senior pastor of the Evangelical Free Church in Bay City, Michigan, headed west across the state with several of his sons for the annual camp board meeting of the Michigan Free Churches. Halfway to Ludington he stopped to see former members of his Bay City congregation who had relocated to Evart. In the course of the visitation, the host mentioned that his elderly neighbor wanted to sell a 500-acre parcel of land just outside of town. She'd entertained several offers, including a proposal from General Motors. But the auto giant simply wanted to divide the property into lots for vacation homes for its executives.
The neighbor much preferred to honor her late husband's wishes that the land would become a boys' camp. His host pleaded with him to take a look. The pastor glanced nervously at his watch. He relented, though, and when the car pulled into a clearing overlooking the first of 13 spring-fed lakes, he began dreaming. His oldest son snapped an entire roll of photographs, and by the time the car resumed its journey west on U.S. 10, his sons were chattering about the possibilities.
The pastor, my father, didn't say much, but when he arrived at the board meeting in Ludington he asked for a moment during the discussion of new business.
Clarence Balmer later recalled that the meeting was another of those dreary affairs with gloomy reports about the physical and financial condition of the church's existing property, the 32-acre Rainbow Lake Bible Camp. He had second thoughts about even mentioning the property in Evart, especially given its impossibly high price tag of $100,000. But he decided to forge ahead, professing some amazement thereafter that the other board members didn't hoot him out of the room.
He assumed the responsibility for selling the idea to them and to churches throughout the state—a task made infinitely easier when people saw his slide show or visited the property. Having arranged the purchase, his next job was finding a director. The consensus choice was Enoch Olson, son of a Free Church pastor and a Free Church pastor himself. He had grown up at Rainbow Lake and had spent several summers as part-time director at its Bible camp. Olson, however, had reservations. He had recently turned down a similar offer at the well-established Camp Shamineau in Minnesota, and the prospect of starting from scratch seemed daunting.
Olson refused the offer several times, but my father could be persistent. The Olsons moved into a small house on the SpringHill property in February 1969, just months before the arrival of the first wave of campers.
Olson, by his own admission, was a scavenger, boldly soliciting donations of everything from used kitchen equipment to new trucks. He was also unafraid to ask for assistance. He organized volunteer workers from around the state: people willing to give up their weekends or even their vacations to clear brush, construct cabins, or paint barns.
"We wanted to do something major every year," Olson says. "It keeps the whole thing alive."
Out of the Routine
For more than three decades, SpringHill, by some accounts the largest Christian youth camp in the nation, has kept expanding.
"We never stood idle," Olson says.
SpringHill operates an extensive program year round, and in 1999 it took over another camp in southern Indiana. Earlier this year SpringHill opened Storybrook Village, a new campground for first-graders through fourth-graders, at its Michigan property.
Olson guided the physical development of the campgrounds—the creative housing was a hit from day one, for example—but he had innovative ideas about programming as well. "The camps that are so embedded in tradition—they die," he says.
Olson decided to decentralize the camping experience as much as possible, doing away with large gatherings and focusing on the counselor-camper relationship. To help build trust, the various age groups—New Frontiers (grades 7-9), Copper Country (grades 4-6), and Storybrook (early elementary)—are concentrated in different camp locations. When it's time for swimming or ropes courses or supper, the campers go as a unit. Thus they build camaraderie and trust with each other and with their minders, qualities that serve the counselors well as the spiritual appeals intensify during the week.
One of the purposes of camp, Olson believes, is to "take a child out of the routine of daily living" and use that as an opportunity to preach the gospel. "Our philosophy is pretty defined," he says. "We believe that kids are lost. We believe that every child needs to go home with a new or renewed relationship to Christ."
If SpringHill's statistics provide any indication, the strategy works. For summer 2001, the camp's pie charts indicate that 48 percent of the campers were "already in step with Christ," 12 percent "committed life to Christ," and 35 percent "renewed decision for Christ." Only 5 percent were classified as "not ready to make commitment."
Enoch Olson retired from SpringHill in 1995, but he still lives adjacent to the property and serves officially as a consultant to the camp. Unofficially, he describes himself as a "spiritual watchdog."
When he stepped down he turned the reins over to his son, Mark, who guided the camp for several years before his untimely death in 2001. SpringHill turned to Michael Perry as director, assisted by Todd Leinberger and Lisa Olson, Mark's widow.
"When people encounter Christ, lives change," Perry says. "We create a chance for kids to walk away from their everyday life."
The brain trust at SpringHill insists on a camper-staff ratio of about two and a half to one, and it frees the counselors from duties such as supervising the braiding of lanyards; a corps of high schoolers, called Teen Service Training, provides those support services.
"By Tuesday morning the counselors know who is a Christian," Leinberger says.
Such individual attention does not come cheap. SpringHill has an annual operating budget of approximately $9 million, and an additional $3 million in contributions goes into capital projects. Perry, however, is unapologetic.
"The fees went up because people saw the value of the program," he says. SpringHill charges an average of about $400 for a week of camp, but the camp has waiting lists every summer. Still, no one is turned away for financial reasons.
For many families in the Great Lakes area, the first day of camp registration resembles a land rush because slots are allocated on a first-come, first-served basis. SpringHill received more than 9,000 requests the opening day of 2003 registration. Between 60 and 70 percent of campers return to SpringHill.
Zip Lines and Trust
The range of activities at SpringHill may be overwhelming, but it is hardly random. Counselors follow an elaborate and finely tuned curriculum, one carefully calibrated to the rhythms of the week. The administration of SpringHill decides on an overall theme nearly a year in advance of each summer and then formulates a weekly cycle of Bible readings, lessons, and activities to illustrate the theme.
The motto for summer 2002, for instance, was "Bring It," a phrase emblazoned on promotional materials and on banners throughout the camp. Every Monday throughout the camping season was "Jesus Day," with the lesson that "Jesus wants to have a personal relationship with us." Tuesday was "Sin Day," followed by "Salvation Day," and "New Life in Christ." The week concluded on Friday with "Evangelism."
Each day has an allotment of two biblical passages, two lessons, and a memory verse, all designed to drive home a particular truth. The counselors reinforce the point in devotionals ("devos," in the lingo) and in small gatherings with their campers, but the activities underscore the point as well. On "Sin Day," for example, campers will learn about the Ten Commandments, but they also might engage in "crud wars" or mud football to illustrate the taint of sin.
Navigating the ropes course or a harrowing ride on the zip line—a series of cables suspended from a bluff overlooking Lake Jasper, transporting campers across to the other shore—provides a good lesson about trust for "Salvation Day" or "New Life in Christ."
"The idea," Lisa Olson says, "is to provide a venue for teachable moments."
Toward the end of the week the campfire talks become more explicitly religious, each geared to a specific sex and age group. The gathering for junior high boys opens with lusty singing of camp songs—"A little bit louder and a little bit worse"—and then moves into "Praise Ye the Lord, Hallelujah," all of it punctuated with a great deal of whooping and shouting. It's almost tribal.
In another brush arbor several hundred yards away, the campfire for teenage girls features the gentler strains of praise songs before a segue into the lesson for the evening.
"We all have sinned and are separated from God," one of the counselors says. "We cannot be saved [by our own efforts]. Jesus died for us." She continues with a graphic description of the crucifixion, saying that becoming a Christian is as easy as abc: Admit you're a sinner, believe in Jesus, commit your life to Christ.
"This is the biggest decision of your life," she says. "Close your eyes and raise your hands."
Until the 1980s, the programming at most camps pointed toward the Friday-night campfire, where counselors anticipated the greatest number of conversions. The new approach looks for a spiritual transformation earlier in the week so that the convert can begin to be socialized in the faith before leaving camp at week's end. The idea, Kobielush says, is "to plant some seeds for behavior change earlier in the camping experience."
This realignment also allows the final hours at camp to be more celebratory rather than a time of anguished soul-searching. And the methods for follow-up, once handled (if at all) by churches, have changed as well. More and more camps are using the Internet to stay in touch with their campers throughout the year—counselors, for example, will host chat rooms for their charges—but the use of electronic communications also allows the camps to cultivate continuing loyalties.
Kobielush says some of these innovations, particularly the move toward independent governance and the development of sophisticated follow-up programs, have strained the relationship between camps and local churches. Just as denominations may resent the independence of some megachurches, so too many congregations see camps circumventing the church by building relationships directly with the campers. Whereas 20 years ago a congregation may have dispatched a busload of adolescents to its denominational camp, camps increasingly build relationships directly with campers.
Another departure from past practice is the absence of guest speakers or a camp pastor. "We believe that the gospel is best presented by those who have established a relationship with the kids," says SpringHill's Leinberger.
Campfire Evangelism
The evening gathering at Fort Michilimackinac, for fifth- and sixth-grade girls, begins with singing. "I want to know who learned the memory verse today," one counselor says.
The girls, seated on logs, swat at mosquitoes as the counselor recites the verse, Romans 6:23: "For the wages of sin is death, but the gift of God is eternal life in Christ Jesus our Lord."
"And who can tell me what that means?" she asks.
Other counselors perform a brief skit. One asks the character who plays Jesus, "So you're going to take our punishment?"
Afterward, the leader asks: "Girls, did Jesus deserve to get that punishment? Jesus died for us. Isn't that awesome?" She assures her audience that they are bound for heaven if they give their sins to Jesus. "He takes our sins and forgets about them."
Others then reinforce the message. Another counselor, Kerry, stands and addresses the girls. "When I was about your age," she begins, "I went to church, and I went to a Christian school."
That wasn't good enough, she says, and a sports injury finally shook her out of her spiritual complacency. The girls sit in rapt attention before a respected role model.
"I looked to Jesus," Kerry continues, "and I, like, totally gave my life to him." The sun has fallen behind the walls of the fort, and darkness sifts across the sky. "Ask Jesus to be your best friend," Kerry concludes. "It's your choice."
The leader resumes the appeal. "If you give your heart to Jesus," she says, "it means you want Jesus to be with you all the time." She urges the campers to talk with their counselors, who linger around the campfire.
Sparks from the fire shoot into the sky, where they are swallowed by the night. About half of the girls trail off to the cabins, but the rest, two dozen strong, stay. Soon Fort Michilimackinac fairly reverberates with murmured prayers and tears, followed by hugs.
At the other end of the campgrounds, the Thursday night gathering for the junior high campers has shifted into high gear. Called "Real Life," it takes place in the gymnasium and features flashing lights and a sound system capable of removing dental plaque.
After showing a video of the day's activities, two of the counselors do some rap music. Then a conga line forms to "You Make Me Move, Jesus."
"You know, worship is kind of a cool time," the lead singer declares before giving way to another counselor, a man in his early 20s. "You're like, yes, I want to get connected to God," he says, and then in classic homiletical style offers four ways to stay connected. After the rally, campers disperse into small groups.
Friday is getaway day. At Algonquin Village, a ragtag assortment of fourth-grade boys gathers for a final morning campfire. A counselor advises them to "choose the right companion"—Jesus.
"Having Jesus there is the most important thing you can do," he says. The campers try to be attentive, but they fidget and glance over their shoulders, watching for the arrival of their parents.
After the concluding prayer, they run for their parents, eager to show off their bruises and loose teeth. "How'd ya do?" a mother asks. Her son has little time for small talk. "Wanna see my tepee?"
Asked what he liked best that week, Wesley, a 9-year-old from Howell, Michigan, cites the BMX bikes. Though sporting a Detroit Tigers shirt, he says he prefers dirt bikes even to the Tigers—and that he certainly plans to return next summer.
The fourth-graders exchange screen names with their counselors, and one mother thanks her son's counselor. "It's been a good week," she says. "No strange skin rashes."
A few parents pull out their video cameras; some dab the corners of their eyes.
Steve Graetz, one of the area directors for the camp and a graduate of Spring Arbor College, takes satisfaction in the week just past.
"The group came a long way, spiritually," he says, noting that several of the campers made commitments on "Salvation Day" (Wednesday). "The presence of God is definitely here."
God's Water Slide
Before heading up the hill for the final rally, each of the tepee groups gathers one last time. Each counselor hands out awards to his charges—best sense of humor, leadership, wisdom—complete with a certificate. No camper leaves empty-handed.
At the Copper Country amphitheater, camp director Michael Perry greets the parents before the campers parade to the front to the accompaniment of rap music blared from large speakers on either side of the stage.
The program consists of a review of each day's theme. Each of the camp clusters has its moment on stage, with counselors interviewing their campers.
"I was trying to figure out how the water slide related to God's love," one camper confesses, "and then I realized that water is like God's love. It never stops running."
One counselor interviews Kirby, a 12-year-old girl. "It was awesome," she replies when asked about her week.
"What did you do on Wednesday?" the counselor prompts.
"I decided to make God my best friend."
Connor, another camper, also pronounces the week awesome. On Wednesday, he says, "I recommitted myself to Jesus and asked him to come back into my life." The crowd responds with applause and then, with all of the energy of early adolescence, the campers shout a call-and-response song: "We're from SpringHill / And we know God's will."
"As you can see," one leader says, "we've had a super shazam week here at SpringHill." Judging by the cheers, no one disagrees. Perry offers the closing prayer. "Lord, we thank you for an incredible week," he begins. "I pray that each camper will leave here changed in a positive way."
As campers and parents swarm to their cars, past the soggy tables of lost-and-found items, the parents too seem satisfied. "This is a great place," says Jim Brodie from Grand Rapids. "Kids have a fabulous time up here."
Linda Whittaker, also of Grand Rapids, agrees: "It gives them an opportunity to have fun and bond with Jesus."
John Martin of Grosse Pointe Park, Michigan, says he looked forward to talking with his son about the experience on their way home. He glances around one final time, taking in the amphitheater, the water slide and the clusters of campers saying their final goodbyes. "I wish I would have had something like this when I was growing up."
Related Elsewhere
Springhill Camps' website is fun and expansive with information on each of its camps and lots of photos.
The official website of Christian Camping International/USA provides more information on the values of Christian camping, a directory of camps and organizations, and a bimonthly magazine.
For similar CT stories, see our Missions and Ministry and Youth archives.
Have something to add about this? See something we missed? Share your feedback here.
Our digital archives are a work in progress. Let us know if corrections need to be made.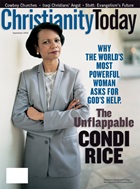 This article is from the September 2003 issue.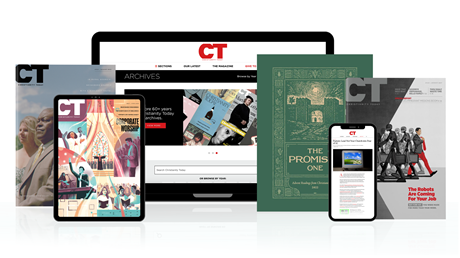 Subscribe to Christianity Today and get access to this article plus 65+ years of archives.
Home delivery of CT magazine
Complete access to articles on ChristianityToday.com
Over 120 years of magazine archives plus full access to all of CT's online archives
Subscribe Now
God and the Water Slide
God and the Water Slide