With the results of the election fresh on his mind, Pastor Ken Friendly called a meeting of black and white ministers in Anchorage, Alaska, to discuss forming a chapter of the Traditional Values Coalition.
The African-American pastor of Lighthouse Christian Fellowship said the group will ensure that his state's legislators and school board members hear the racially diverse voices of religious conservatives.
"I don't care if a person is polka-dot," said Friendly, who expects to move beyond an anti-gay marriage agenda to address helping children who are homeless or fatherless. "If they're concerned about the will of God being done, then that's who this group is for."
Fired up by pre-election summits and rallies and invigorated by election results, some African-American and Hispanic religious leaders say they're ready to join their white evangelical brethren to support traditional marriage and work on issues ranging from judicial nominations to improved adoption procedures. If successful, these racially diverse coalitions could influence the fate of a constitutional amendment on marriage as well as local, state, and national elections for years to come.
As the presidential election illustrated, even small demographic shifts can make an enormous political difference. President Bush significantly increased his share of the Hispanic vote nationally, thanks in part to values-laden issues. In Ohio, Bush nearly doubled his share of the black vote from 2000, to 16 percent, pushing him to a narrow state and national victory.
Many analysts attributed the Ohio vote to black churchgoers' opposition to gay marriage, which Bush also opposes.
Yet while some religious activists are willing to cross racial and denominational lines to oppose same-sex marriage, many say they are not about to support other Republican positions, such as lowering taxes and reducing the size of government. These black and Hispanic leaders say the time might be right to focus on issues and values that uniquely energize their ethnic constituencies.
The Rev. Dwight McKissic of Arlington, Texas, traveled to Washington for a September summit that Traditional Values Coalition Chairman Louis Sheldon pulled together for African-American pastors to join the fight against same-sex marriage. But McKissic, a Southern Baptist, said the bipartisan "Not on My Watch" group he started with other African-American clergy will remain an "intentionally black" endeavor, seeking passage of both state and federal constitutional amendments banning gay marriage, but not joining white evangelicals on other causes.
"Many black pastors I know chose to make that effort independent of white evangelicals because they did not want to be seen as carrying water for the Republicans or white conservatives," he said.
Pastor Ken Hutcherson, the African-American organizer of Mayday for Marriage, a multicultural event that drew thousands to Washington's National Mall in mid-October, takes a different view. "Tell them that if that was the same attitude we had taken toward same-sex marriage, we would have a different president," the Seattle-area pastor said, adding that the 11-0 win on state amendments affirming traditional marriage would have gone in the opposite direction.
"They better get off their pride and start working together."
Hutcherson looks forward to next leading his multicultural congregation—and, he predicts, an eventual national movement of religious conservatives—in an effort to halt discriminatory adoption practices in which people pay more to adopt a white child than an African-American one.
"We have to come together on issues and we have to come together in color," he said.
Hispanic leaders, too, are taking different approaches to future alliances.
Yuri Mantilla, director of the Colorado-based Focus on the Family's Hispanic Voter Education Project, said the same diversity reflected in the campaign against gay marriage is needed to address issues such as embryonic stem cell research and judicial nominations.
"The future of these movements has to be diverse—Hispanic-American, African-American, Asian-American, all united," he said. "That's essential."
The Rev. Daniel de Leon, pastor of Templo Calvario in Santa Ana, Calif., one of the largest Hispanic evangelical churches in the country, said he and other Hispanic leaders are considering forming a separate bipartisan network to influence Capitol Hill with stances opposing abortion, supporting the traditional family, and selecting judges who will uphold such positions.
De Leon attended a May press conference in which a multicultural group of religious leaders announced a poll showing the majority of Americans supported a federal marriage amendment.
But he said there's a need now for Hispanics to start some political action on their own.
"I think the coalition will start small and narrow but I think it's almost, by its very nature … going to expand," he predicted.
Matt Daniels, president of the racially diverse Alliance for Marriage, based in Washington, said that religious conservatives who worked in concert this fall now have momentum to continue with plans to revive a constitutional amendment to ban gay marriage in 2005. A similar effort failed this year in both houses of Congress.
The Rev. Jerry Falwell, who recently announced a new Faith and Values Coalition, estimated that 10 percent of the people who worked with him on voter registration in the past year were African-American and a similar percentage were Hispanic. Such diverse outreach will continue as he aims to get 40 million religious conservatives to the polls in 2008.
"We're going out to everybody, every American who breathes and who shares our faith," he said.
But as some religious conservatives ooze optimism, scholars are voicing skepticism that the chain of events that gave them victory in November will lead to much more.
"There are some things that bring them together, but there are a lot (of things) that hold them apart," said Clyde Wilcox, professor of American government at Georgetown University in Washington.
The Christian Coalition tried and failed in the 1990s to woo blacks to their cause "primarily because they were trying to get African-Americans to be Republicans," he recalled.
The Rev. Walter Fauntroy, a longtime Washington pastor and civil rights activist, said new efforts to draw African-Americans like him into a grand coalition with a broad-based agenda aren't likely to succeed. He opposes gay marriage—and joins in the diverse array of faces at Alliance for Marriage events—but he would "part company with all of them" on tax concerns.
"I would educate my friends in … the religious conservative movement that when this warfare of life is over, the question will not be how you voted on the gay marriage issue," Fauntroy said. "The question will be, `When I was hungry, did you feed me?' … I will not work on issues that penalize the least of these for the benefit of the wealthy few."
Related Elsewhere:
Other Christianity Today articles on supporting traditional marriage include:
The Man Behind the Marriage Amendment | It's just as well that Matt Daniels loves a good fight, because he has a big one on his hands. (Aug. 25, 2004)
A Crumbling Institution | How social revolutions cracked the pillars of marriage. (Aug. 24, 2004)
What God Hath Not Joined | Why marriage was designed for male and female. (Aug. 20, 2004)
The Next Sexual Revolution | By practicing what it preaches on marriage, the church could transform society. (Aug. 27, 2003)
Article continues below
My Two Dads? Not in Florida | U.S. Circuit Court upholds ban on gay adoption (March 11, 2004)
Speaking Out: Why Gay Marriage Would Be Harmful | Institutionalizing homosexual marriage would be bad for marriage, bad for children, and bad for society. (Feb. 19, 2004)
Let No Law Put Asunder | A constitutional amendment defending marriage is worth the effort. (Jan. 26, 2004)
'A Man and a Woman' | Activists say the Federal Marriage Amendment will be the defining issue in the next election. (Nov. 24, 2003)
The Marriage Battle Begins | Profamily and gay activists agree: Texas decision sets significant precedent. (Aug. 11, 2003)
Collections of more Christianity Today articles on Why It Takes a Man and a Woman and Same-Sex Marriage are available on our website.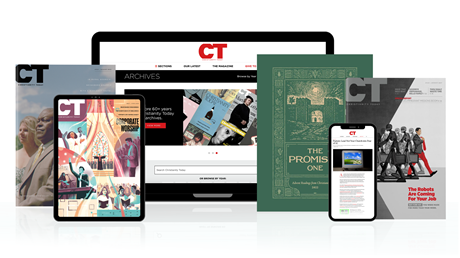 Annual & Monthly subscriptions available.
Print & Digital Issues of CT magazine
Complete access to every article on ChristianityToday.com
Unlimited access to 65+ years of CT's online archives
Member-only special issues
Subscribe
Racially Diverse Faith Coalitions Oppose Gay Marriage, Tackle Other Issues
Racially Diverse Faith Coalitions Oppose Gay ...