A new book casts doubts on the plausibility of a basic Book of Mormon claim, and it is polarizing members of the Church of Jesus Christ of Latter-day Saints.
In Losing a Lost Tribe: Native Americans, DNA, and the Mormon Church (Signature Books), research scientist Simon G. Southerton of Canberra, Australia, notes that none of the nearly 7,500 DNA-tested Native Americans shows any link to ancient Israel. More than 99 percent show an Asian heritage. The Book of Mormon, however, says that Israelites emigrated to the Americas 2,600 years ago, with the now-extinct Lamanites and Nephites becoming the ancestors of American Indians.
Southerton, a former LDS bishop, said he has received nearly 500 e-mails in the past five years from Mormons who are troubled by the DNA findings. Even some scholars at the Foundation for Ancient Research and Mormon Studies (FARMS) at Brigham Young University, the church's flagship school in Provo, Utah, concede the links between Native Americans and Asians are strong, and that a Middle Eastern contribution to the gene pool hasn't been established.
Staunch apologists of the faith deny that science disproves the faith's principal scripture. FARMS founder John W. Welch said such opposition has been circulating for nearly a century. "The DNA factor is just one more indication that people came from various places in the world," Welch said. "This is just one more piece in a very big and complicated and obscure archaeological and anthropological picture."
"The Book of Mormon never claimed to be an exclusive account of people of the Americas," said Daniel C. Peterson, editor of The FARMS Review.
But Southerton contends that several Book of Mormon passages, as well as statements by founder Joseph Smith, indicate the Israelites found an uninhabited New World when they arrived.
"In the entire 1,000-year period covered by the Book of Mormon, there is not one explicit reference to people outside the migratory groups that came from the Middle East," Southerton told CT.
Peterson concedes that the faith of many church members has been shaken over the issue. Detractors have prompted the LDS to address the topic on its website. "Recent attacks on the veracity of the Book of Mormon based on DNA are ill considered," a statement reads. "Nothing in the Book of Mormon precludes migration into the Americas by peoples of Asiatic origin. The scientific issues relating to DNA, however, are numerous and complex," according to the church.
"Scholars at byu realize this is a problem and they're trying to put a spin on it," said Tom Kimball, Signature Books publicist. Kimball is a descendent of Spencer W. Kimball, LDS president from 1973 to 1985.
The controversy isn't having a negative numerical impact. The church continues to grow, with 12 million members worldwide. About 20 percent have Native American or Polynesian ancestry.
Related Elsewhere:
Losing a Lost Tribe is available from Amazon.com and other book retailers.
Previous Christianity Today coverage of the Church of Jesus Christ of Latter-day Saints includes:
Mormon Scholar Under Fire | Anthropologist says Latter-day Saints' teaching wrong about Native Americans. (Feb. 19, 2003)
The Shiny, Happy Olympics | Coverage of Salt Lake City's games focuses on who isn't evangelizing. (Feb. 13, 2002)
Weblog: The Church of Jesus Christ? | Mormons: Don't call us Mormons. (Feb. 20, 2001)
Mormon Makeover | An effective evangelical witness hinges on understanding the new face of Latter-day Saints. (March 6, 2000)
The Mormon-Evangelical Divide |Beliefs that set Mormons apart, and evangelicals' response. (Feb. 9, 2000)
A Peacemaker in Provo | How one Pentecostal pastor taught his congregation to love Mormons. (Feb. 9, 2000)
Mere Mormonism | Journalist Richard Ostling explores LDS culture, theology, and fans of 'crypto-Mormon' C.S. Lewis. (Feb. 9, 2000)
Mormons, Evangelicals Tangle Over Web Site | A publishing unit of the Church of Jesus Christ of Latter-day Saints will continue a copyright lawsuit against an evangelical ministry that counters Mormon teaching and history. (Feb. 9, 2000)
Mormons on the Rise | Southern Baptists Take Up the Mormon Challenge. (June 15, 1998)
Evangelists Sue in Utah (November 11, 1996)
Francis J. Beckwith, coauthor of The Mormon Concept of God: A Philosophical Analysis, reviewed How Wide the Divide? for Christianity Today. The review, "With a Grain of Salt," appeared in the November 17, 1997 of our print issue.
A review of Richard Ostlings' book, Mormon America: The Power and the Promise, was published in Christianity Today sister publication Books & Culture. The review was written by two practicing Mormons.
Have something to add about this? See something we missed? Share your feedback here.
Our digital archives are a work in progress. Let us know if corrections need to be made.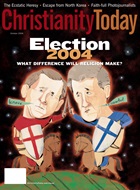 This article is from the October 2004 issue.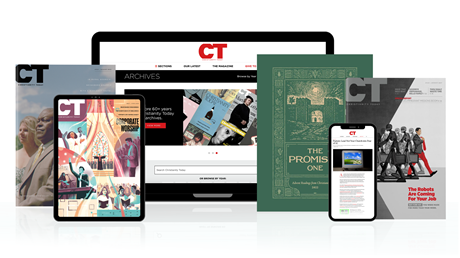 Subscribe to Christianity Today and get access to this article plus 65+ years of archives.
Home delivery of CT magazine
Complete access to articles on ChristianityToday.com
Over 120 years of magazine archives plus full access to all of CT's online archives
Subscribe Now
LDS and DNA
LDS and DNA