The life context of the question is all too familiar. The issue arises in our darkest hours—in the hospital ward, in the doctor's office, when the unfavorable test results return. Our need often arises unexpectedly and then consumes us.
Embedded in the question are two key assumptions. First, that ours is a God of miracles, including healing. A quick evaluation of Scripture attests that miracles display God's power (Jer. 10:12), arouse wonder (Exod. 4:21), and function as a sign to confirm his message (Matt. 12:39-40).
The second assumption is that believers are instructed to pray fervently. The Thessalonians are commanded to "pray without ceasing" (1 Thess. 5:17) because habitual prayers express dependence on God. And positioned as little children, we anticipate "good things" from our heavenly Father (Matt. 7:11). Yet three additional points are critical.
First, God does not always respond to our desires, and he frequently allows circumstances we wish he would not. Theologically we call this sovereignty. Inherent in our faith is the scriptural truth that God is in control. This includes the events he directs and the circumstances he allows. He has the power and responsibility to exercise his right over creation according to his will (Ps. 50:1 Ps. 115:3).
Yet God repeatedly chooses to veil the ways in which he exercises those rights. Hence our requests will not always coincide with God's response. Peter understood this as it applied to suffering: "So then, those who suffer according to God's will should commit themselves to their faithful Creator and continue to do good" (1 Pet. 4:19).
Second, our tendency is to doubt God's sovereignty in the midst of tumultuous times. Unfortunately, when we doubt we presume to comprehend more than he does. Yes, from our vantage point, we might think that God's miraculous intervention would produce waves of affirmation to his authority. Yet, in reply to the "rich man," Jesus said, "If they do not listen to Moses and the Prophets, they will not be convinced even if someone rises from the dead" (Luke 16:31).
Instead, the nature of our faith is to be "certain of what we do not see" (Heb. 11:1). While the world looks for proof in signs and wonders, we should never forget that "the message of the cross is foolishness to those who are perishing, but to us who are being saved it is the power of God" (1 Cor. 1:18). It is in this power that he asks us to trust in him.
Third, we must embrace the sufficiency of God's grace in all circumstances. In other words, it is imperative that the God of the mountaintop also be the God of the valley. The apostle Paul requested three times to be healed of his "thorn in the flesh." The response from the Lord? "My grace is sufficient for you, for my power is made perfect in weakness" (2 Cor. 12:9). The sufficiency of God's grace is found in that we can endure suffering just as Jesus endured the Cross!
Jesus endured for the "joy set before him" (Heb. 12:2), and God's grace allows us to do the same. Our affliction is purposeful and passing, and although we may not be able to understand it, we must cling to God's goodness and follow the pattern of his Son.
So we are left with this: We do not know why God allows one to be healed and others not. We have all been touched by situations where God did not heal despite the faithful prayers of his people.
The words of Alister McGrath in Mystery of the Cross (Zondervan, 1990) are well posed:
"Experience cannot be allowed to have the final word—it must be judged and shown up as deceptive and misleading. The theology of the Cross draws our attention to the sheer unreliability of experience as a guide to the presence and activity of God. God is active and present in his world, quite independently of whether we experience him as being so. Experience declared that God was absent from Calvary, only to have its verdict humiliatingly overturned on the third day."
As with the Cross, our darkest hour may be God's finest moment. It may be there that he does his greatest work—albeit unseen to us. Thus instead of letting circumstances consume us, we are to be consumed with God. To that end, we pray without ceasing, trust in his sovereignty, and find comfort in his hope.
Mark M. Yarbrough is pastor at Eastfield Bible Chapel and executive director of communications at Dallas Theological Seminary.
Related Elsewhere:
Earlier Good Question columns include:
Does God need our help, love, and praise?
Are some people lost "just a little bit" in the same way that others are saved "only as through fire"?
Is Jesus Incarnate Forever?
What does Genesis mean by man being made in the image of God?
What's the difference between Christ's kingdom and paradise?
Is every believer guaranteed at least one spiritual gift?
What role does baptism play in faith and salvation?
How is it that not all prayers for the salvation of others are answered?
If God is in us, shouldn't it be easier to love one another?
Article continues below
What do we gain from a bodily resurrection?
What is the difference between the brain and the soul?
How can I reconcile my belief in the inerrancy of Scripture with comments in Bible translations that state that a particular verse is not 'in better manuscripts'?
Is there a biblical principle behind the punishment of those who break the law?
Is it unscriptural for a Christian to be cremated?
Won't heaven's joy be spoiled by our awareness of unsaved loved ones in hell?
Where exactly do "Oneness" Pentecostals stand in relation to orthodoxy?
Do a man and a woman become married after having sex or after exchanging vows?
How Do You Know That You Have Truly Forgiven Someone?
Who Are We to Judge?
Should We File Lawsuits?
Can We Expect God to Forgive Unbelievers Who 'Don't Know What They're Doing'?
Is the Stock Market Good Stewardship?
Is Satan Omnipresent?
Is Suicide Unforgivable?
Was Slavery God's Will?
A Little Wine for the Soul?
Should We All Speak in Tongues?
Did Jesus Really Descend to Hell?
Take, Eat—But How Often?
Is Christmas Pagan?
Are Christians Required to Tithe?
Is Revelation Prophecy or History?
You're Divorced—Can You Remarry?
If Grace Is Irresistible, Why Evangelize?
Does the 'Bible Code' Really Exist?
What's the Unforgivable Sin?
What Bible Version Did Jesus Read?
Did God Die on the Cross?
Have something to add about this? See something we missed? Share your feedback here.
Our digital archives are a work in progress. Let us know if corrections need to be made.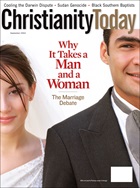 This article is from the September 2004 issue.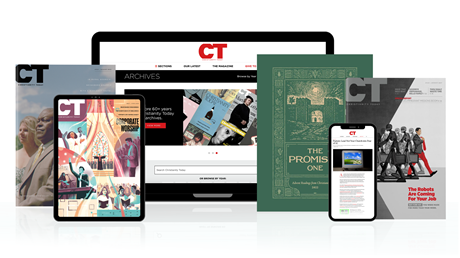 Subscribe to Christianity Today and get access to this article plus 65+ years of archives.
Home delivery of CT magazine
Complete access to articles on ChristianityToday.com
Over 120 years of magazine archives plus full access to all of CT's online archives
Subscribe Now
When God Doesn't Heal
When God Doesn't Heal