The Protestant reformers named three "marks by which the true church is known": the preaching of the pure doctrine of the gospel, the pure administration of the sacraments, and the exercise of church discipline to correct faults. Today, church discipline is feared as the mark of a false church, bringing to mind images of witch trials, scarlet letters, public humiliations, and damning excommunications. Does discipline itself need correction and redemption in order to be readmitted into the body of Christ? We have asked several experts from different (and sometimes contrasting) professional and theological backgrounds to explain how church discipline fell into disrepair and how it can be revived, so that the true church can fully embody the pure doctrine of the gospel once again.
Day One | Day Two | Day Three | Day Four | Day Five | Day Six
Wolves love to prey on sheep. First Church learned this lesson the hard way. A respected member persuaded other members to invest thousands of dollars in a business venture. When the venture stalled and he refused to return their money, they complained to the pastor. The businessman rebuffed the pastor's inquiries, so the elders mentioned the possibility of church discipline. A threatening call from an attorney successfully intimidated them, however, so they simply asked the businessman to find a new church.
The wolf found a new flock to prey on, but he also continued to bilk other members of First Church out of thousands of additional dollars. When those investors later discovered that their leaders had known of the businessman's schemes and did nothing to warn them, they threatened to sue the church! The shepherds were discredited, the flock was ravaged, and the wolf continued to prowl.
Contrast this debacle with the outcome of a virtually identical situation involving another businessman at Second Church. (Both stories are true but disguised.) When the elders confronted him about misleading investors, he also wanted to duck the issue. But since the church had previously obtained "informed consent" from him and all its members to practice redemptive biblical discipline, the businessman did not even call an attorney. Nor did he cut and run to another church, because he knew that his membership covenant gave his pastor permission to contact any church he fled to and ask its leaders to address his behavior.
Unable to flee from discipline, he resentfully submitted to it. Eventually he softened under the loving admonishment of his elders, realizing that they were trying to free him from the grip of greed and deceitfulness. Three weeks later, he had returned all of the money to the investors. Since his conduct and the resulting gossip had affected many people, the businessman offered to make a public confession in a Sunday morning service. When he finished, one of the investors came forward and gave a heartfelt confession of her own sins of bitterness and gossip. The gospel wasn't just preached that Sunday; it was lived out before the entire congregation and several amazed visitors.
Church discipline can have major legal repercussions. The disciplined member may file suit against the church for defamation, invasion of privacy, and infliction of emotional distress.
Getting Your House in Order
That's why you should obtain "informed consent" from your congregation for your disciplinary practices. (This article is not intended to provide legal advice. Consult independent counsel familiar with biblical church discipline.) This requires that all members be fully informed of your disciplinary policies and agree to submit to those policies. This involves several key steps:
Provide your members with thorough preaching and teaching on the biblical basis and process for church discipline.
Revise your bylaws and membership guidelines so they explicitly set forth your church's commitment to carry out biblical church discipline. In particular, specify whether you will inform members of the problem, whether you will continue with the disciplinary process even if someone attempts to resign from the church, and whether you will contact another church to which someone flees and seek its assistance in promoting repentance and restoration.
Gain support for and consent to these revisions through a careful educational process, open discussions, and congregational meetings.
Ask all members to sign a written covenant that makes reference to your disciplinary commitments. Although a written agreement is not required, it makes proving informed consent easier, and gives you something to fax to a threatening attorney to show him that this is a case he probably can't win.
Refresh your congregation's understanding of and commitment to these policies on a regular basis through an annual "Reconciliation Sunday."
A church that has done its work both biblically and legally will not have to look over its shoulder fearfully as it seeks to restore wandering sheep. Instead, it will be able to minister confidently and boldly as it works to guard its people not only from predatory wolves, but also from the plague of division and divorce that so often cripples our witness for Christ.
Ken Sande is an attorney who serves as president of Peacemaker Ministries. Resources for the educational and risk management steps mentioned in this article are available in the Church PeacePack, available at Peacemaker.net after September 15.
Related Elsewhere:
Previous articles in this series include:
How Discipline Died | The church should stop taking its cues from the state. (July 22, 2005)
Shaping Holy Disciples | Mark Dever says church discipline is not about punishment or self-help. (July 25, 2005)
Spheres of Accountability | The dynamics of discipline in the megachurch. (July 26, 2005)
More articles on church discipline or the need for it from CT includes:
To Judge, or Not to Judge | Christ commanded us not to judge others, but aren't there times when common sense or prudence requires it? (June 29, 2005)
The Evangelical Scandal | Ron Sider says the movement is riddled with hypocrisy, and that it's time for serious change. (April 13, 2005)
Canterbury Crackup | Eschewing church discipline has come back to haunt Anglicans. A Christianity Today editorial (Dec. 03, 2004)
Weblog: Debates on Debates on Church Discipline | Catholic bishops will issue statement on Communion as a Matthew 18 lawsuit is reinstated against a Texas Bible church. (June 18, 2004)
Articles from our sister publication, Leadership Journal, include:
Taking Church Membership Seriously | Why it's time to raise the bar. (April 18, 2005)
Church Discipline Really Works (pt. 1) | When you make it loving and redemptive. (Jan. 24, 2005)
Church Discipline Really Works (pt. 2) | How to find courage (and avoid lawsuits) when confronting sinning believers. (Jan. 31, 2005)
Mark Dever's Nine Marks site has a section on church discipline.
Albert Mohler, president of Southern Theological Seminary, wrote a series on church disciple. It is available on his website:
Should a Church Discipline Members Over Politics? | None of us wants to see churches identified as "Republican Baptists" and "Democratic Baptists." Such partisan identifications violate the autonomy of the church as the Body of Christ.
Mohler also covered this topic on his radio show.
The Disappearance of Church Discipline—How Can We Recover? Part One | The decline of church discipline is perhaps the most visible failure of the contemporary church.
The Disappearance of Church Discipline—How Can We Recover? Part Two | The disappearance of church discipline has weakened the church and compromised Christian witness.
The Disappearance of Church Discipline—How Can We Recover? Part Three | Spiritual leaders of the church are to confront a sinning member with a spirit of humility and gentleness, and with the goal of restoration.
The Disappearance of Church Discipline—How Can We Recover? Part Four | When should the church exercise church discipline?
Have something to add about this? See something we missed? Share your feedback here.
Our digital archives are a work in progress. Let us know if corrections need to be made.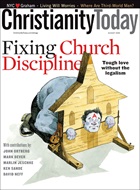 This article is from the August 2005 issue.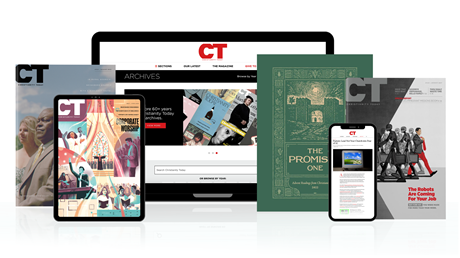 Annual & Monthly subscriptions available.
Print & Digital Issues of CT magazine
Complete access to every article on ChristianityToday.com
Unlimited access to 65+ years of CT's online archives
Member-only special issues
Subscribe
Keeping the Lawyers at Bay
Keeping the Lawyers at Bay