true
NOTE: Click each of the photos in this story to see a larger version.
Watching films being made is a passion of mine. As a teenager I visited the cinema frequently in an era where I could chase distant suns with Kubrick or enter the minds of students with Antonioni. I was enamored by the idea that a piece of moving celluloid could create a window in the mind where real emotions could be triggered, where worlds could be entered. How could this craft of film and mechanics lead to something so believable?
I also devoured the texts of Tolkien and Lewis. I forayed through Middle-earth and Narnia many times, as the words on a page created films in my mind. I followed my father with a love of photography and captured my own Middle-earth in the landscapes of New Zealand.
In 2002 I was one of the fortunate few "outsiders" allowed on the set of The Lord of the Rings. My book guiding visitors to the locations of Middle-earth had allowed me a ringside seat to the creation of this film epic.
While on set I talked to the actors, looked through lenses, listened to orcs roar, and spent hours sitting behind the master Peter Jackson as he directed. I learned the protocols of set, where not to sit, when not to speak, how to be a very quiet fly on the wall.
When it was announced that the most well known of the Narnia Chronicles would also become a film, the idea of a similar book was born—a tome that would allow readers to enter into a world few get to see. A book that would explain in simpler terms how a film was made.
That book, Cameras in Narnia: How The Lion, The Witch and The Wardrobe Came to Life (HarperCollins Publishers), is now available. And the process of putting it together—including four months on the set in beautiful New Zealand—was a thrill I'll not soon forget.
In the Company of the White Witch
I remember vividly my first day on location as the White Witch (played by Tilda Swinton) was gathering her army together in a forest camp north of Auckland. I drove through the forest to the set with anticipation and apprehension: The first day is always the hardest, like going to a new school.
Sitting in a theater watching an emotional scene belies the reality of the situation. As the White Witch plans her attack she is surrounded by swirling smoke, animals and darkening forest. The reality is that a group of hundreds have spent months planning this one scene. Builders and arborists have created a Narnia that is now populated with actors, extras wearing uncomfortable prosthetics, electricians, computer-toting reality benders, cameramen, cooks, beauticians, producers and directors. That is what I love about filmmaking: A seemingly disparate group of people that are all being driven by their artistic ability to create something that will live forever as a movie.
As these scenes are recorded for the film, it is my art to document their art. To capture the intense concentration of the cameraman, the delicate hand of make-up being applied, the adept scrutiny of images by editors, the emotional intensity of not acting but being that person portrayed.
When you see the completed project—the film arrives in theaters on December 9—you will see the result, but not the birth.
The photos in Cameras in Narnia show how the movie was crafted, but I also hope to convey to readers the amount of effort that those many people spent in creation—those people who are only briefly acknowledged as names when the final credits roll.
For example, Josh Leys was a stand-in double for William Moseley, who plays Peter. Moseley's name will be the one that viewers remember, but Leys' attitude typifies that of so many on the set who were willing to do whatever was needed to make the best movie possible.
Describing his role as a double, Leys told me, "They use me instead of the actor because being an actor you have to focus on your acting; you don't need to know the technical stuff. We do that for them so they can give their best performance."
Production manager Tim Coddington told me how every person on the set plays a key part—from director Andrew Adamson down to the last name when the credits roll.
"Everybody's job on the film set is as important as the next person's," he said. "We've got a director who has a wonderful vision and he can articulate that vision to everybody. It's one of those films where you come on board and you have to share that vision."
Even Adamson paid close attention to the tiniest of details. Wanting to capture a sense of wonder when Lucy (played by Georgie Henley) first sees Mr. Tumnus (James McAvoy), Adamson intentionally kept Henley from seeing McAvoy in make-up until it was time to shoot the scene. Henley was led to the Lantern Waste blindfolded, and the cameras rolled as her blindfold was removed to capture her genuine surprise.
From Cair Paravel to a magical forest
For four months, I spent many days on set—from a dusty old hangar in Auckland that became Cair Paravel to a magical forest near Queenstown (appropriately called Paradise) that now created a warming spring in Narnia. When I was not on set, my thoughts were never far from it. Filmmaking is an addiction, stronger than any drug. You want to be with the crew again, you want to be with these people who are living a world of creativity.
Of all the images I captured, two especially encapsulate this world. As Peter, Susan, Edmund and Lucy receive their crowns at Cair Paravel, I stood behind the crew and managed to capture not only an artistic performance for the camera but also the reality of the scene—with Adamson and his team concentrating on getting it exactly right.
In another scene at Flock Hill, we awaited Peter to raise his sword in defiance of The White Witch. I turned to look at over 100 people prepared to record that against a stunning backdrop that was Narnia.
After my last day on the set, I drove away with a heavy heart, not wanting the visits to end. I wandered through the freesias, crocuses and snowdrops as they sprouted into life amidst the melting snow. I spent time with the director and crew as they finished the last shot. I returned to reality and realized that this film was not over—it had only just begun. On December 9, when the film opens, everybody will have the opportunity to enter Narnia, just like I did—and this fantasy world will be totally real, because of the passion of the people behind it.
Watching The Lion, The Witch and The Wardrobe being created has been one of the highlights of my life. Why? It is the people I met, strangers that are now friends that welcomed me into their magical world.
Ian Brodie is not only a Lord of the Rings and Narnia buff, but also a big fan of airplanes and the founder of the New Zealand Fighter Pilots Museum. The author of eight books on aviation, Brodie also served as a consultant for Microsoft in the development of their Combat Flight Simulator software.
Copyright © 2005 Christianity Today. Click for reprint information.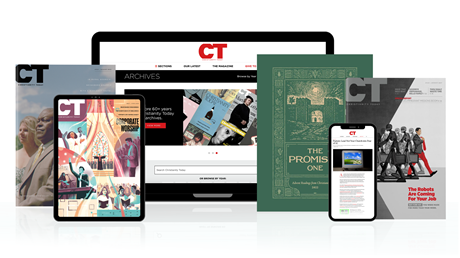 Subscribe to Christianity Today and get access to this article plus 65+ years of archives.
Home delivery of CT magazine
Complete access to articles on ChristianityToday.com
Over 120 years of magazine archives plus full access to all of CT's online archives
Subscribe Now
Photographing Narnia
Photographing Narnia