true
Since the beginning of the year, The Fray have gone from being a favorite local band in Denver to national headliners. Their first album, How to Save a Life, is well on its way to going Platinum, or more than one million units in sales. Their music has appeared on at least half a dozen TV shows and in an advertisement for The Devil Wears Prada. They've been on the cable music channels and on every late show on TV (Letterman, Leno, Conan, Ferguson). They've even been Xbox Live Artist of the Month!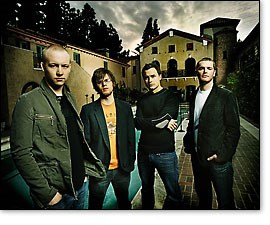 Despite all of those measures of success, the band best gauges its impact by simply reading e-mail from fans.
There was the e-mail with a video of two students playing an imaginative version of the title track to How to Save a Life at a high school talent show. Isaac Slade, The Fray's pianist, lead vocalist and songwriter, laughs about it: "The kids were in 11th grade, and we used to do the same thing."
Then there are the more sobering contacts, like the family of a teenager who died in a car accident. They wanted the band know the last song the young man had downloaded was "How to Save a Life," and that he had played it constantly.
"They used some of the lyrics in the bulletin, and his friends had Save a Life with his name tattooed on their arms," Slade says. He pauses before adding, "It's so humbling to hear people connecting to these songs in such a strong way."
The e-mail responses and conversations with fans while on the road are affirmations of what Slade says is God's call to the band away from the Christian music genre and into a secular market. (They are on the Sony label.)
Beyond the angst
Critics have credited the band's success in part to their catchy hooks and melodies, but the power of Slade's lyrics also has been key to catapulting The Fray into the national limelight. HTSL is filled with songs that tell stories of depth and emotion that go beyond the ever-present angst—and Christian—bands.
The band members' lives were largely formed in Denver churches where they helped lead worship, and in the Christian school three of them attended. Slade, 24, and guitarist Joe King, 25, were several years ahead of drummer Ben Wysocki, 21, at Faith Christian Academy. Wysocki and guitarist David Welsh, 21, played in the same worship band.
The band avoided Christian record labels, saying God called them to the secular market instead. "I feel he would be disappointed with us if we limited ourselves," Wysocki says.
Slade says he used to "write all Christian lyrics" until he had an epiphany while working a shift at Starbucks: "None of my friends outside the church understood any of my songs; we had a different set of vocabulary," he says. "So I went home and threw away all those songs."
He adds, "If I handed somebody a double grande mocha latte and told them, 'Jesus loves you and has a wonderful plan for your life,' they might throw it back on me.
"If we grow up in the church, it's easy to think it's our Christian duty to preach to every single person because God is the most important thing. And he is, but I'm a musician first. This is my job. We're not pastors. We're not preachers. We're not even missionaries."
Slade likens his job to any other. "If you're a painter, paint, but you don't have to have Jesus in every picture. Paint well, and if you paint well enough, they might ask you why you do that."
Relating to people's lives
Slade points out that Jesus used stories that contained much earthly imagery. "The Pharisees just quoted Bible verses," Slade says. "Jesus related the parables to people's lives. The people were drawn in by the plot development, character and conflict."
After tossing his Christian songs, Slade wrote about the breakup with his first girlfriend. "It was a lot more honest than I had ever been," Slade says. "It was scary being that honest and open."
Slade pushes through the fear with song after song that are every bit as candid. The title track to How to Save a Life recounts Slade's mentoring relationship with a teenager at a Christian halfway house who seemed hell-bent on destroying himself—but, fortunately, did not. With the power of a biblical lament, Slade mourns and cries in anger at the same time:
Where did I go wrong, I lost a friend
Somewhere along in the bitterness
And I would have stayed up with you all night
Had I known how to save a life
"This kid had a thousand opportunities to get into trouble and he got into all of them," Slade says. "It was heartbreaking to see all the sacrifice that went into trying to save this kid. A lot of it came out of love, but it came across as self-righteousness."
The song, Slade says, actually is "a case study" of a point in time of struggling with the teen, whose life is finally turning for the better. "I talked to him just last month," he adds.
The hit "Over My Head (Cable Car)" recounts the struggle to maintain a relationship with his brother. "We had our ideological differences," Slade says. "We were not seeing eye-to-eye on a whole lot of things, and we had to figure out whether or not the relationship was going to continue."
Slade's songwriting skills are apparent in two lines of the song, which capture the pain of wishing his brother were someone else so the situation and accompanying pain could summarily be dismissed:
I wish you were a stranger I could disengage
Say that we agree and then never change
"I think that's the part that a lot of people can relate to," says Slade, acknowledging that most people think the song is about a girl. "All real relationships don't just happen. They take so much work, sacrifice, compromise and understanding and determination to keep going."
Getting his emotions on paper
Slade says he tried to follow a musical mentor's advice and stay away from writing about his own relationship. "I just couldn't figure that one out," Slade says. "It seems the only thing I could write with authority about were things that happened to me or to people closest to me.
"The reason I started writing songs was because I have a talent for it, and I just love getting an emotion in my head out on paper," he continues. "It helps me make sense of life. It's the same way people write in journals so they can look back in years. I basically just put my journals to music."
With his typical wry sense of humor, Slade adds, "Then we try to tighten them up a bit and make them catchier than the average diary."
The band's diaries include entries trying to make sense of what has been essentially an overnight success after four years of playing any place that would have them. Just six months ago, they were still driving themselves in a van from one concert to another, setting up and tearing down their own equipment, eating fast food and then moving on to the next town.
Wysocki sums up that lifestyle: "You're just completely wiped out."
Life is better these days. Now they ride on a luxury bus supplied by the record company, a road crew handles the equipment, the food tastes a lot better, and sometimes they even have enough time to explore a city. "We get to experience so many things that we wouldn't have otherwise," says Wysocki. "It's a really cool job."
Little steps to stardom
What catapulted The Fray from local favorites to national celebrities so quickly? A series of circumstances, actually.
"It was a matter of momentum," Slade says. "It's a million things happening all at once. Opportunities come in a lot of teeny little steps. A radio station plays a song once at 9 p.m. on Sunday. Another deejay hears you and likes your stuff."
Slade doesn't know how the band wound up on The Late Late Show With Craig Ferguson—their first major TV gig—but says that led to the other appearances. The rest was just a mixture of appearances and song placements fueling sales, with sales leading to more appearances and song placements.
It's been a dizzying run; Slade even says their lives have been "turned upside down." As a result, the band members are trying to maintaining control of their lives that are suddenly so different from anything they ever imagined. "You're changing your life," he says. "You're changing how you operate."
Accountability partners
The recent changes include learning to deal with the temptations that often accompany fame—including female fans who are looking for more than just an autograph.
The men say they take the temptations seriously and serve as accountability partners for one another. If any member of the band were caught with a woman, Welsh jokes that the other guys wouldn't just reprimand him: "We'd skip right to murder."
"There's also this subconscious pressure," says Welsh, the only unmarried member of the group—and he's getting married in a few weeks. "You don't want to disappoint yourself and the three guys you're spending most of your life with." He adds that their years of friendship make it easier for them to speak frankly with one another.


"There's not a wild card in the band," says Welsh. "It's a group of four solid guys."
As far as being rock stars, "We're pretty boring," says Slade. A typical evening generally is spent in a hotel room calling their wives or, in Welsh's case, fiancée.
Still, they admit that one of their biggest struggles is staying grounded in their relationship with Jesus.
"We're all just learning that there are a lot of more proactive things that need to be done," says Welsh, adding that with time on the road, they're rarely able to attend their home churches. "So," he says, "a lot of that now falls into our hands.
"We're kind of past that first stage where you're thinking, It's great; we're on the road, it's exciting, it's fun. Now we're sort of at the stage where it's still fun, but now it's something where I feel a little distant from God. But I'm working at it. We're all working at it."
Band members don't publicize their faith, but they don't hide it, either. "We're definitely not going to deny it," Wysocki says. "We all grew up on Christian bands like Steven Curtis Chapman and dc Talk. Most of our musical past has been in worship bands."
Wysocki tells of a visit to a radio station that was welcoming calls from listeners when one fan surprised everyone with a comment, including the DJ, who had been looking at a Playboy magazine.
The DJ had asked listeners, "Tell us why you love The Fray," and one caller made their day by saying, "Because they're a faith-based band."
"That," says Wysocki, "was the coolest thing that happened to me in a long time."
Stan Friedman is an ordained minister living in Chicago, where he is a staff writer for the Evangelical Covenant Church.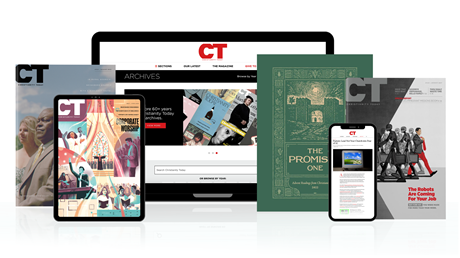 Annual & Monthly subscriptions available.
Print & Digital Issues of CT magazine
Complete access to every article on ChristianityToday.com
Unlimited access to 65+ years of CT's online archives
Member-only special issues
Subscribe
Into the Fray
Into the Fray