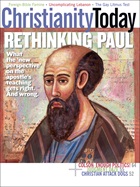 This article is from the August 2007 issue. Subscribers can read all of CT's digital archives.
First Look, Then Start Talking: Seeing the World Through the Eyes of Jesus
Donna S. Thomas
Donna Thomas provides readers with a winsome and helpful book on sharing Christ with our ethnic neighbors. It provides numerous insights from a seasoned, yet eminently practical, personal evangelist. Her instruction is less proposition-centered and more reliant on storytelling, out of which profound principles of communication emerge. Restaurants, coffee shops, college campuses, and the like are all places where Thomas meets and takes time to care for the many immigrants God brings her way.—Lon Allison
What Jesus Demands from the World
John Piper
Piper's Jesus has marching orders for his soldiers. There's work to be done for the kingdom and for each other. We should honor our commitments—in marriage, business, and society. Good preacher that he is, Piper's exposition is piercing and solid. This book offers conviction in just about every chapter. But while the word "grace" may slip into one or more of the 50 demands that Piper lists, you won't find it in the meticulously prepared index. Its absence there is noticeable.—Mark A. Kellner
If Jesus Were Mayor: How Your Local Church Can Transform Your Community
Bob Moffitt with Karla Tesch
Evangelicals have long talked about integrating "evangelism and social action," but often with inadequate biblical and theological grounding and few practical models. If Jesus Were Mayor provides both. Moffitt, head of Harvest International, advocates "wholistic ministry" based on "God's big agenda to restore all things." Churches that practice this see people won to Jesus Christ and transform their communities, but church growth is not the central focus. If Jesus Were Mayor moves discussions ...
1
Our digital archives are a work in progress. Let us know if corrections need to be made.
Bookmarks

This slideshow is only available for subscribers.
Please log in or subscribe to view the slideshow.