1. CRC drops "male" requirement for church office
The Christian Reformed Church's biannual synod voted 112 to 70 to remove the word "male" from its requirements for church office. The denomination had earlier allowed its regional bodies (called classes) to "declare that the word male in … the Church Order is inoperative" and allow the ordination and installation of women as elders, ministers, and ministry associates. More than half — 26 of 47 — of its regional bodies had done so. Last night's vote essentially reversed this local option; while the national body has no gender restriction on offices, classes may "set restrictions on women serving as delegates" to their meetings. A separate vote this morning allowed women to serve as delegates to CRC synods.
2. Many votes at Southern Baptists meeting. Now comes the spin
One of the resolutions most discussed before the Southern Baptist Convention's annual meeting, Tom Ascol's call for "integrity in church membership," won't even come to the floor for a vote. Meanwhile, there was a fair bit of debate over a resolution on global warming, and no debate at all (just an "overwhelming" assent) to a resolution asking the denomination's executive committee to create a database of pastors who have been "credibly accused of, personally confessed to, or legally been convicted of sexual harassment or abuse." The Baptist coordinator of the Survivors Network of those Abused by Priests (SNAP), which has recently given special attention to the Southern Baptist Convention, praised the vote as very positive and a step forward.
But the big news so far is the passage, by a vote of 2,137 to 1,565, of this resolution:
The Baptist Faith and Message is not a creed, or a complete statement of our faith, nor final or infallible, nevertheless we further acknowledge that it is the only consensus statement of doctrinal beliefs approved by the Southern Baptist Convention and as such is sufficient in its current form to guide trustees in their establishment of policies and practices of entities of the Convention.
Interpretation of the resolution's significance varies widely. "The message is, 'Don't restrict what is or isn't a Southern Baptist beyond the Baptist Faith and Message,'" Parkview Baptist Church pastor Benjamin Cole told The Dallas Morning News. The paper reports that the vote "could lead to greater acceptance within the denomination of those who have a private prayer language, a form of speaking in tongues." (The International Mission Board and the leaders of Southwestern Baptist Theological Seminary have policies against hiring those who use a private prayer language or support the practice.)
Bill Harrell, chairman of the SBC's executive committee, disagrees. The Baptist Faith and Message "has always been our guide," he said, and trustees will "still be able to answer the questions about whether to hire somebody or not. … I don't think [the resolution] will have a lot of significance, and I really don't think it is going to change much."
In other news, the election Jim Richards as first vice president of the denomination is largely being seen as a vote of confidence in the direction SBC leadership has been taking. His opponent, David Rogers, had lamented that the denomination has been "side-tracked on theological tangents that are not central to the gospel" and said he saw no reason in Scripture "why the biblical gift of tongues, as depicted especially in 1 Corinthians 12-14, has ceased."
3. Sudan says it will allow 20,000 UN and AU peacekeepers in Darfur
"African Union officials hailed the announcement as a breakthrough, but others cautioned that the Sudanese government had made similar pledges only to reverse itself," The New York Times reports. "Sudan has also set conditions for the deployment, including an insistence that a majority of the soldiers be African and that non-Africans be used only as a last resort, which may hamper efforts to raise the force to full strength."
4. Romney campaign announces religion advisers
I don't know the Mormon world well enough to know how many LDS members there are among the Romney for President National Faith and Values Steering Committee Chairs. But I do know the evangelical political world enough to be a little surprised. I'm not surprised to see former Council for Christian Colleges & Universities president Bob Andringa on the list, or American Center for Law and Justice head Jay Sekulow. Jack Templeton is more interesting than surprising. Mark DeMoss isn't surprising at all—the publicist apparently had a hand in launching Evangelicals for Mitt (the website's authors and editors are committee vice-chairs).
No. What surprises me is that the list includes Traditional Values Coalition president Lou Sheldon. I'm not surprised that Sheldon is backing Mitt. I'm surprised that Romney wants to be seen with Sheldon. As I've mentioned before, Sheldon has been accused by several other conservative Christian groups of taking bribes to lie. In 2003, this got him banned from meetings by conservative U.S. House members. In 2004 he admitted to CBS News that he's not good at actually reaching voters. In 2006, he said he knew "for a while [that Ted Haggard] had this problem. We weren't sure just how to deal with it. Finally the escort blew it out of the water."
In an earlier National Review Online column, Ramesh Ponnuru pointed out that "In 1998, the TVC defended pro-choice Republican Senate candidate Matt Fong from the attacks of primary opponent Darrell Issa, who was running as a pro-life conservative — after Fong donated $50,000 to the group. In 1999, the Orange County Register reported that the gambling interests had given money both to TVC founder Lou Sheldon and his son in return for their lobbying support."
Mike Schwartz, a vice president of Concerned Women for America, told Ponnuru, "I am ashamed to be in the same business with these people. It is lying to the grassroots by people whom they believe are sincerely interested in the cause, not in payoffs to tell lies."
In other words, Sheldon is not the guy who want when you're trying to shore up your conservative bona fides. That Romney wants this guy on his team suggests to me that he doesn't really understand the evangelical base he's supposedly reaching out to.
5. Evangelicals and "religious threat"
We missed the February 2006 Journal of Politics, where Notre Dame's David E. Campbell argued that "the more secularists in their community, the more likely white evangelical Christians were to vote for Republican presidential candidates in 2000 and 1996." (He's building on the "racial threat" hypothesis —"that white voters feel 'threatened' by the presence of African Americans in their community, and consequently become more likely to vote for racially conservative candidates as the proportion of blacks in their community rises.") But today, Paul Waldman talks about Campbell's study in an American Prospect article. He's particularly interested that Campbell found that "secularists do not appear to respond to the presence of evangelicals in their environment."
Noting the rise of books attacking religion, Waldman writes, "The question now is whether non-believers will, in large numbers, begin to define themselves as a tribe of their own. In order to do so, they'll have to feel at least some measure of antagonism toward those on the outside. That's what makes a tribe a tribe, after all."
Quote of the day
"Ruth is my soul mate and best friend, and I cannot imagine living a single day without her by my side."
— Billy Graham, in a statement today that his wife "is close to going home to heaven." The Associated Press reports that Ruth Graham, 87, fell into a coma this morning.
More articles
Christian Reformed Church | Southern Baptists | Atheism | Church life | Catholicism | Kidnapped priest in Philippines | Indonesia | India | Iraq | Africa's woes | Crime and abuse | Religious freedom | Church and state | 2008 campaign | Texas religion poll | More politics | Education | Marriage | Media | Exhibits and history | Other articles of interest
Kidnapped priest in Philippines:
Related Elsewhere:
I'm still soliciting comments on how to improve Weblog.
Our most recent Weblogs include:
Italian Priest Kidnapped in Philippines | Plus: 'Virtual desecration' of a famous cathedral, an important IVF finding, another pastor mariticide, Paris Hilton (of course), etc. (June 12)
Stem Cell Bill's Bad (Or Providential?) Timing | Plus: Surgeon general nominee's Methodist work under fire, Time interviews Rowan Williams, church building conflicts, and more. (June 8)
The God Debates of '08 | Plus: More tragedy for Iraq Christians, another blow to Iowa's faith-based prison program, America's new pilgrimage points, and other stories. (June 7)
See also the Christianity Today Liveblog.
Weblog
Launched in 1999, Christianity Today's Weblog was not just one of the first religion-oriented weblogs, but one of the first published by a media organization. (Hence its rather bland title.) Mostly compiled by then-online editor Ted Olsen, Weblog rounded up religion news and opinion pieces from publications around the world. As Christianity Today's website grew, it launched other blogs. Olsen took on management responsibilities, and the Weblog feature as such was mothballed. But CT's efforts to round up important news and opinion from around the web continues, especially on our Gleanings feature.
Ted Olsen is Christianity Today's executive editor. He wrote the magazine's Weblog—a collection of news and opinion articles from mainstream news sources around the world—from 1999 to 2006. In 2004, the magazine launched Weblog in Print, which looks for unexpected connections and trends in articles appearing in the mainstream press. The column was later renamed "Tidings" and ran until 2007.
Previous Weblog Columns: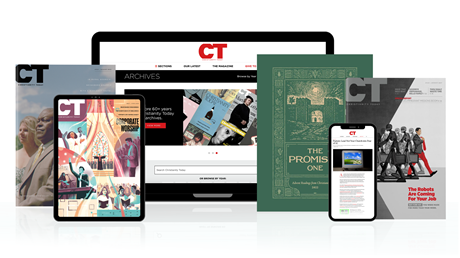 Subscribe to Christianity Today and get access to this article plus 65+ years of archives.
Home delivery of CT magazine
Complete access to articles on ChristianityToday.com
Over 120 years of magazine archives plus full access to all of CT's online archives
Subscribe Now
Christian Reformed Church Removes Bars to Women in Leadership
Christian Reformed Church Removes Bars to Women in Leadership