Newspapers reported one year ago that Ted Haggard had been using methamphetamines and consorting with a male prostitute. His confession stunned Christians across the United States. It wasn't just the megapastor's fall that alarmed people, but the larger, behind-the-scenes world of male prostitution. It's a world with which we're not familiar.
Just months before Haggard's confession, I had left my comfortable job in the suburb of Barrington, Illinois, to get to know male prostitutes on the streets of downtown Chicago and to research the subject. Like most in the Christian community, I was shocked and disheartened by Haggard's mistakes—but I had an additional perspective.
While working with Chicago-based Emmaus Ministries and studying hustler culture, I uncovered many of the complexities of male prostitution. I am not an expert; I still have much to learn from the men with whom I've eaten hot dogs and walked the streets of Boystown. But I gleaned a few insights and experiences that have given me a far better understanding of the men who become victims in this subculture.
'Chickens' and 'Hawks'
While most people tend to traffic in the feminine image of homosexual men, the true landscape of male prostitution is much more complex. In the early 1980s, G. W. Levi Kamel from the University of California, San Diego, spent two and a half years exhaustively researching hustler interactions. Building on a theoretical framework of symbolic interactionism, Kamel identified several types of hustler-client relationships, based on age, sexual orientation, gender-related mannerisms, and sexual-role preferences. The three main categories he identified are:
1. The youthful, gay "chicken" hustler, and the "hawk" clients who cannot find boys who are young enough.
2. The hyper-masculine "trade" hustler, and the "dropout" clients who are disappointed with the femininity of other gay men.
3. The understated "jock" hustler, and the "closet" clients—often suburban husbands or out-of-towners—men who generally find the gay world inaccessible.
I befriended hustlers in Chicago who fit each of these descriptions. Yet not all hustlers are homosexual. Some are conflicted about their sexuality, and many are in fact heterosexual. I met many hustlers who made it clear to me they were not gay. So why did they start hustling?
A study in Washington, D.C., by D. Kelly Weisberg found that 87 percent of hustlers cited money as a reason for hustling. Furthermore, 72 percent of this sample reported using drugs while hustling, which increased financial pressure. Weisberg determined that "early sexual experiences of these youth teach them the value of their body as a commercial asset; they begin at an early age to realize that sexual encounters can be a source of money."
Johnny was the first person to really teach me the truth of Weisberg's findings. We met on a Wednesday night in early June. He was in his late teens or early 20s, dark-skinned, chiseled, and just less than six feet tall, with his hair tied back into a ponytail. My outreach partner bought him a drink, and he walked with us for a few minutes while I asked him about his family. He still lived with them on the north side of Chicago.
We hung out several times over the following weeks, and eventually he told me how he started hustling. Before prostitution he did a lot of "boosting" (petty theft). One afternoon he was getting high with a friend, and she told him he could go to a certain part of town and make some extra cash by hustling. Johnny told me he didn't know how to approach potential customers when he first came to Boystown, but he quickly learned. At first hustling was not as lucrative as boosting, but it was much safer; he was less likely to get into trouble with the police for prostitution than for theft. And now he makes more money by hustling.
Still, the sometimes glamorous pretenses of hustling conceal a much darker reality. Many hustlers are boys who have run away from unstable home situations where there was physical, emotional, or sexual abuse, or where there were family conflicts over the sexuality of gay-identified youth. Research has shown a high frequency of hustlers who come from broken homes, homes with indifference or lack of affection, and hostile or abusive family members. One study in D.C. found that only 27 percent of young hustlers came from homes with both parents present; another national study found that only 18 percent had an intact family, and even when an apparently intact family existed, the relationships were broken. Most studies concur that fathers, more often than mothers, are either absent or ineffective.
It's not surprising, then, that poverty, homelessness, and mental illness characterize the lives of many hustlers. I remember meeting Kevin—he was so proud for finding an abandoned apartment to live in (instead of shelters and parks) with his transvestite hustling partner. We talked for at least an hour on a darkened residential side street in Boystown. Apparently he'd found a pretty nice building—vacant only because it was scheduled to be remodeled soon.
And then there was Brian. We first met on a Thursday night. He appeared feminine at first glance—tall and slender, with long hair. He explained that his mother was a prostitute and that he'd been raised by three women who were witches. He believed that he himself was a witch and simultaneously a born-again Christian. He had spent time in a psychiatric hospital and had attempted suicide at least twenty times (the scars on his wrists confirmed this), and yet quoted the Bible better than most of my Bible-quizzing youth group friends. Like many other men on the streets, he is in severe need of counseling and mental health services.
Along with these challenges, researchers and social workers are also concerned about drug use and disease in hustler culture. Drugs permeate life on the streets, and hustlers are no exception. According to Robert McNamara, a researcher in New York City and author of the book The Times Square Hustler, "Virtually every hustler uses some sort of drug, and many are poly-drug users." In Chicago, every hustler I met had to some degree battled substance abuse. Johnny talked quite a bit about the heroin recovery program he was struggling in. Hard drugs like cocaine and heroin are widely used among hustlers.
In addition to the risks associated with drug use, hustlers are also at a high risk for exposure to sexually transmitted diseases, including HIV—and most are strikingly unconcerned. In another study, Cudore Snell found that only 47 percent of his sample thought they "stood a chance of getting AIDS," though in reality nearly all of them were at high risk. McNamara also documented the prevalence of misconceptions about stds among hustlers, such as the belief that they can visually identify an infected client by whether he looks "clean" or "sick."
Furthermore, McNamara investigated coping mechanisms, including the disturbing reality that some hustlers, after learning of their infection, simply become apathetic, conceal it, and continue to hustle. Brian, for example, had AIDS yet didn't seem to fully grasp its meaning. Despite national campaigns during the 1980s to increase understanding of HIV/AIDS and to encourage precautionary measures, many hustlers remain uneducated in these areas.
Walking the Streets of Chicago
I spent countless hours with hustlers on their turf. Despite all my reading and research on hustling, most of what I learned could never be concisely summarized in a report. Perhaps one of the most important lessons for me was the fluidity of the streets: While definitions and categories are important for structuring services and forming strategies, labels like "hustler" and "non-hustler" sometimes become blurred in reality. And I learned through friendships with men involved in prostitution that there really wasn't much difference between us. Incidentally—regardless of sexual orientation—it seems we all have a sin-orientation. And most import-antly, I learned that in the complex world of male prostitution, there is still hope.
Emmaus Ministries of Chicago is a living expression of that hope. Founder John Green grew up in suburbia and didn't know anything about poverty or life on the streets until he dropped out of Wheaton College, moved to New York City, and started working with the homeless at an organization called Covenant House. There he discovered that male prostitutes were ostracized even in the homeless population, and he quickly developed compassion for these young men. Green returned to Wheaton College, and, with help from several of his professors, founded Emmaus Ministries in 1990.
Emmaus's purpose is threefold: to model Jesus' character, to provide assistance to men transitioning away from street life, and to broaden awareness of the needs of men on the streets. Staff, interns, and volunteers come from every imaginable background to work together in this Christian outreach.
Just a few weeks ago, an old client named Buck stopped by the Emmaus office to catch up with Green. Five years ago, Buck had decided to attend an Emmaus retreat for hustlers at Honey Rock Camp in Wisconsin. Soon after, he was forced to do time for drug possession. But some of the Emmaus staff stayed connected with him, mostly through letters. And that was enough—after his release, Buck stayed clean and sober, and through the support of an AA group, he stayed that way. Getting his commercial trucking license helped Buck land a good job, and now he drives all over the country. He showed off the keys to his truck while talking with pride about the mass of Peterbilt metal idling in a bank's parking lot down the block. And last year, he married a woman with two kids. He talked with Green about the joys and struggles of raising them.
Although there are some amazing stories of transformation, it is difficult to offer success metrics when it comes to ministries like this—ministries of presence. Many times they don't know the effect they have on these men, or how many lives are turned around because of their ministry. But the stories I heard while working there convinced me that Emmaus is making a positive impact on a subculture that is, for better or worse, becoming less mysterious to us.
Jeremy Schneider is a member of Uptown Baptist Church in Chicago, and works as an IT consultant.
Related Elsewhere:
Emmaus Ministries has resources on topics such as sexual redemption, videos about its program, and a new location in Houston, TX.
Christianity Today previously reported on Emmaus in 1999.
Today's Christian profiled the ministry in its July/August issue.
Other articles about ministries to prostitutes include:
Sex Isn't Work | Tragically, the world's oldest profession has one of the world's youngest workforces today. (December 29, 2006)
Red-Light Rescue | The 'business' of helping the sexually exploited help themselves. (December 29, 2006)
Child Sex Tours | The average victim is 14, and Americans make up 25 percent of the customers. (December 29, 2006)
Sex Isn't a Spectator Sport | Germany's World Cup pimping will fuel sex trafficking. A Christianity Today editorial. (July 1, 2006)
Asia: Christian Women Combat Sex Trafficking | Christian women lead girls out of sexual bondage. (October 4, 1999)
Back From the Brothel | Thanks to brave ministries, prostitutes are still entering the kingdom. (January 2005)
Churches Rescue Thailand's Sex Tourism Workers | Protestants and Catholics work against $2.2 billion industry (November 1, 1999)
Angels of the Night | A Chicago street ministry reaches out to male prostitutes working the street. (January 11, 1999)
A Bridge Over Troubled People | Sinners of all stripes find a church home under the I-35. (April 1, 2004)
Fighting the other slave trade | Women against sexual trafficking.(Christian History & Biography, April 1, 2006)
Articles on last year's Ted Haggard scandal and sexuality and gender are in our full-coverage sections.
Our digital archives are a work in progress. Let us know if corrections need to be made.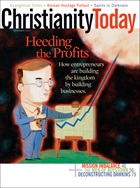 This article is from the November 2007 issue.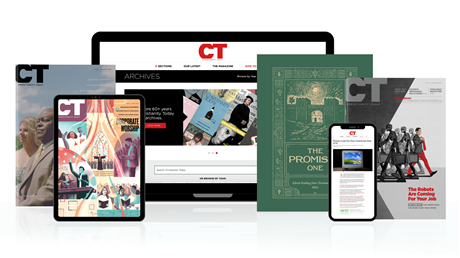 Subscribe to Christianity Today and get access to this article plus 60+ years of archives.
Home delivery of CT magazine
Complete access to articles on ChristianityToday.com
Over 120 years of magazine archives plus full access to all of CT's online archives
Subscribe Now
The Men of Boystown
The Men of Boystown