true
Timing, they say, is everything. The Stoning of Soraya M., which depicts the rigged trial and execution of an Iranian woman whose husband has grown tired of her, goes into limited release this Friday after playing at a few film festivals—and it happens to be coming out at a time when the eyes of the world are on Iran and the crackdown that has taken place there against the protestors who claim the June 12 election was rigged by the authorities.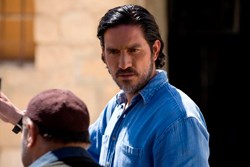 However, when CT Movies spoke to producer Steve McEveety and co-star Jim Caviezel (who played Jesus in The Passion of the Christ) about the film, the election was still a few days away—so they never had a chance to address any of the connections that may exist between their movie and the headlines that are currently shaking the world.
They did, however, discuss how volatile the situation is in the Middle East, and how it took a lot of courage for writer-director Cyrus Nowrasteh, an American filmmaker of Persian descent, and his cast of mostly Iranian actors (including Shohreh Aghdashloo, who was Oscar-nominated for House of Sand and Fog) to make the movie that they did.
For example, the film is based on a book by French-Iranian journalist Freidoune Sahebjam, who was tried in absentia and sentenced to death by the Iranian government because he reported extensively on the human-rights violations in that country. McEveety recalled how he and Caviezel had planned to meet Sahebjam while working on the film, but "the night before we were set to leave, we got word that he died. So it was kind of scary—we didn't know how he died. But we eventually found out that it was natural causes, thank God."
Was there any concern that there might be a fatwa—or death sentence—on the filmmakers themselves? "Sure there was a concern," said Caviezel, who plays Sahebjam, "but you know, it was interesting. The cast often said that it would be an honor—and these were Iranian actors—it would be an honor, more than the Academy Award, to be called on in a fatwa. I mean, they're patriots."
McEveety—who produced many films for Mel Gibson over the years, including Braveheart and The Passion of the Christ, before starting his own company, Mpower Pictures—first discovered The Stoning of Soraya M. when he hired Nowrasteh to work on another project that had to be put on hold because of the writers' strike a couple years ago.
Faced with a lot of "down time," McEveety took a look at this other script that Nowrasteh had already written, and it blew him away—so much so that he immediately began to raise the money to make the movie, which turned out to be a lot easier than he expected. "This is the quickest movie I've ever turned around in my career," said McEveety. "From the time I decided to do it to the time we finished was just about a year, which is amazing."
On some levels, the film feels very much like an insider's critique of the abuses of radical Islamic faith. It begins with a quote from a medieval Iranian poet, and it goes to some lengths to emphasize that the trial which leads to the titular execution is not representative of how Islamic law is supposed to work; instead, the trial is manipulated by specific individuals, some of whom have secrets of their own to hide, who have corrupted the system to their own ends.
But McEveety insisted that the story has a much broader appeal than that. "The reason why I was attracted to it, honestly, wasn't to make any statement about the Middle East or what's going on there. To me it was a universal story about abuse, and it was a story that empowered victims, and I think that this goes on everywhere in the world. Not to the degree of stoning someone to death," he added, "but women are abused here in America all the time and we just don't know about it because it's behind closed doors."
The film also serves as a sort of Passion of the Christ reunion, bringing together as it does not only McEveety and Caviezel but also composer John Debney. More significantly, the movie has some narrative parallels to The Passion, since it also revolves around an innocent victim whose slow, torturous execution is portrayed in brutal, harrowing detail.
McEveety, who is himself a Christian, said these parallels should make the movie just as relevant to Christian viewers as it is to Muslim viewers. "This woman is very much like Jesus, and she doesn't even know him. And she carried her cross and she was crucified with dignity and honor. The difference is that Jesus was God and this woman is a follower of God." He added: "For me, personally, it's a very faith-filled film. I couldn't ignore it."
Similarly, Caviezel, also a Christian, said he hoped the film would draw North American believers out of their complacency and get them thinking about the role that suffering plays in our faith. "So much of the time now, we think of the Gospels and say, 'Wasn't it great that they did that for us, we don't have to do that now.' So suffering plays no part of our Christianity, it was just 'those guys back then.' It's not true. It's in everyday life. Where are we going to stand? What choice are we going to make? Are we going to be cowards?
"Films like this are great trial runs. It's a practice. You can sit there and watch it, and the way films act, they play on your emotions and they draw your soul out, and this kind of film does that. There's an old saying, 'What you do in private is who you really are.' And in the privacy of that place in the little theatre, you know what you are, whether you're full of courage or you're a coward, what you would do. If you're a coward, then you can say, 'No one else knows that, but I can get right and get ready, because something may come.'"
The film's official website includes a "Get Involved" section for those who'd like to learn more about women's rights violations around the world, and how to take action.
For bonus coverage of our interview with Steve McEveety, see the CT Movies blog.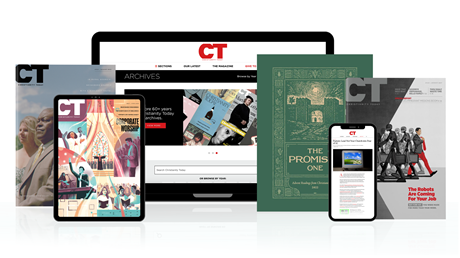 Subscribe to Christianity Today and get access to this article plus 65+ years of archives.
Home delivery of CT magazine
Complete access to articles on ChristianityToday.com
Over 120 years of magazine archives plus full access to all of CT's online archives
Subscribe Now
A Passion for Women's Rights
A Passion for Women's Rights