If you've heard the word porn in church recently, in a small group or from the pulpit, chances are you hardly blinked. Thanks to ministries like Promise Keepers and Operation Integrity, the research of sex addiction expert Patrick Carnes and neuroscientist William Struthers, and individuals courageous enough to admit they have a problem, American churches have squarely faced porn's destructive and tragic effects. We know porn is highly addictive, and we have more tools than ever to break its stranglehold. Praise God.
If you are a man, that is. On the whole, U.S. churches have been slower to see how pornography—a multibillion-dollar industry that dominates the Internet and becomes more violent by the minute—hurts more than the men addicted to it. Pastors, counselors, and Christian families should realize and begin addressing how porn hurts women in particular. Three sets of women come to mind.
Women Who Use Porn: Precise numbers are hard to come by (Carnes estimates 3 percent of American women are sex addicts, which includes porn addiction), but it's clear that porn is no longer solely a men's issue. Nor are the shame and cycles of secrecy, though men and women often turn to it for different reasons. Says Marnie Ferree, a Christian clinical therapist and author of No Stones, "No woman can recover alone. I hear a lot of women saying, 'I thought I was the only one.' When they believe they are uniquely perverted, it's hard for them to talk."
With this in mind, churches can make the tools that are effective in helping Christian men escape porn more available to women. Referrals to outside counselors might list someone uniquely trained to help female addicts. Church leaders might establish accountability groups for women only. And, during cyclical sermons about sexual purity, a pastor might even ask a woman to give her testimony of how Christ met her at the well and freed her from sexual shame. Redemption, like addiction, is no respecter of gender.
Women in the Porn Industry: Beyond what fleeting release their precious sexuality can provide paying viewers, women in porn are a means to an end. This is the brutal truth of the industry, one that will not go away despite Hugh Hefner's and TV execs' attempts to glamorize it. And today's porn puts women in more physical danger, let alone psychic turmoil. "Pornography today is not your father's Playboy," says Gail Dines, recent author of Pornland, which details how rape, beatings, and other brutalities are depicted as sexy. Many actresses deal with it by using drugs and alcohol (the industry's "office supplies," says one Orange County counselor). Other women in the industry don't have that luxury: The National Center for Missing and Exploited Children and journalists like Nick Kristof and Dawn Herzog Jewell have connected the grimy dots to expose how our culture's appetite for porn feeds our trafficking problem. The State Department reports that, of all trafficking victims brought into the U.S.—80 percent of whom are women—70 percent are sexually exploited.
In the past few years, we have seen a groundswell of gutsy ministries that know porn stars bear the imago Dei, and go to XXX conventions and strip clubs to reinforce that truth. Groups like Pink Cross Missionaries and Treasures are led by former porn actresses whose own broken imago Dei has been restored by Jesus. Beyond continuing to raise awareness on human trafficking, churches and individual believers can support ministries that treat porn actresses like daughters of God—and teach a theology of salvation that corroborates that.
Any Woman You Know: In a "sexually obese" culture like ours (a phrase from psychiatrist Mary Ann Layden), people who never use porn end up bearing its costs. That includes wives, who are held up to impossible sexual standards and are as robbed of sexual intimacy as their addicted husbands are. That also includes teenage girls, who are being taught by the entertainment industry and boyfriends that being a woman is about being hypersexual for others.
But because porn literally rewires the brain, creating neural pathways that change how users understand the world, we know that porn warps how men and women see each other. Porn is demonic not primarily because it is addictive. It is demonic because it always flattens three-dimensional humans—especially women—to a collection of body parts meant for others' gratification, sullying the full glory that God intended them to reflect. And often it leads addicts to flatten women too, despite their beliefs or intentions.
When that happens, a whole society suffers, as ours is now, paying for it in countless broken families and lives. Beyond helping addicts, churches can prophetically speak out on porn's unseen but very real societal costs—and invite addicts outside the church to abandon their junk food habit and come to God's banquet of soul-nourishing intimacy.
Related Elsewhere:
Previous Christianity Today articles on porn include:
Not Just a Guy Issue | Crystal Renaud helps women addicted to pornography. (April 21, 2010)
Porn Star No More | Former adult film star Crissy Moran returns to Christ and makes a movie based on the Bible story of Hosea and Gomer. (February 11, 2009)
Nice Yet Naughty | A no-nonsense book of female sex addiction is finally here. (December 1, 2003)
Hugh Hefner's Hollow Victory | "How the Playboy magnate won the culture war, lost his soul, and left us with a mess to clean up" (December 1, 2003)
Previous Christianity Today editorials include:
Let the Sea Resound | We can no longer act like creation care is a secondary issue. (July 30, 2010)
Bearing True Witness | Why we are tempted to embellish conversion stories. (June 28, 2010)
Don't Shoot the Messenger | What all Christians can learn from the Catholic Church abuse scandal. (May 27, 2010)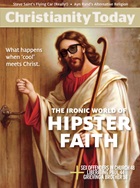 This article is from the September 2010 issue.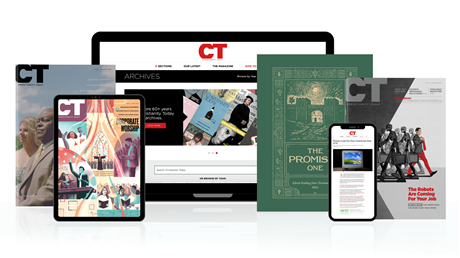 Subscribe to Christianity Today and get access to this article plus 60+ years of archives.
Home delivery of CT magazine
Complete access to articles on ChristianityToday.com
Over 120 years of magazine archives plus full access to all of CT's online archives
Subscribe Now
An Equal-Opportunity Destroyer
An Equal-Opportunity Destroyer