The question is no longer, "Do you believe in global warming?" but, "What do you believe about the Gulf oil spill?" The BP spill has brought creation care closer to home. Whether global warming is a dire threat or not, human-made or not, we are all now more aware of our relationship to other parts of God's creation.
It goes without saying that one of our main callings is to care for the Earth. The Bible uses a variety of phrases to talk about this, such as "to work and keep" the garden (Gen. 2:15, ESV), to "have dominion" over all the animals (Gen. 1:28, ESV), and to "rule over" "the works of [God's] hands" (Ps. 8:6, NIV). Though some secular critics argue that the language of dominion and rule has led to exploitation, anyone familiar with the biblical context knows these words are about stewardship: We have authority, all right, but it is the authority given to a caretaker to manage things on behalf of another.
The main thing we are to manage is creation's ability to glorify the Creator. The Bible is replete with the idea that all creation—everything from rocks and trees to badgers and eagles—is to witness to divine grace: "Let the heavens rejoice, let the earth be glad; let the sea resound, and all that is in it; let the fields be jubilant, and everything in them. Then all the trees of the forest will sing for joy; they will sing before the Lord …" (Ps. 96:11-13a, NIV).
The Westminster Shorter Catechism put it well when, answering the question, "What is the chief end of man?" it stated, "To glorify God and enjoy him forever." We might add, in light of the biblical calling to steward the Earth, "and to ensure that all of creation glorifies God as well."
The problem with the Gulf oil spill is not just that human lives were lost and that the Gulf economy is destroyed and that pelicans and turtles and other animal populations will be wiped out. All of that is bad enough. But worse is this: A sea hemorrhaging black oil now suffocates life instead of nurturing it. The sea does not resound with the glory of God but instead has become a sign of human hubris and greed.
To destroy the environment is not only an economic problem—it is also a theological problem. More specifically, it sabotages worship, the chief end of man and of creation.
The church—created to glorify God—can no longer pretend that creation care is an issue just for 'sea huggers.'
There seems to be little doubt that the Gulf oil spill is the United States' environmental 9/11. The news coverage has been relentless for months, and according to a recent Pew survey, the public thinks the coverage is just fine. A recent Gallup Poll determined that Americans have shifted from a "somewhat pro-energy stance to an even stronger pro-environment stance."
Christians are very much in step with this shift in popular opinion. Southern Baptist theologian Russell Moore, in an eloquent lament about how the spill would devastate his beloved hometown of Biloxi, acknowledged that "for too long, we evangelical Christians have maintained an uneasy ecological conscience. I include myself in this indictment." His essay was one signal to David Gibson of Politics Daily that evangelicals are "seeing the disaster as a moral challenge" and "repenting of their previous positions." A recent resolution of the Southern Baptist Convention condemning those responsible for the oil spill only reinforced his point.
We all recognize the incongruity when churches speak of redemption in Christ and yet their members do not attempt to live out that redemption, however partial, in this life. The same applies to our creation mandate. As Moore put it, "Will people believe us when we speak about the One who brings life and that abundantly, when they see that we don't care about that which kills and destroys?"
Churches can no longer be indifferent to those matters that signal—to our members and to the world we long to reach for Christ—whether or not the Earth can resound to God's glory. At a very practical level, it means not just preaching and teaching but also being faithful in small things: taking concern for how efficiently we heat and cool our buildings, encouraging recycling at church gatherings, starting a community garden, and doing a hundred other things that signal our commitment to living in a way that exemplifies God's intentions for his Earth.
The ground has shifted. The church—created to glorify God—can no longer pretend that creation care is an issue just for "sea huggers." We are the sea huggers. We must change our talk to embrace creation care, and eagerly walk that talk.
Related Elsewhere:
Previous Christianity Today articles on creation care include:
The Cry of the Oil-Soaked Pelican | How the birds mired in the Gulf oil spill teach us to properly grieve. (June 9, 2010)
Village Green: Creation Care | How concerned should Christians be about environmental care? (June 6, 2010)
Judgment in the Gulf | Woes and blessings of the oil spill. (June 1, 2010)
Previous Christianity Today editorials include:
Bearing True Witness | Why we are tempted to embellish conversion stories. (June 28, 2010)
Don't Shoot the Messenger | What all Christians can learn from the Catholic Church abuse scandal. (May 27, 2010)
The End of Religious Freedom? | The nightmare scenarios could very well unfold, but they are not the last word. (April 7, 2010)
Have something to add about this? See something we missed? Share your feedback here.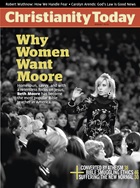 This article is from the August 2010 issue.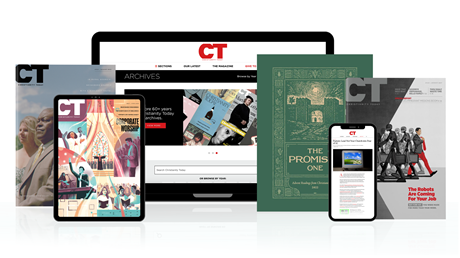 Annual & Monthly subscriptions available.
Print & Digital Issues of CT magazine
Complete access to every article on ChristianityToday.com
Unlimited access to 65+ years of CT's online archives
Member-only special issues
Subscribe
Let the Sea Resound
Let the Sea Resound