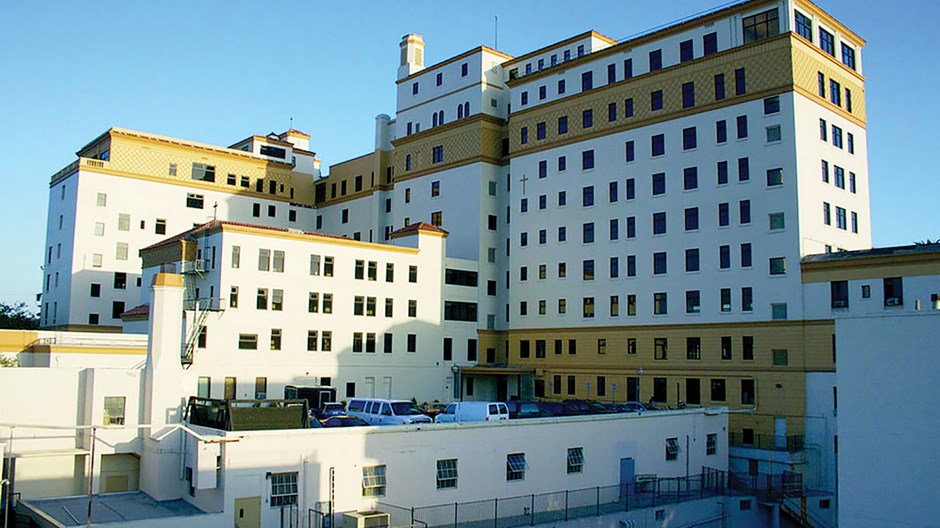 Image: Courtesy of Dream Center
The dream first took shape in Los Angeles in 1994, when Tommy Barnett, pastor of Phoenix First Assembly of God, extended his church's outreach. He bought an abandoned behemoth of a building, the 360,000-square-foot Queen of Angels hospital complex, and, with the help of his then 20-something son, Matthew, started the Dream Center (DreamCenter.org). Today the center is a joint effort of the Assemblies of God and the Foursquare Church.
The nonprofit outreach involves hundreds of volunteers and staff, carrying out over 250 ministries that weekly touch over 40,000 people living in the inner city. Ministries include food trucks, a shelter for human trafficking victims, a mobile medical clinic, and the Dream Center Academy. In 1998, George W. Bush visited it and called it "a model for faith-based organizations." Pastor Barnett has seen the movement spawn almost 200 similar "dream centers" staffed by Pentecostals in cities and towns across the nation. Robert Crosby interviewed Matthew Barnett for CT.
What is the Dream Center's mission?
Being a 24-7 church in the community—a church that never sleeps, meeting all kinds of human needs.
What are some newly launched ministries at the Dream Center?
We recently opened the largest rescue center in America for human trafficking, with 60 beds. To our knowledge, prior to this there were only 39 beds [at one site] devoted to this kind of effort in the country. We now also have an on-site college that is regionally accredited. It serves as a bit of a "Peace Corps" and niche college experience.
How has the recession affected the Dream Center?
It has been one of the worst, yet one of the best, things America has faced. Pastors and churches used to believe that what they needed to do to succeed was build bigger buildings than other churches. Now they are rediscovering that real ministry is among the people of their community. During the recession, the police started asking the Dream Center for help. This is a switch. Before the recession, we averaged one new family asking for housing every two weeks; now we have six to eight families coming every day.
How has the Dream Center affected the part of Los Angeles in which you serve?
Early in our ministry, after we had rescued seven students in need of housing and meals, Child Protective Services in our area sent us a letter with a mock receipt to indicate the amount of money our help was saving them. Their estimate for monies saved by taking care of seven students for one year? $493,000.
'Our approach is this: Don't look for your cause. Just use what you have in your hand, and your cause will find you.'—Pastor Matthew Barnett
To give you an idea of the impact God is having on our community: The Echo Park area of LA, in which the Dream Center is housed, used to be one of the most crime-ridden regions in the country. It was recently named one of the "50 most livable cities in America." Crime has been significantly reduced.
How do you staff such a large ministry?
Seven thousand people a year come from churches across the country to volunteer. In fact, we have 18 churches here volunteering this week alone. They come, they serve, and they go back fired up to meet needs in their community.
What is one of the most effective ministries you carry out on a weekly basis at the Dream Center?
Adopt-A-Block. In essence, a group of people meet every Saturday morning and go to the particular block in the city they have "adopted," knock on doors, and ask, "Is there anything we can do to serve you?"
What is the average age of your volunteers and staff?
We have 200 full-time one-year volunteers and 75 paid staff. About 95 percent of them are college-age. This is a youth movement. For example, a 20-year-old currently runs our Adopt-A-Block ministry, which enlists 700 people in compassionate ministry every Saturday.
Why has the center's approach to engaging communities caught on with so many Pentecostals?
People in our community know more about what we are for than what we are against. They know we care. Pentecostals used to say, "We will let the Catholics take care of the social work; we will focus on saving souls." Today, people in the church want to attach themselves to a church with a mission.
Our approach is this: Don't look for your cause. Just use what you have in your hand, and your cause will find you. Honestly, what we do is so easy to reproduce. It is finding the joy of ministering to people who can give you nothing in return.
No doubt there are many thousands of stories of lives reached with Christ's love through the varied efforts. What is one of the most recent ones?
Six months ago, a young man was dropped off at Skid Row at age 18. His foster parents left him there, having told him that since he was too old to receive government support, he was of "no use to them anymore." We found him in tears. Just hearing of his need led to us taking him in and starting one of our newest ministries, Emancipation Home. It is a housing wing designed specifically for young men like him.
Related Elsewhere:
This article is a sidebar to "A New Kind of Pentecostal." For more information about the Dream Center, visit its website.
Previous Christianity Today coverage of Pentecostalism includes:
Pentecostals: The Sequel| What will it take for this world phenomenon to stay vibrant for another 100 years? (April 1, 2006)
Grading the Movement| Three leaders talk frankly about Pentecostalism: the good, the bad, and the unpredictable. (April 1, 2006)
Explaining the Ineffable| In 'Heaven Below,' a former Pentecostal argues that his ancestors were neither as outlandish as they seemed nor as otherworldly as they wish to seem. (August 1, 2001)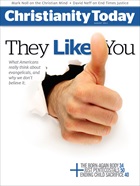 This article is from the August 2011 issue.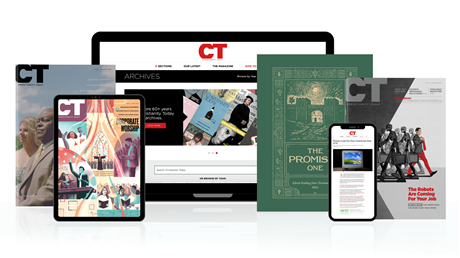 Subscribe to Christianity Today and get access to this article plus 60+ years of archives.
Home delivery of CT magazine
Complete access to articles on ChristianityToday.com
Over 120 years of magazine archives plus full access to all of CT's online archives
Subscribe Now
A Dream of a Center: 'A Model for Faith-based Organizations'
A Dream of a Center: 'A Model for Faith-based Organizations'