Editor's note: This is not today's only article on Komen and Planned Parenthood. In addition to our news report, you might also enjoy Albert Mohler's argument that there is "no neutral ground when it Comes to Planned Parenthood," Matthew Lee Anderson's examination of "The Politics of Breast Cancer," and Mollie Ziegler Hemingway's look at "The Komen Fiasco's Silver Lining."
The Pink Ribbon, for now anyway, is an emblem of the culture wars.
Today the Susan Komen Foundation for the Cure announced that it was caving to pressure from the Planned Parenthood Federation, reversing its decision not to fund Planned Parenthood in the screening of women for breast cancer.
This is an important victory for Planned Parenthood and the abortion rights lobby. First of all, the association with Komen is a key piece in Planned Parenthood's effort to present itself as a "women's health provider" rather than simply as an abortion provider. Beyond that, the surrender of the nation's leading breast cancer awareness group to this kind of political pressure proves the clout of Planned Parenthood and their allies.
Evangelical and Catholic Christians, and our pro-life allies of all faiths, might be tempted to draw some wrong conclusions from this tragic affair. After all our years of trumpeting opinion polls showing a "pro-life majority" in the United States, this demonstrates that, when it comes to money and power, the pro-choice forces aren't sustained simply by the penumbra and emanations of an old Supreme Court decision.
Some pro-life persons might wish that the Christian churches had as much influence in the public arena as Planned Parenthood, that we were able to mobilize as many callers and threaten as many boycotts. Some might see this as a sign that we need more money and respect. After all, if some Christian foundation had more financial firepower than Planned Parenthood, Komen might have stood firm.
In all of this, though, we can gain an opportunity to see what the abortion culture is all about: cash. Planned Parenthood and their allies use the thoroughly American language of freedom of choice and women's empowerment, but what's at stake, as seen here, are billions of dollars. That's why, despite their talk about adoption as a "choice," Planned Parenthood and others hardly ever lead women through an adoption process relative to how often they promise them the "fix" of a "terminated pregnancy." There's a profit motive involved in every abortion.
Christians shouldn't be surprised by any of this. Money and power, abstracted from the lordship of Christ, always lead to violence. Pharaoh ordered the execution of the Hebrew children because they threatened his position in "the 1 percent" of ancient Egypt. Herod carried out the same decree because he wanted to protect his kingship, a kingship that carried with it the financial support of the Roman Empire.
No one, Jesus told us, can serve both God and Mammon. In saying this, Jesus personalized money in a disturbing way. When capital becomes God it, somehow, is no longer something, but someone. The demonic force of rapaciousness so distorts the soul that, when it's threatened, someone is going to die.
The answer for those of us who cherish the lives of women and their children, regardless of stage of development, isn't to long to compete with Planned Parenthood in the influence that comes with massive amounts of wealth. It's instead to see, first of all, how our own captivity to Mammon devolves us in the same way.
After all, Planned Parenthood is making a killing, yes, but their customers aren't all secularists. In any given clinic, there sits a young woman with a Rosary in her pocket, or AWANA Bible verses memorized in her brain. Waiting outside those clinics, there's often a Southern Baptist deacon or a Presbyterian elder, who assuages his conscience by thinking he or his girlfriend or his daughter can't "afford" a baby right now.
After a generation of Christian churches emphasizing financial prosperity and the American dream, is it any wonder that when being pro-life moves beyond voting for candidates and toward dealing with an unwanted pregnancy, so many of our own slip out into the darkness of the nearest large city with a guilty conscience and an envelope full of cash?
We don't need a Christian foundation to compete with the merchants of death. We don't need one more coalition with enough signatures to counter the threatened boycotts of the abortion rights peddlers. And we sure don't need to sell bumper stickers with a line drawn through a pink ribbon.
What we need, first of all, are churches who recognize that this isn't all that surprising. Mammon is a jealous god, and he's armed to the teeth. We need to create the kind of counter-culture that constantly shines the light of Christ wherever these false gods exist in our own affections. And then we need to demonstrate what it means to believe that a person's life consists in more than the abundance of his possessions.
Let's stop highlighting how God "blesses" the millionaire who tithes. Let's stop trumpeting the celebrity football players and beauty queens as evidence of God's blessing. Let's show that God has blessed us in a Christ who never had a successful career or a balanced bank account, but who was blessed by God with life, and with children that no one can number, from every tribe, tongue, nation, and language.
Planned Parenthood has won this one. They spent a lot of money, and they'll make a lot of money. And they'll do so off the shredded corpses of children and the raped consciences of women. If Jesus' kingdom were of this world, we'd be fundraising to keep up with them.
But what we have is greater than that. We have a word that tells a pregnant young woman that we believe her Down Syndrome baby is a gift, not a health care burden. And we can offer the kind of gospel that cleanses the conscience and offers what outlasts money and power: life and that to the uttermost.
Let's work to legally protect women and children. And let's grieve that old Mammon has won the day, again. But let's not grieve like the pagans who have no hope. When it comes to the struggle for life, the color of victory isn't pink like a ribbon. It's red like a cross.
Russell D. Moore is the dean of the Southern Baptist Theological Seminary in Louisville, Kentucky. He blogs at "Moore to the Point," www.russellmoore.com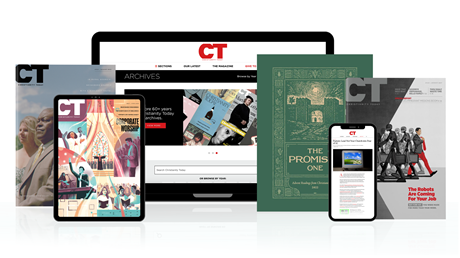 Subscribe to Christianity Today and get access to this article plus 65+ years of archives.
Home delivery of CT magazine
Complete access to articles on ChristianityToday.com
Over 120 years of magazine archives plus full access to all of CT's online archives
Subscribe Now
The Pink Ribbon and the Dollar Sign
The Pink Ribbon and the Dollar Sign