Enlightened leaders and members of Hispanic churches in the United States recognize that their communities are in a moment of major transition. Long established barrios in Chicago, Dallas, Los Angeles, Houston, Miami, New York, Philadelphia, and San Antonio were once dominated by foreign-born, Spanish-speaking mexicanos, cubanos, and puertoriquenos. Now these are the neighborhoods of native-born children and grandchildren. This shift brings new challenges.
U.S.-born Latinos are usually English dominant. Many do not speak Spanish at all. Often, they do not maintain the same level of allegiance to their ancestral homelands, or the same cultural and religious commitments their parents or grandparents had.
While the overwhelming majority of U.S.-born English-dominant Latinos are still Latinos at heart, many embrace values and attributes of the dominant group in the United States, culturally alienating their foreign-born parents and grandparents. In the midst of this seismic cultural shift, it is possible to teach and equip the Hispanic evangelical church to fulfill its God-given mission in a way that strengthens Hispanic families and communities across the country.
Here is the main challenge: Conventional Spanish-speaking ministry models are unintentionally designed to preserve the language and cultural preferences of foreign-born Latinos.
My research during the past five years has convinced me that as the church's attention and resources have been drawn to the rapid growth of the Hispanic evangelical church during the past three decades, they have unintentionally overlooked U.S.-born English-dominant Latinos. Like the Greek-speaking Jews described in Acts 6:1–4, "Hellenized Latinos" are not receiving the daily distribution of spiritual food. They represent more than 60 percent of all Latinos in this country, but are invisible to many denominational and local church leaders who uncritically equate "Hispanic ministry" with "Spanish-language ministry."
Thankfully, they are not entirely forgotten. Dozens of churches are successfully reaching all Latinos, including the native-born and English-dominant, in major urban centers. These cities have heavy concentrations of Latinos of Cuban, Mexican, and Puerto Rican ancestry, the three largest Hispanic subgroups.
One of the most dramatic examples of the growing trend toward multi-lingual multi-generational Hispanic ministry is that of Chicago's New Life Covenant Church. In 2000, Wilfredo De Jesús was asked to assume the responsibilities of senior pastor at Templo Cristiano Palestina, a 125-member Pentecostal church in the Humboldt Park neighborhood. However, before Pastor De Jesús would agree to serve as the church's new pastor, he insisted that the church incorporate English in all its programs and services to meet the linguistic preferences of Latinos who love la comida boricua (Puerto Rican food) but don't generally speak Spanish. Initial fears, resistance, and reluctance to agree with the proposed changes were mitigated by the trust and confidence that Pastor De Jesús earned during 20 years of faithful and loyal service to the church and to his mentor, Pastor Ignacio Marrero.
According to De Jesús, Spanish-dominant members feared that they would be pushed aside and left behind by the younger, English-dominant majority. De Jesús assured them that he would continue to serve every member of the church while he attempted to serve the broader community of Humboldt Park. Not long after the change, the church was renamed New Life Covenant Church. Now more than 5,000 people attend the church's five weekly services in the auditorium of a local high school. Four of the five weekend services are in English. However, even in the English language services one can easily perceive the Puerto Rican influence on the music, prayers, and preaching. The single Spanish service averages over 500 in attendance, far more than the 125 members who were attending the Spanish-only services of Templo Cristiano Palestina in 2000. Pastor De Jesús preaches weekly at all five services, staying true to his commitment not to neglect the Spanish-speaking members of the church. Nevertheless, the demographic makeup of the church is slowly changing, reflecting the diverse community in Humboldt Park.
The church's mission is to preach the gospel to all people. It is not to preserve the language and cultural preferences of any generation, whether foreign or native born. As God's missionary people, we have been sent into the world just as Jesus Christ was sent into the world by the Father (John 20:21). We cannot allow our ethnocentrism to blind us to the prisons of disobedience evident in every culture, including our own. Instead, we must embrace our call as pilgrims, peregrinos, those Peter refers to as living in "exile" in their homeland (1 Pet. 1:17). Whether it is in a finca in El Salvador or a suburb of Dallas, we too are "aliens and exiles" whose ultimate allegiance is not to "our people" (nuestra raza ornuestro pueblo) nor to the United States of America. Our allegiance is to Jesus Christ. Therefore, as disciples of Christ we are all paisanos (fellow countrymen) of a patria (homeland) that is not of this world (Phil. 3:20; Heb. 11:13–16).
In his seminal 1993 study, The Hispanic Challenge, Manuel Ortiz correctly observes that legal and illegal immigration from Latin America and the Caribbean to the United States ensures an ongoing need for Spanish-speaking immigrant churches. But it is time for church and denominational leaders to recognize a new generation of Hispanic leaders dedicated to becoming all things to all Latinos—including the silent majority who are native born and English dominant, "living in the hyphen" between Latin-American and Anglo-American cultures.
Daniel A. Rodriguez, Ph.D., a professor of Religion at Pepperdine University, is the author of A Future for the Latino Church: Models for Multilingual, Multigenerational Hispanic Congregations.
Related Elsewhere:
Christianity Today has more coverage on whether an immigration slowdown will prompt a bilingual ministry bust.
Previous articles on Latino congregations include:
Counting Controversy | Hispanic evangelical leaders debate participation in 2010 U.S. Census. (August 17, 2009)
The Soul of the Border Crisis | Local churches are key in fixing the immigration mess. (June 8, 2009)
Despite Protestant Growth, Hispanic Catholicism Holds Steady in U.S. | Younger generations leaving for Protestant churches, but immigrants make up difference. (February 1, 2003)
Church Growth: New Latino Congregations Spring Up | Church networks are cooperating to launch congregations in unlikely U.S. locations. (September 6, 1999)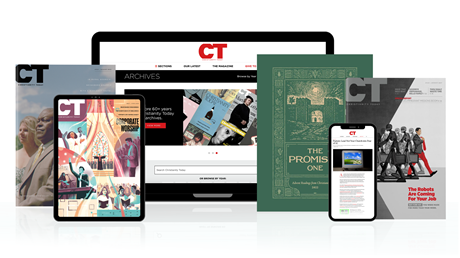 Subscribe to Christianity Today and get access to this article plus 65+ years of archives.
Home delivery of CT magazine
Complete access to articles on ChristianityToday.com
Over 120 years of magazine archives plus full access to all of CT's online archives
Subscribe Now
A Spanish Service Is Not Enough: It's Time to Feed the 'Hellenized Latinos'
A Spanish Service Is Not Enough: It's Time to Feed ...