Editor's note: February's cover package, "The Best Ways to Fight Poverty—Really" (part one, part two), received remarkable numbers of pageviews, praises, and protests. It also provoked responses from many organizations devoted to fighting poverty. Today, leaders of those ministries respond, including World Vision US president Richard Stearns, Samaritan's Purse president Franklin Graham, Habitat for Humanity International CEO Jonathan Reckford, HOPE International president and CEO Peter Greer, World Relief president and CEO Stephan Bauman, Food for the Hungry workers Greg Forney and Lucas Koach, and TEAR Australia national young adults coordinator Matt Anslow. Also today, Christianity Today senior managing editor Mark Galli, whose article "A Most Personal Touch" led off the February cover package, replies to the ministry leaders.
Food for the Hungry (FH) is privileged to participate in village-wide celebrations marking our exit after 8 to 10 years in a community. At one of these celebrations, a Ugandan community leader passionately referred to our time as 10 years of "transformation walk." If one simply evaluated the alleviation of poverty from an economic standpoint, the physical changes in this village—replete with a new medical clinic, school, and vocational center—would represent success.
But the issue of poverty is far more multi-faceted. In walking with the villagers, FH learned about the core beliefs and practices that contributed to hopelessness and extreme poverty. It was only through this relational approach that these issues were understood and addressed from a biblical perspective. The resulting development was not program-oriented, but people-focused, flowing from and implemented by motivated, hope-filled community members. 
This is an example of what the church is called to do: walking with the lost and broken while embracing and restoring the whole person in Christ to reach their God-given potential.  
The Scriptures command us to honor the role governments play (1 Pet. 2:17, Ro. 13). The First Amendment to the U.S. Constitution assures freedom of religion; acknowledging one's free exercise of faith informs our body politic. Certainly, governments create conditions that can impact global poverty in ways the church alone often cannot. But "we the people," motivated by faith and sense of justice, must be informing the conversation with our leaders regularly. Jesus is Lord of all. The Bible ordains, and our Constitution acknowledges, the critical interplay of both government and religion.
Large institutional systems are important to achieve large scale change. Can these systems be improved? Certainly. Conversely, it is the church that provides the matchless transcendent motivation to walk with the poor. Can the church do more? Of course.
With these principles in mind, FH walks with policy leaders. As we do, we are motivated by personal compassion while seeking to influence and improve upon governmental policies that help the poor.
In the case of the Ugandan village, FH's relational walk spurred the villagers to tackle their poverty and pursue God's best for their community. In addition, partnering with the Ugandan government allowed for other significant poverty-ending solutions, including the provision of a full-time nurse in the medical clinic and educated teachers for the new school.
As Christians in a land where religion and politics too often yield a strange brew, let us be cautious of making categorical critiques of where the problems and solutions to global poverty lie. As believers, let us in humility acknowledge the role governments and large institutions play and welcome irenic debate to improve upon them. Let us also in humility continue to invite and challenge ourselves and our fellow man to become more, and in turn do more, for the sake of love.
Greg Forney is communications director for Food for the Hungry, a Christian international relief and development organization serving the poor globally since 1971, reflecting the love of Christ in short-term emergency relief and long-term community transformation. Lucas Koach is a policy advisor for the ministry.
Related Elsewhere:
February's cover package included:
The Best Ways to Fight Poverty—Really | The government is by far the best institution to raise the poor's standard of living. The church does something more important for them. By Mark Galli
Cost-Effective Compassion: The 10 Most Popular Strategies for Helping the Poor | Economists rate impact. By Bruce Wydick
Other replies today include:
Christians Really Do Reduce Poverty | Government change often can't get to the root of the problem of poverty. The church does. By Richard Stearns, president of World Vision US
Focus on Solving the Poverty of the Soul | Our aid to the poor should always address their area of greatest need. By Franklin Graham, president of Samaritan's Purse
What Do You Mean by Poverty? | Overcoming poverty is possible and proven. But superficiality has paralyzed the church. By Stephan Bauman, president and CEO of World Relief
Article continues below
We Can't Do Everything | But we can change systems to protect the poor, and that requires cooperation on all fronts. By Jonathan Reckford, CEO of Habitat for Humanity International
The Biggest Poverty-Fighting Tool: Job Creation | Employment for the poor restores their dignity and keeps them off their knees. By Peter Greer, president and CEO of HOPE International
The Local Church's Neighbors Are Everywhere | The church isn't just a network of institutions trying to stretch across the globe. By Matt Anslow, national young adults coordinator of TEAR Australia
Also, Mark Galli responds to the responses.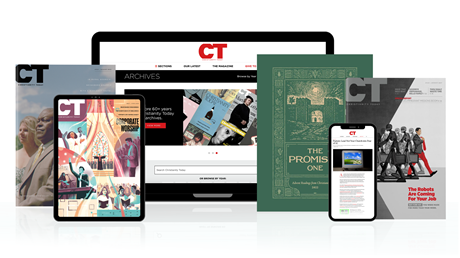 Annual & Monthly subscriptions available.
Print & Digital Issues of CT magazine
Complete access to every article on ChristianityToday.com
Unlimited access to 65+ years of CT's online archives
Member-only special issues
Subscribe
Poverty Has Many Enemies
Poverty Has Many Enemies