Editor's note: February's cover package, "The Best Ways to Fight Poverty—Really" (part one, part two), received remarkable numbers of pageviews, praises, and protests. It also provoked responses from many organizations devoted to fighting poverty. Today, leaders of those ministries respond, including World Vision US president Richard Stearns, Samaritan's Purse president Franklin Graham, Habitat for Humanity International CEO Jonathan Reckford, HOPE International president and CEO Peter Greer, World Relief president and CEO Stephan Bauman, Food for the Hungry workers Greg Forney and Lucas Koach, and TEAR Australia national young adults coordinator Matt Anslow. Also today, Christianity Today senior managing editor Mark Galli, whose article "A Most Personal Touch" led off the February cover package, replies to the ministry leaders.
Christianity Today's February cover story on the best ways to fight global poverty paints the church as rather ineffectual in achieving large-scale solutions. However, world governments and Christian relief and development groups are so inherently different that comparisons are difficult to make.
Habitat for Humanity is a Christian ministry that seeks to put God's love into action by bringing people together to build homes, communities, and hope. Our vision is a world where everyone has a decent place to live. We may always be working toward that goal, but that doesn't take away the immediate impact of our work on the 2.5 million people who now have a better place to live.
We agree that individual acts alone cannot solve global poverty. What is required is the fundamental changing of systems to protect the poor. That's something that we can only do together. An effective approach to the issue of poverty is one that encompasses all sectors of society. Any large-scale effort to address the world's housing need, for example, absolutely depends on collaboration.
The sum of our work is truly greater than any one part of our equation. In building homes and communities, Habitat welcomes all partners—churches, civic groups, corporations, governments, and individuals. From securing property rights for homeowners to encouraging the provision of the necessary infrastructure to build shelter, Habitat works with governments around the world. Habitat also strives to deepen existing relationships and initiate new partnerships with local churches, denominations, and faith organizations. We believe that adequate housing is foundational for improving the lives of families and that housing is as important to community health as it is to individual health. One of our strengths is the ability to bring together the public, private, and nonprofit sectors—including the church—to change lives and transform communities.
The Christian ethic that has guided Habitat since its inception is that ending poverty housing is a matter of mercy, compassion, justice, and humility. Clarence Jordan, the south Georgia theologian and activist who helped shape Habitat's ministry, often said that what the poor need is capital, not charity; coworkers, not caseworkers. Habitat builds alongside families in need of housing and gives them a hand up.
The key is deciding to take action. Our society has become more comfortable crossing religious and ethnic boundaries. The great divide today is socioeconomic. We need to be in relationship with those in need in an incarnational way to truly be Christ's hands and feet in the world.
Not being able to solve everything doesn't relieve us of our obligation to do something. As the beloved prayer attributed to Archbishop Oscar Romero states:
We cannot do everything
and there is a sense of liberation in realizing that.
This enables us to do something,
and to do it very well.
It may be incomplete, but it is a beginning, a step along the way,
an opportunity for God's grace to enter and do the rest.
Related Elsewhere:
February's cover package included:
The Best Ways to Fight Poverty—Really | The government is by far the best institution to raise the poor's standard of living. The church does something more important for them. By Mark Galli
Cost-Effective Compassion: The 10 Most Popular Strategies for Helping the Poor | Economists rate impact. By Bruce Wydick
Other replies today include:
Christians Really Do Reduce Poverty | Government change often can't get to the root of the problem of poverty. The church does. By Richard Stearns, president of World Vision US
Focus on Solving the Poverty of the Soul | Our aid to the poor should always address their area of greatest need. By Franklin Graham, president of Samaritan's Purse
What Do You Mean by Poverty? | Overcoming poverty is possible and proven. But superficiality has paralyzed the church. By Stephan Bauman, president and CEO of World Relief
The Biggest Poverty-Fighting Tool: Job Creation | Employment for the poor restores their dignity and keeps them off their knees. By Peter Greer, president and CEO of HOPE International
Poverty Has Many Enemies | The solution does not require a choice between individuals and institutions. By Greg Forney and Lucas Koach, Food for the Hungry
The Local Church's Neighbors Are Everywhere | The church isn't just a network of institutions trying to stretch across the globe. By Matt Anslow, national young adults coordinator of TEAR Australia
Also, Mark Galli responds to the responses.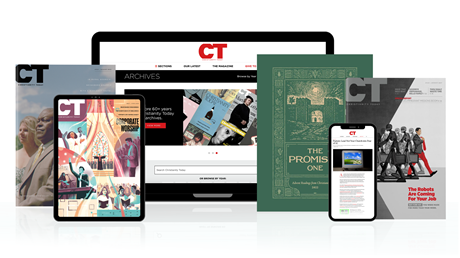 Annual & Monthly subscriptions available.
Print & Digital Issues of CT magazine
Complete access to every article on ChristianityToday.com
Unlimited access to 65+ years of CT's online archives
Member-only special issues
Subscribe
We Can't Do Everything
We Can't Do Everything