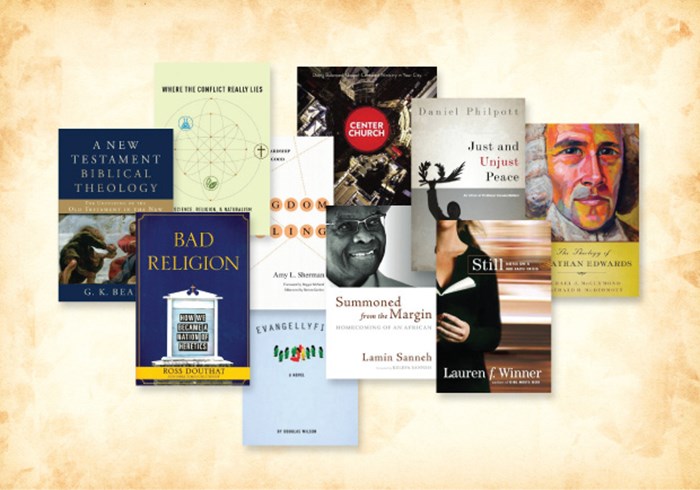 The late Christian philosopher Arthur Holmes proclaimed confidently that "all truth is God's truth." Holmes's epigram came to mind as I was tallying up our judges' rankings, encountering one surprise after another. Would Christianity Today really bestow top honors on a Roman Catholic New York Times columnist? On a Roman Catholic Ivy League professor? Or on a satirical novel lampooning contemporary evangelical culture?
Well, why not? If God is indeed the Author of all truth, we needn't be too choosy about those earthly authors whose truth-telling we recognize. Yes, most of this year's honorees (take a bow, Tim Keller!) fit more or less comfortably in an evangelical milieu. (Fearless prediction: Richard Dawkins will never win a CT book award.) Still, it's nice to remember that, whatever the source, truth (to say nothing of goodness and beauty) is always a cause for rejoicing.
Now the envelopes, please. From an initial crop of 455 titles submitted by 68 publishers, we've selected 10 winners, and 9 notables, that offer insights into the people, events, and ideas that shape evangelical life, thought, and mission. Here they are, along with comments from the judges. —Matt Reynolds, CT associate editor
Apologetics / Evangelism
Award of Merit
Miracles: The Credibility of the New Testament Accounts
Craig S. Keener (Baker Academic)
Interview: It's Okay to Expect a Miracle | Scholar Craig Keener rediscovers the reality of divine intervention.
Books & Culture: Objects of Wonder | How credible are accounts of miracles?
Biblical Studies
Award of Merit
The Gospel of John: A Commentary
Frederick Dale Bruner (Eerdmans)
Christianity And Culture
Christian Living
Award of Merit
A Grace Revealed: How God Redeems the Story of Your Life
Jerry Sittser (Zondervan)
The Church / Pastoral Leadership
Award of Merit
The Juvenilization of American Christianity
Thomas E. Bergler (Eerdmans)
Cover Story: When Are We Going to Grow Up? The Juvenilization of American Christianity | We're all adolescents now.
Fiction
Award of Merit
Man in the Blue Moon
Michael Morris (Tyndale)
History / Biography
Award of Merit
Godly Ambition: John Stott and the Evangelical Movement
Alister Chapman (Oxford University Press)
Review: John Stott: A Uniter and a Divider | A new biography portrays both the evangelist's triumphs and his frustrations.
Missions / Global Affairs
Award of Merit
Soul, Self, and Society: A Postmodern Anthropology for Mission in a Postcolonial World
Michael Rynkiewich (Cascade Books)
Spirituality
Award of Merit
The Hole in Our Holiness: Filling the Gap between Gospel Passion and the Pursuit of Godliness
Kevin DeYoung (Crossway)
Five-part forum: The Hole In Our Holiness (Parts 1, 2, 3, 4, 5)
Theology / Ethics
Award of Merit
God Is Love: A Biblical and Systematic Theology
Gerald Bray (Crossway)