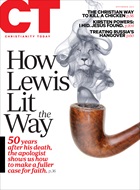 This article is from the November 2013 issue. Subscribers can read all of CT's digital archives.
Missing from the latest list of fastest-growing American congregations, but posting similar stats: cowboy churches. The decades-old outreach movement, known for its rodeos and horse-trough baptisms (such as this one in suburban Dallas), has hit its stride to encompass more than 500 churches in 39 states—especially in Texas, where two Baptist universities now offer related courses.
1
You have reached the end of this Article Preview
What Would Jesus Wrangle?