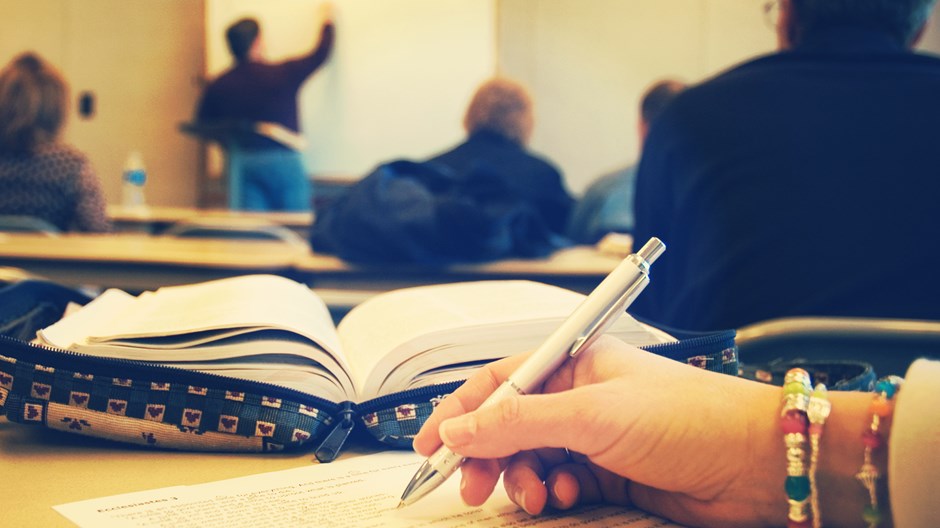 Image: nazarethman / Getty Images
Shortly after making my calling public to my local church at age 15, I told my parents I wanted to go to seminary eventually. That's what my father, a pastor, had done after college, and I wanted to follow in his footsteps. Once I started college, however, I wasn't as zealous anymore. I didn't think I could "do" seminary; I was timid and unsure if I were smart enough. Moreover, I was a Christian studies major at a liberal arts school who thought what I was learning there was sufficient training for ministry. But then my perspective changed.
As I was praying and thinking through whether or not I should go to seminary, my Bible reading led me to 2 Timothy 3:14–15:
But as for you, continue in what you have learned and have become convinced of, because you know those from whom you learned it, and how from infancy you have known the Holy Scriptures, which are able to make you wise for salvation through faith in Christ Jesus.
This command—"continue in what you have learned"—propelled me into seminary those years ago, but it has also served me well in the intervening years. Learning is a prerequisite for those who want to be teachers and communicators of God's Word, but it is also a lifestyle and an attitude that all of God's children should adopt.
For women who feel called to communicate God's Word to the people of God, theological training is necessary to prepare you for the work. As a minister of the gospel of Jesus Christ, you will bear the responsibility of speaking on behalf of God by expounding his Word, and also the responsibility of shepherding and protecting his sheep (even if those sheep are exclusively women and children). James's warning should reverberate in our ears and cause us to proceed cautiously: "Not many of you should become teachers … because you know that we who teach will be judged more strictly" (James 3:1).
Likewise, vocational ministry is the serious business of soul care. Like surgeons who feel the life-and-death weight of their work, we, too, should feel the eternal life-and-death weight of our callings just as much and possibly more.
My friend Hayden Walker served as a youth minister at a Baptist church in Birmingham for several years. "Ministry is hard work," she wrote to me, "and it should be more than just event planning. My theological education reminds me that I have a responsibility to the gospel and to communicate truth, not just coordinate a calendar."
As 2 Timothy suggests, a serious calling requires serious study of Scripture. With that in mind, I offer here a woman's guide to pursuing a seminary education.
Choose your seminary wisely.
As you seek to choose a school, the first question to ask is: Do I want to attend a seminary within my own denomination or one that is inter-or multi-denominational? In other words: Whom do I want to shape me? The advantage of going to a seminary within your denomination is that you will be shaped by top thinkers in your own tradition. If you are Episcopalian, you will perhaps become even more firmly Episcopalian. If you are Baptist, you will perhaps leave seminary even more Baptist. If you want to be ordained, a denominational seminary will (usually) get you there faster, and some denominations who ordain women will not ordain you unless you go to one of their seminaries.
On the other hand, most interdenominational evangelical seminaries offer a unique ecumenical approach. They want their students to leave as they entered: as good members of their respective denominations but with a deepened appreciation of other traditions. So both options offer benefits—just different ones. But wherever you go, look for a seminary committed to orthodoxy.
Consider attitudes toward women.
Regardless of whether you are complementarian or egalitarian (or somewhere in the middle) in your views, you'll want to consider a school's beliefs and attitudes about the role of women in gospel ministry. Don't expect to go to a seminary where every male student is supportive of women in ministry, even if you don't feel called to be a senior pastor. Most likely, you'll encounter opposition at some point. On the other hand, beware of schools where you find a lot of women who exhibit anger toward men. These schools raise other red flags.
Consider these questions when examining seminaries: Are there any women on the faculty? What do female students and alumnae report about their experience? What does the director of admissions say about the school's calling to prepare women for ministry of all kinds?
Consider online versus on-campus education.
Attending seminary in person poses challenges for many women—those who are married, caring for children, or engaged in other personal or professional commitments that infringe on their time or mobility. The purpose of online degrees is to make seminary available to those who wouldn't normally be able to pursue theological training, and in that sense, the internet has created opportunities for those who might otherwise have none. Almost every institution now offers online degrees. (In this CT piece, Marybeth Baggett offers suggestions for online programs worth considering.)
Although attending seminary remotely is better than not attending at all, nonetheless, if you have the ability to go the on-campus route, I strongly encourage you to do it. Something transformative happens in the classroom: You get to meet peers and professors face to face, engage directly with professors, and converse with students after class. The best type of theological education takes place in a community of faith. If you're willing and able to move across the country (or the world) to serve Christ in ministry wherever he places you, then consider doing the same with seminary. Move to the seminary God is calling you to. It's a way to practice obedience and trust so that when he calls you to ministry after seminary, it will be easier to take that next step.
Consider your degree and course options.
The most common degree for most types of pastoral ministry is the MDiv (Master of Divinity). Although it depends on the school, most evangelical institutions offer biblical languages, church history, systematic theology, preaching, and pastoral care courses as part of an MDiv program. If you plan to teach God's Word through writing, speaking, preaching, or teaching, the MDiv provides a strong grasp of biblical languages. Two or three classes in Greek or Hebrew is not enough, however. You need to learn the languages well but also know how to use them for preaching and teaching. With that in mind, beware of institutions that have cheapened their MDiv degree by only requiring a few classes in biblical languages.
The MDiv degree will also require you to take preaching classes. If preaching is a spiritual gift you think you might have, you need the training and the practice. Even if you don't plan to be in the pulpit, preaching classes will give you the tools to interpret, apply, and communicate Scripture. You can use these skills in different areas of ministry—even in the nursery—and in conjunction with other gifts.
Consider finding a female mentor.
As you pursue seminary, look for someone who can impart wisdom, speak truth, and pastor you. Your mentor doesn't have to be female, of course. Nonetheless, given the natural difficulties of pursuing ministry as a woman—in the pulpit or elsewhere—I strongly recommend finding a female mentor.
As you seek one out, look for someone who has done (or is doing) gospel ministry, especially in an area close to your interest. If you feel called to youth ministry, for example, then pray and search for someone in that field. Second, look for someone who is respected by others and mature in the faith. Third, look for someone who is theologically educated or at least more likely to encourage you toward that end. (And keep in mind that mentoring does not take the place of studying Scripture with scholars.) Finally, look for someone who will speak truthfully into your life with Christlike love.
Consider the faculty-to-student ratio.
As you assess your seminary options, read up on the faculty. Who will be the people shaping you? What have they written? What courses do they teach, and what's their area of specialization? Perhaps most importantly, will you have the opportunity to get to know them. Large seminaries may have some of the best scholars in the field (a huge positive), but you might run the risk of not being able to know your professors on a personal level.
For me, one of the benefits of attending a small seminary was sitting at the feet of biblical scholars in class and then getting to know them outside of class. When you're one of 14 students, you're able to ask more questions and be more involved.
That benefit often extends past seminary, too. For example, while working on my book last year, I asked one of my former New Testament professors a question about Romans 16. He graciously sent me a section of the commentary on Romans that he had written for Zondervan (which at the time had yet to be published). The greatest value of seminary has been this: lifelong relationships with scholars who are invested in my life and ministry and continue to pray for me. You can't put a price tag on that.
Consider the cost.
As you examine the cost of seminary, consider not only the cost of education but also the cost of living in the area where the school is located. This is especially important for women who have families. Does the seminary offer on-campus housing? If you have kids, is the on-campus housing family friendly? If not, what's the cost of off-campus housing?
Explore both loan and scholarship options. Most schools offer scholarships and other forms of financial support, as do many churches. Ask about scholarships given by your own church and also churches near the school that you're considering. (Research national scholarships, as well.) Think, too, about work. Will you have to work while in seminary? How much will you have to earn to make ends meet? And are you eligible for federal work-study?
Take the long view.
In Scripture, the call to ministry is never fast or easy. Abraham is promised a land he never gets to inherit and a nation he never gets to see. Moses is never able to bring the people into the Promised Land. David has to wait roughly 15 years from his anointing as king to the day he takes the throne, and even then he never gets to see the building of the temple.
Similarly, seminary requires time and sacrifice. It may seem like a waste of time or money or an obstacle to fulfilling your call now, but seminary is neither easy nor fast. It's designed to mirror ministry and teach you what it will be like: hard and slow.
The week before my third-semester finals in seminary, I called my father to complain about feeling overwhelmed by all the papers and tests (in addition to my part-time job). "Kristen," he said to me, "God is using these experiences to teach you now what it means to depend on God and to not give up in the hard times so that when you experience the difficult times in ministry later, you will remember that the power of God carried you now and will carry you then."
He was right. As I have faced challenges in my ministry journey, I am grateful that I had hard, slow theological training because it has prepared me for the hard, slow process of ministry.
Finally, pray through the process.
As you consider seminaries—and there are many wonderful options out there—I encourage you to pray fervently through the process. Seek the God who has called you into his service. Ask him to show you where you should be shaped for the ministry to which he has called you. Ask him to open doors and close doors. Ask him to raise red flags and green flags. Ask him, too, to speak through the mouths of mentors and other trusted people. Finally, ask him to guide and lead you, and then trust that he will.
Let Psalm 138 be your prayer: "The Lord will fulfill his purpose for me; your steadfast love, O Lord, endures forever. Do not forsake the work of your hands" (Ps. 138:8, ESV).
Amen.
Kristen Padilla, MDiv, is the author of Now That I'm Called: A Guide for Women Discerning a Call to Ministry. She is a writer, Bible teacher, wife to a biblical scholar, mom of one, and on staff at Beeson Divinity School of Samford University in Birmingham, Alabama. Connect with her at kristenrpadilla.com or on Facebook, Twitter, or Instagram.
This essay was adapted from Now That I'm Called: A Guide for Women Discerning a Call to Ministry. Copyright © 2018 by Kristen Padilla. Used by permission of Zondervan. www.zondervan.com.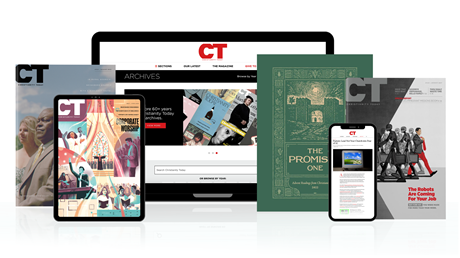 Annual & Monthly subscriptions available.
Print & Digital Issues of CT magazine
Complete access to every article on ChristianityToday.com
Unlimited access to 65+ years of CT's online archives
Member-only special issues
Subscribe
A Woman's Guide to Seminary
A Woman's Guide to Seminary