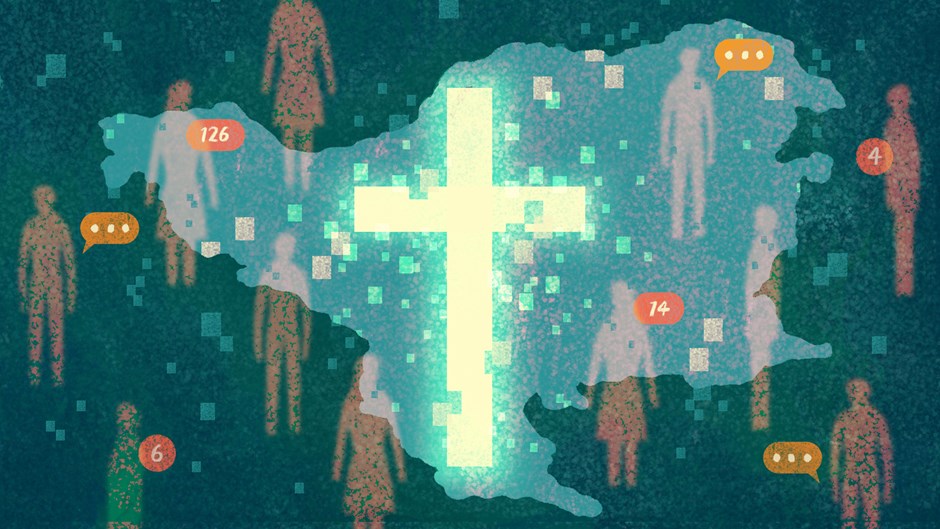 Image: Illustration by Wenjia Tang
Twenty of the top 22 Christian pages on Facebook in 2021 were run from Europe's southeast corner.
Nikola Galevski's wasn't one of them.
The pastor of Soulcraft Evangelical Church in Skopje, North Macedonia, actually prefers Twitter, which in the Balkans mostly attracts leftist and antireligious voices. He uses the handle "Protestant Imam," which is a tongue-in-cheek gesture of openness to the Muslim population that makes up about a third of his country.
"The community teases me, and I tease them," Galevski said, "but it helps develop their life with Christ."
He has around 5,000 followers on Twitter, and some of his videos on YouTube went viral when his wife, Anet, was dying of cancer. Galevski shared about the struggle of her death in his weekly sermons, which were posted online. Orthodox Christians, nonbelievers, and Muslims joined him in his mourning, and when Anet died, views jumped into the tens of thousands.
But that pales in comparison to the top Christian Facebook page, "Be Happy Enjoy Life," which reached 75 million users every month, according to an internal Facebook document obtained by MIT Technology Review. Ninety-five percent of viewers did not sign up to follow that page but instead had its content pushed into their news feeds by Facebook's algorithms.
That page is one of 15,000 in the Balkans that is believed to be a "troll farm," pumping out disinformation and figuring out new and better ways to command eyeballs—many of them belonging to Christians scrolling in America.
An internal Facebook document written by a senior-level data scientist said, "Our platform has given the largest voice in the Christian American community to a handful of bad actors who, based on their media production practices, have never been to church."
They're certainly not evangelicals.
Galevski, who is also the coordinator of the Evangelical Protestant Initiative, would probably know them if they were. There are about 4,000 evangelicals in 60 churches in North Macedonia, a nation of about two million.
"Seriously," he said, "I personally know 99 percent of the evangelicals in Macedonia."
The nation's believers are quite active on social media, though. They have drawn converts from all backgrounds and won a reputation for inclusivity. During the Yugoslav Wars, they gained Muslim respect by providing relief for refugees fleeing the neighboring conflict with Serbia. The president at that time, Boris Trajkovski, hailed from the historic United Methodist Church of Macedonia. With a reputation for prayer and piety, he presided over the NATO cease-fire and kept North Macedonia from becoming like Bosnia.
Ethnic divisions often run deep in the Balkans. The Facebook study, however, stated that Balkan politics play little role in the trolling. Mostly, it is teenagers getting paid to figure out how to grab and hold American attention, techniques which can then be used by foreign polical actors or businesses.
Across the border in Albania, evangelicals are also active on social media. But they, too, know nothing about Christian troll farms.
"I guarantee you this does not originate with us," said Ylli Doçi, pastor of Cornerstone Church of Albania. "Albanians would have nothing to do with bad actors on Facebook."
There are also few Albanian evangelicals. In 1967, the nation proclaimed itself the world's first atheist state. Today, about 57 percent of Albanians identify as Muslim and 20 percent decline to answer the census religion question.
A tiny minority of just 30,000 people, evangelicals are generally well regarded in a nation that sees pluralism and coexistence as the key to national unity, according to Doçi, who is also president of the Evangelical Brotherhood of Albania and chair of the nation's interreligious council.
Albanians have also increasingly recognized evangelicals' place in their history, according to David Hosaflook, an American who serves as executive director of the Institute for Albanian and Protestant Studies.
The institute traces the evangelical community back to its origins in the 1800s. Among its key findings: The British and Foreign Bible Society based in Istanbul pioneered the development of written Albanian. The first Gospel was published in 1824, and in 1908, Albanians of all dialects and religions unified around their common language at a massive "Alphabet Congress." One of the organizers, George Kyrias, worked as a national representative of the Bible Society.
"It is evident that such tireless endeavor … was undertaken with a genuine love of the Albanian people," wrote Xhevat Lloshi, a linguist, "in order that they might discover the light of knowledge and no longer be called a 'people without books.'"
Albanian evangelicalism was almost obliterated during Communist rule following World War II. But it survived. And last November, in the center of the capital city, the community celebrated the 30th anniversary of its refounding and growth.
If their numbers continue to grow in the future, it may well come through social media ministries. Cru and other Christian ministries in Albania have put out a lot of evangelistic content focusing on reasons to believe in God and encouraging people to consider their relationship with their Creator.
Cru recently posted an animated short, for example, in which a robot rebelled against its central computer. Desiring independence, it cut its cord and immediately died. The video was part of a contest asking viewers to comment how it related to their relationship with God.
Twelve Albanians were declared winners and given books by American apologist Josh McDowell and Albanian evangelical novelist Kaon Serjani. Cru staff personally delivered the books.
The personal connection is one big difference between troll farms and legitimate social media ministries in the Balkans. The real Christians want to talk.
"We are not satisfied with anything less than meeting people personally," said Serjani, who also works with Cru.
The ministry uses social media—Facebook, but also increasingly Instagram and TikTok—to reach people, but then the goal is to connect them with committed Christian believers.
Currently, Cru's "I Believe" Facebook page reaches about 300,000 people a month—one-third of them in neighboring Kosovo. Kosovo, according to Facebook's internal documents, ranks with Macedonia as the heart of troll country. The nation declared independence from Serbia in 2008 and is now more than 95 percent Muslim.
It's an unlikely place to produce the most popular Christian Facebook pages in America. Working in Albania, Serjani hasn't noticed.
The roughly 10,000 evangelicals in Kosovo do not do much online at this point. Only a handful of the country's roughly 50 churches and ministries have social media accounts, and these do little more than promote their own events. Evangelism is not socially acceptable on Kosovar social media, according to Femi Cakolli, head of the Kosovo Protestant Evangelical Church.
"Society is not yet open enough to tell public stories of individual conversion," Cakolli said. "Our focus is on convincing people we exist."
It is the opposite approach of the troll farms, which hide in the internet shadows and do everything they can to remain anonymous.
Evangelicals across the Balkans, despite the many ethnic divisions and social and historic differences of their nations, are united in this.
"We preach the gospel with full respect," Galevski said. "And like Paul with his parchment, social media is not just an invitation to Christianity—it is an invitation into our lives."
Jayson Casper is Middle East correspondent for CT.
Correction: A previous version of this article said the 1908 Alphabet Congress was orgnized by the Bible Society. It was not. One of the organizers was a Protestant who also worked for the Bible Society.
Have something to add about this? See something we missed? Share your feedback here.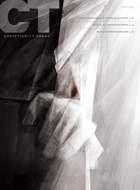 This article is from the April 2022 issue.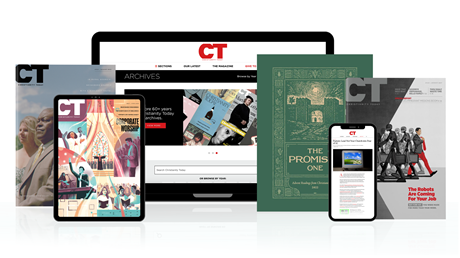 Subscribe to Christianity Today and get access to this article plus 65+ years of archives.
Home delivery of CT magazine
Complete access to articles on ChristianityToday.com
Over 120 years of magazine archives plus full access to all of CT's online archives
Subscribe Now
Who Is My Neighbor? For Christians in the Balkans, the Answer Might be Troll Farms.
Who Is My Neighbor? For Christians in the Balkans, ...