Can These Bones Live?
Like all religious movements Pietism has its roots in a definite historical context. Behind it were related developments within the three major Protestant communions of the seventeenth century, namely the Anglican, the Reformed, and the Lutheran. All three branches of mainstream Protestantism had chosen to establish territorial or national churches, which were closely tied to a political structure, and to which virtually the whole population belonged, unless they were Jews. Under the circumstances the moral tone of these churches left much to be desired. To make matters worse, the close affiliation between state and church resulted in the appointment of people as members of the clergy who were often unqualified, both religiously and morally, and sometimes downright incompetent.
It is not surprising, therefore, that church life tended to be shallow, and that meaningful religious commitment on the part of church members was frequently lacking. Among both clergy and laity there was little awareness that in the biblical understanding of the Christian life, religious profession and an appropriate mode of daily living must go together. Already in 1569 Edward Dering tried to bring to the attention of Queen Elizabeth I his observation that in the church of his time the parson was set against the vicar, the vicar against the parson, the parish against both, and "all for the belly." During the following century, one of the outstanding Reformed preachers in the Netherlands registered a widely supported claim that in the Reformed church one sees nothing that has the appearance of the true church. At about the same time religiously sensitive pastors in the Lutheran communion, in so far as they could be found, inveighed vigorously against ...
You have reached the end of this Article Preview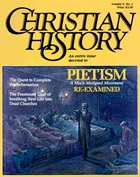 04/01/1986