Pietism: The Gallery - Thumbnail Sketches of Important Leaders in the Pietist Movement
Johann Arndt (1555–1621)

Considered by modern historians to be the true father of Pietism, Johann Arndt surely was responsible for transferring Luther's doctrine of the Word into an ethical concern. The son of a Lutheran minister, young Arndt chose to study medicine but a serious illness brought him to read theology and study the Scriptures. In 1583 he became a pastor and continued in that role until 1609 when he was made a Lutheran general superintendent. His chief influence came through his highly effective preaching and his devotional classic, True Christianity (1606).
Arndt was influenced by Thomas a Kempis and several German theological writers. He urged his followers in the ministry "to take heed to themselves" by which he meant that pastors must be models of the Christian life. Daily devotions and study of the Scriptures was important; further, sermons should be simply biblical and straightforward. Arndt gave great attention to his own pastoral role: "he was indefatigable in reconciling those at enmity, rousing the lukewarm, instructing the ignorant and rebuking the perverse."
The central theme in Arndt's writing was that of the new life in Christ. Christians, Arndt asserted, are to grow in faith and virtuous life until they reach the stature of 'a perfect man in Christ.' There should be a point in each Christian's life when worldliness has been put aside for a will and affection that are wholly committed to God. And, above all else, the love of God and the love of one's neighbor must go together to form a full Christian experience.
Philip Jacob Spener (1635–1705)
Of all the Pietists, Philip J. Spener personifies the spirit and the vitality of the movement. His controversial "collegia pietatis," or Christian ...
You have reached the end of this Article Preview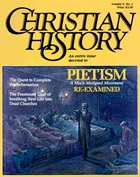 04/01/1986