Pioneer in Female Ministry
In the early months of 1878, a young woman of 18 and her colleague arrived at the train station in Barnsley, Yorkshire, embarked on a crusade. She had been sent by William Booth to open a branch of the Christian Mission in this mining town. Here work was tough—when it was available—and people were inured to the frequent changes of fortune that industrialization brings.
The teenager was Rose Clapham, an uneducated factory worker from South London, whose task was to find her own congregation, persuade them into the largest building in town, the local theater, and to preach until they surrendered to Christ.
She reported what happened in the September 1878 edition of Christian Mission magazine:
"On the Monday I went into the open air with my colleague, Jenny Smith, and when they saw us two little things stand there, hundreds of colliers [coal miners] came round us at once. After we had held our meeting, we walked off to our hall … the colliers came after us, and God touched their hearts.… We have had nearly 700 [decisions for Christ] since we went there … we have got 140 members, and they can all preach better than I can."
Rose Clapham was one of a veritable army of "Hallelujah Lasses"—working class women, poorly educated and often extremely young, who were caught up in the revivalist fervor of William Booth's Christian Mission. Their activities (along with those of their male counterparts) between 1878 and 1885 transformed an inner-city mission into a nationwide crusade.
Six of the seven women who, with George Scott Railton, pioneered the Army's official work in the U.S. in 1880. Only one woman was over age 20; their only training was during the voyage from England. Despite that, in under 3 months the women had founded 10 corps, ...
You have reached the end of this Article Preview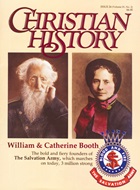 04/01/1990