Bonhoeffer's Costly Theology
Dietrich Bonhoeffer first became widely known not for his thought but for his actions. He was talked about as the German Lutheran pastor and theologian who was executed by the Nazis for resisting the racial and military policies of Hitler's totalitarian regime. Only gradually did the church and world become aware of the rich theological legacy of this modern Christian martyr.
In May of 1924, Bonhoeffer had just completed a year of theological studies at Tübingen. That fall he began studies at Berlin University, including seminars under famous scholar Adolf von Harnack.
What Shaped His Theology?
Bonhoeffer's thought cannot be divorced from his life.
Turbulent Times: He grew up in Berlin during the era of the Weimar Republic. He lost a brother in the First World War. He experienced the rise to power of Hitler's National Socialists, and he helped establish the "Confessing Church" during the German church struggle of the 1930s. Finally, toward the end of the Second World War, he was hanged as a conspirator against Hitler. His theology was forged amid these turbulent times.
Cultured Family: Bonhoeffer's family deeply influenced his character and thinking. He and his twin sister were the sixth and seventh of the eight children of a prominent physician and his wife. His father was a neurologist and professor of psychiatry at the University of Berlin. Dietrich was reared in this educated, cultured family.
The Bonhoeffers embodied the best of the German liberal tradition that prized personal integrity and civic duty. Dietrich grew to combine the analytical objectivity of his father and the piety and practical realism of his mother. Nourished and supported by this loving family, he grew to love life. He valued honesty and self-discipline, ...
You have reached the end of this Article Preview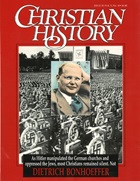 10/01/1991