Exploring Bonhoeffer's Writings
Phrases like cheap grace, costly grace, and religionless Christianity are common coin, because they come from Dietrich Bonhoeffer's two best-known books, The Cost of Discipleship and Letters and Papers from Prison.
But what about the rest of Bonhoeffer's writings, now being republished in sixteen volumes in German? What else might today's reader find stimulating and helpful?
Here are brief introductions to Bonhoeffer's books, including many that deserve to be more widely known.
The Communion of Saints (1927)
His first two works, both academic dissertations, lay the foundations of his theology. Because of their technical character, they will never become bestsellers, but readers with specialized interests in theology, sociology, and philosophy are urged to tackle them.
In The Communion of Saints (Harper & Row, 1963)—which Karl Barth called "a theological miracle"—Bonhoeffer explores what it means to say that the church is "Christ existing as community." To Bonhoeffer, the church is simultaneously (1) a reality of revelation, established in Christ, and (2) a human, social community amenable to sociological analysis. But not any sociology will do. In fact, one of the aims of this ambitious book, completed at age 21, is to articulate a "Christian social philosophy."
For Bonhoeffer, all Christian doctrines have a "social intention" as well as a meaning for individuals. This book explores the social intention of the Christian doctrines of person, creation, sin, and revelation. Especially important is his view that individuals represent, and bear ethical responsibility for, their various communities: family, ethnic group, nation, and church. This ...
You have reached the end of this Article Preview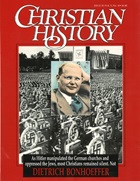 10/01/1991