The Dazzling 'Dumb Ox'
Shortly after Thomas Aquinas died, on March 7, 1274, miracles began to occur near his body. The monks of the Cistercian abbey at Fossanova, where Thomas was buried, feared that the remains might be stolen and taken off to a Dominican resting place.
Jealous of their treasure, the Cistercians took macabre precautions. They "exhumed the corpse of Brother Thomas from its resting place, cut off the head and placed it in a hiding place in a corner of the chapel." That way, if the corpse were taken, the head would still be theirs. His sister was given a hand, a finger of which was to take a grisly trajectory of its own.
The reverent mutilations continued. By the time the canonization process began in 1319, the corpse had been reduced to bones, from which the flesh had been boiled away. In 1396 the bones were moved to the Dominican monastery at Toulouse. The remains were relocated to the church of St. Sernin during the French Revolution, then returned to the monastery in 1974. They rest there today.
A person who knows of Thomas only through his philosophical writings might conclude that his corpse had more interesting experiences than he did. Thomas did spend more hours reading and writing than most of us could imagine, but his life was hardly uneventful.
Black sheep, white habit
Thomas Aquinas was born in the family castle at Roccasecca in 1225. At 5, he began school at Montecassino, the great Benedictine monastery that was almost visible from the promontory on which the family castle stood.
The commanding site of the monastery offered military advantage, and the ongoing struggle between the forces of the emperor and those of the pope made Montecassino unsafe. Thomas was therefore enrolled in the University of Naples, where he first ...
You have reached the end of this Article Preview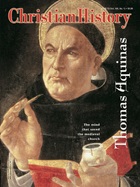 01/01/2002