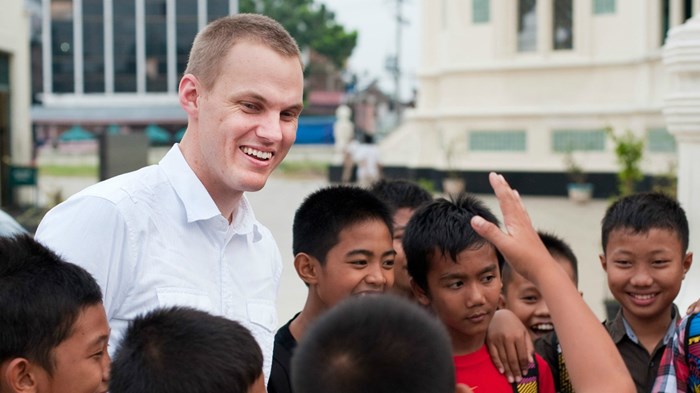 Image: International Mission Board
Eight years ago, David Platt became one of the youngest megachurch pastors in America. Today the 36-year-old was announced as the next president of one America's largest missions agencies: the International Mission Board (IMB) of the Southern Baptist Convention (SBC).
Platt, who has ministered in India, Nepal, Indonesia, and an unspecified country in the Horn of Africa, replaces Tom Elliff, who at 70 is nearly double Platt's age.
Platt has pastored the 4,500-member Church at Brook Hills in Birmingham, Alabama, since 2006, and has called Christians to a movement of radical obedience and discipleship through his ministry Radical and bestselling books Radical and Follow Me.
As head of the IMB, described by the Evangelical Council for Financial Accountability as "one of the leading ministries making disciples of all people to fulfill the Great Commission," Platt will oversee 4,800 Southern Baptist missionaries serving among 787 people groups worldwide.
"We talk all the time about laying down a blank check with our lives before God, with no strings attached, willing to … do whatever He commands in order to make His glory known among the nations of the earth," he told his church. "Over these past months, God has made it abundantly clear… He is filling in that blank check in our lives and family with a different assignment." [Full video statement below]
Angelia Stewart, a spokesperson for Radical, spoke to Platt's past international experiences in a statement to Christianity Today.
"David Platt has traveled extensively to teach the Bible throughout the United States and around the world. His travels overseas have taken him to places like East Asia, India, and Africa to name a few. In his travels he has had the opportunity to meet with persecuted believers, workers engaged in reaching those who have little to no access to the gospel, and church leaders and workers where the church is growing. One of the opportunities he has enjoyed the most is meeting with and encouraging overseas missionaries who are currently on the field," Stewart said.
David Uth, one of the IMB trustees, spoke to Baptist Press about selecting Pratt:
We weren't looking for a man who knew how to talk about it; we were looking for a man who was doing it—and using the influence he had to affect the nations. When we considered what Brook Hills was doing to send couples [to the mission field] and to engage people in the pew in kingdom work, we felt like those were clues to how effective he was at mobilizing and getting people to follow the vision that God had given him.
Not all Southern Baptist leadership backed the Radical pastor as a candidate. Paige Patterson, president of Southwestern Baptist Theological Seminary, acknowledged that Platt was "not my choice," but asked that "all critics beginning with me, must bury our reservations" upon his election.
Platt is also the latest SBC leadership choice from its Calvinist wing, notes Associated Baptist Press.
Platt's church primarily supported world missions through channels outside of the Cooperative Program (a joint funding mechanism for SBC initiatives), leading to concerns about his fundraising strategy as president, according to a statement from Russell Moore, president of the denomination's Ethics and Religious Liberty Commission. The IMB's 2013 budget was $323 million.
Moore is confident that Platt recognizes the importance of denominational funding and will be able to work with fellow leaders. "Southern Baptists expect us, all of us, to guard our legacy of cooperation, and that's the very thing David is eager to do," he wrote in a blog post championing Platt. "And, together, we want to do more than just protect the legacy. We want also to build on it to meet the crushing burden of global lostness."
Elliff expressed more concern over the amount of IMB missionaries than money when he explained to SBC media outlets in February why he was stepping down.
"People say we're the largest evangelical missionary organization of its type in the nation, maybe in the world. People say, 'Doesn't it make you proud?' Actually it makes me ashamed," said Elliff, noting that "less than 3/100 of 1 percent" of the approximately 16-million-member SBC serves as missionaries.
Several other Southern Baptist leaders including president of the Council of Biblical Manhood and Womanhood Owen Strachan, director of LifeWay Leadership Todd Adkins, Summit Church lead pastor J. D. Greear, and Mark Burnett's chief of staff Johnnie Moore (formerly a vice president at Liberty University) all expressed enthusiasm over Platt's election.
"This seems like a historic occasion," wrote Justin Taylor for The Gospel Coalition, "God putting things in place to put one of our generation's great missions mobilizers at the helm of one of the great sending institutions for fulfilling the Great Commission."
The Gospel Coalition reviews Platt's theological background:
Platt attended New Orleans Baptist Theological Seminary, where he received the degrees of M.Div, Th.M, and Ph.D. After he finished his doctorate, Platt served at New Orleans Baptist Theological Seminary as Dean of Chapel and Assistant Professor of Expository Preaching and Apologetics. He also served at Edgewater Baptist Church in New Orleans before being hired to lead the congregation of The Church at Brook Hills.
CT has covered Platt's rise in the evangelical world. In 2013, Platt, along with Francis Chan and Shane Claiborne, were the subject of a cover story examining "radical faith."
Platt also spoke with CT about his 2013 bookFollow Me, where he described the book's message as one to challenge Christians seeking to pursue their faith more seriously to avoid the temptation "to just look for a check-off box: Here's what I've done, now I'm 'radical.' No, the picture is: Press into Christ, and really get serious about what it means to follow him and make disciples for him."
CT has covered the SBC's International Mission Board in the past, including its efforts to end missionary debt, its evangelistic forays at the 2014 Winter Olympics in Sochi, and changes it has made in its outreach to Native Americans.