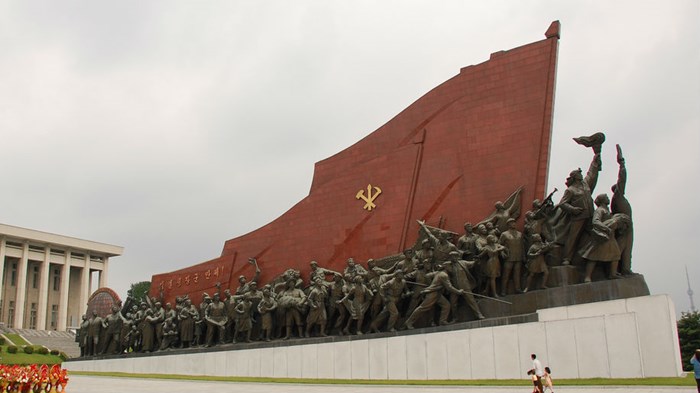 Image: Stephan/Flickr
Update (Feb. 27): A South Korean Baptist missionary and North Korean prisoner, Kim Jong-uk, appeared in a Pyongyang news conference Thursday, calling himself a "criminal" and apologizing for the "anti-state crime" he committed against the country.
The 50-year-old has been held in North Korea since October as a South Korean spy, and wasn't identified until today. It was unclear whether the words he spoke in the press conference were voluntary, reportsThe New York Times. He confessed to entering the country with religious materials, but before that, he claimed to be running an underground church on the border and giving data concerning North Korean refugees to a South Korean intelligence agency.
-----
North Korea has arrested another Christian missionary—this time a 75-year-old Australian on his second trip to the country.
During a visit to North Korea's capital city Pyongyang on Wednesday, John Short was taken into custody, according to The New York Times. He had religious materials with him that had been translated into Korean.
"He won't be intimidated by the communists," his wife, Karen Short, told Reuters. Her husband even read his Bible in front of government guides on his first trip there. "I'm not upset, we're Christian missionaries, and we have tremendous support for what we do."
Short is the second missionary detained by North Korea in recent years. American missionary Kenneth Bae is currently serving his second year of his 15-year prison sentence, despite the U.S. government's efforts to call for his release. In addition to Bae, an 85-year-old Korean war veteran was also arrested in November, but authorities released him about a month later.
Australian officials remain in close contact with the Swedish embassy in Pyongyang for assistance and information on Short's wellbeing, although services in the dictatorship have been "extremely limited," according to an Australian embassy spokesman.
"He's courageous, this is my husband's character," said Short's wife. "I hope things get better — he's in God's hands, we both totally believe that."
The Shorts live in Hong Kong with their three children and have spent more than 40 years sharing the gospel in Asia. John Short was arrested by Chinese officials multiple times in the '90s for his misisonary efforts and barred from entering the country for several years.
His recent arrest in neighboring North Korea follows a United Nations report out this week, detailing the human rights abuses in the country and calling them "crimes that shock the conscience of humanity."
"Systematic, widespread and gross human rights violations have been and are being committed by the Democratic People's Republic of Korea, its institutions and officials," the report said.
The report noted the extent of religious discrimination in the communist country:
Christians are prohibited from practising their religion and are persecuted. People caught practising Christianity are subject to severe punishments in violation of the right to freedom of religion and the prohibition of religious discrimination.
(Photo by Stephan/Flickr)