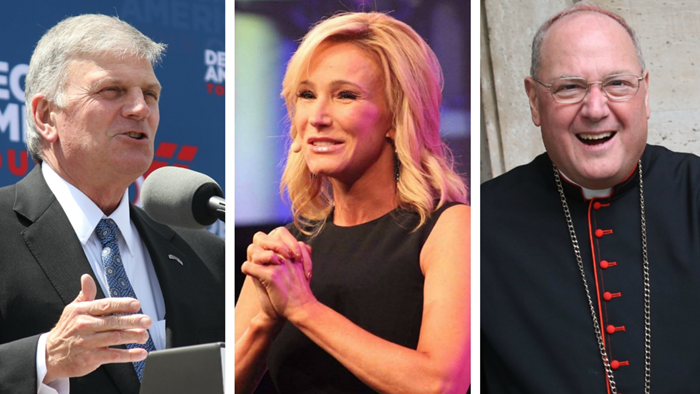 Image: cornstalker and BostonCatholic / Flickr, Paula White / Facebook
Donald Trump has enlisted a larger, more diverse lineup of clergy than usual to pray him into office at his upcoming inauguration ceremony.
The group—bigger than any president's since Ronald Reagan—reflects his politics, pragmatism, and personality. It includes evangelical leaders Franklin Graham and Samuel Rodriguez, as well as spiritual advisor Paula White, the Florida televangelist credited with his rumored recent Christian conversion, and a Detroit prosperity preacher, Wayne T. Jackson.
"Taken together, [Graham and White] have embodied Trump's embrace of the twinned ideologies of Christian nationalism and capitalist Christianity," Kevin Kruse, a history professor at Princeton University and author of One Nation Under God, told CT.
The two represent the type of "pragmatic spirituality" that Trump evoked throughout his campaign, with Graham advancing a political agenda and White a financial one, according to John D. Wilsey, author of American Exceptionalism and Civil Religion and an assistant professor of history and Christian apologetics at Southwestern Baptist Theological Seminary.
Despite Trump's Presbyterian identity and upbringing, mainline traditions are not represented among the half-dozen clergy involved, which include one Catholic and one Jewish leader. As Wisley noted, "his Protestants are evangelicals"—a crucial voting bloc that helped Trump win in November.
Graham, son of evangelist Billy Graham and president of the Billy Graham Evangelistic Association, recently defended God's role in securing Trump's victory in November, and appeared alongside the president-elect during Trump's "thank you" tour this month. Graham did not endorse Trump, but held prayer rallies in all 50 states leading up to the election.
"It is a privilege to be asked to take part in the inauguration of the next President of the United States. I am very thankful that prayer and reading from God's Holy Word will be a part of this important ceremony as the world watches," he posted on Facebook Wednesday. "We need God's blessing and favor on this nation and our new president, Donald J. Trump. I'm praying for that—will you?"
Franklin Graham previously prayed at George W. Bush's inauguration in 2001. Billy Graham prayed at inaugurations for Richard Nixon (in 1969), George H. W. Bush (in 1989), and Bill Clinton (in 1993 and 1997), The Charlotte Observerreported.
White, a longtime friend, has been Trump's biggest advocate and defender of his faith to fellow Christian leaders. But the inauguration lineup also includes figures who have been less enthusiastic and even critical of Trump.
Rodriguez, president of the National Hispanic Christian Leadership Conference (NHCLC) and a Christianity Today board member, displayed some wariness over Trump's proposals during the campaign. But he has partnered with the Trump transition team to address immigration policy, particularly the status of children of undocumented immigrants. Catholic Cardinal Timothy Dolan, who has criticized Trump's immigration stance, will also speak.
"The inclusion of such critics suggests a willingness to heal former rifts, which of course would be a welcome and appropriate sign for an inauguration," said Kruse.
Rodriguez is slated to offer a reading and invocation, as is White. Graham is slated to offer a reading and benediction, as is Jackson.
Inauguration lineups tend to bring controversy along with them, as CT examined after the last one.
As Franklin Graham told CT following the lawsuit that resulted from his 2001 inauguration prayer, "Any time you take a stand for Christ, it's going to be controversial." (Graham asked Americans to "acknowledge You alone as our Lord, our Savior and our Redeemer," and said, "We pray this in the name of the Father, and of the Son, the Lord Jesus Christ, and of the Holy Spirit.")
Saddleback Church pastor Rick Warren prayed Barack Obama into office in 2009, after receiving harsh criticism from both LGBT advocates and evangelicals who opposed Obama. [Note: Polls showed that most Americans supported the choice, and Warren stood his ground and delivered a prayer (complete text) that managed to invoke Jesus' name in 4 languages (CT offered 18 more).]
The Obama-Warren controversy was one of CT's top 10 theology stories of 2009. (CT interviewed Joel Hunter and Franklin Graham for reactions, as well as rounded up responses from Charles Colson, Mark Driscoll, John Piper, and others.)
The LGBT issue came up again during Obama's 2013 inauguration. He tapped Atlanta megachurch pastor Louis Giglio to give the benediction (based on Passion's efforts against human trafficking), but Giglio resigned before the event due to scrutiny over a past sermon in which he called homosexuality a sin.
That year, fellow Atlanta pastor Andy Stanley had to explain his inauguration day remarks after calling Obama the "pastor in chief."
Christian Historyreviewed some of the rituals that traditionally accompany the inauguration, such as pledging "so help me God" or taking the oath of office on a Bible.
The most popular verse chosen by presidents as they take their oath is 2 Chronicles 7:14, which was the No. 1 Bible verse searched online following Trump's election. (The verse reads: "If my people, who are called by my name, will humble themselves and pray and seek my face and turn from their wicked ways, then will I hear from heaven and will forgive their sin and will heal their land.")
Remarks by clergy at the ceremony as well as Trump's speech will cue Americans to the tone of his administration—and whether they can expect a shift from the candidate they watched campaign all year.
"Inaugural addresses typically follow a common pattern. The goals include ushering in a transition of power by unifying the people with reminders of shared values and praising the institution of the presidency," said Amy Black, professor of political science at Wheaton College. "In much of his conduct so far, [Trump] has defied conventional wisdom, and he may do so once again with this speech."
Trump did not end his acceptance speech on election night with "God bless America," nor did he mention God at all. The inauguration ceremony may continue that pattern, despite the significance of such framing in American civil religion. As Wilsey stated in an email to CT:
Trump is happy to have others use the God language while he himself can avoid it. He is content to put prominent religious figures out front to represent him as a religiously oriented leader, provided he does not have to represent himself as such. I think Trump understands the power of association with religious figures, and I also think he knows his own limitations in terms of how he thinks about God.
Dolan will be the first Catholic to take part in a presidential inauguration in 40 years, since President Jimmy Carter's in 1977, the Religion News Service reports. Rabbi Marvin Hier will be the first Jewish clergy involved since Ronald Reagan's in 1985.
His inclusion "may reflect, in part, homage to the Jewish faith of Trump's daughter and son-in-law," Black said. Eldest daughter Ivanka Trump, a convert to Orthodox Judaism, is moving to Washington and expected to serve as a stand-in to the First Lady.
The broad faith representation may also reveal a desire to please the American electorate, more pessimistic about the president-elect than any of his recent predecessors. According to the Pew Research Center, Trump's overall campaign grade is the lowest among any presidential candidate—winning or losing—since it began collecting data in 1988.
White is the only pastor from Trump's group of evangelical faith advisors scheduled to speak at the inauguration. The Mormon Tabernacle choir is slated to perform. Trump has downplayed the celebrity factor in his confirmed guest list. So far, Carter is the only former president expected to attend.
"The traditional tasks of an inaugural—bringing the country together and setting an uplifting and unifying agenda for the future—are even more pressing for president-elect Trump," said Kruse. "And that, I suspect, is why he's enlisted a much larger lineup of clergy to speak at the inauguration than his predecessors. He knows he needs their help in elevating the tone and, in turn, elevating his presidency as well."