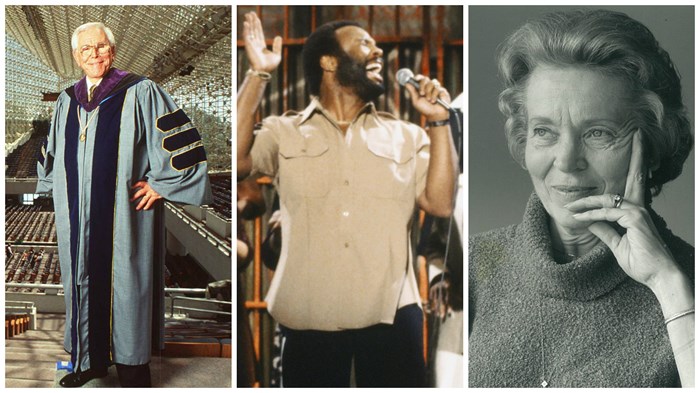 Here are the 20 obituaries and tributes that CT readers circulated most in 2015, presented in chronological order.
Gospel Music Legend Andrae Crouch
He combined Saturday night with Sunday morning.
Marcus Borg, Liberal Jesus Scholar and Friendly Provocateur
Borg was a prominent leader of the Jesus Seminar, an effort to separate what Jesus scholars saw as fact from myth in the Gospels.
Steve Hayner, Former President of InterVarsity and Columbia Seminary
He was known for his presidency at InterVarsity Christian Fellowship and later at Columbia Theological Seminary.
Samuel Hugh Moffett, a Leading Expert in East Asia Christianity
Global Christian mission should pivot to Asia's 4.4 billion people, Moffett said.
Leanne Payne, Prominent Leader in Pastoral Care and Healing Movement
Author of seven books, she supported orientation change for gays and lesbians.
Lyle Schaller, Preeminent Church Consultant
No one may have advised more churches in the 20th century.
Kara Tippetts, Christian Mom and Blogger
1