World Cup Evangelism Evades Russia's Ban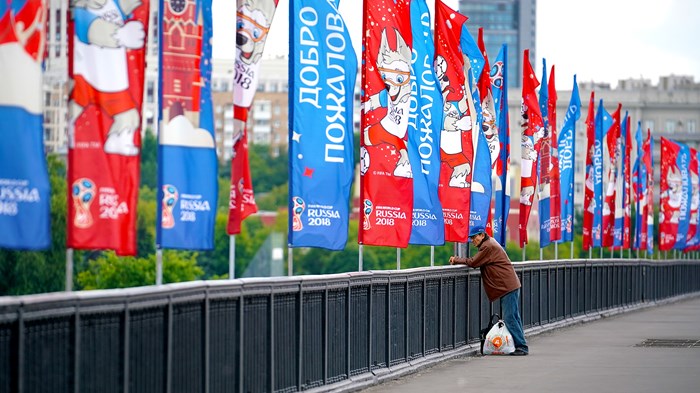 Image: Christopher Furlong / Getty Images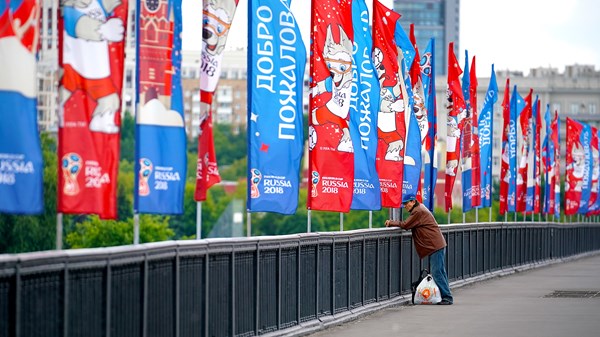 World Cup Evangelism Evades Russia's Ban
When the biggest sporting event in the world—the World Cup—comes to a country with tight restrictions against missionary activity—Russia—ministries hoping to use the international gathering for evangelism have to get creative.
There will be no huge campaign to hand out soccer-themed tracts or testaments from street corners, as Christians did along Copacabana Beach in Brazil during the last tournament four years ago. Russia's 2016 anti-evangelism regulations, part of its Yarovaya law, bar believers from sharing their faith outside of government-sanctioned church buildings. That applies to the dozen venues hosting World Cup games over the next month.
There won't be scores of Christians flying in to partner in proselytization efforts, either. For several years, the government, with its ties to the Russian Orthodox Church, has shut down foreign missions groups, stopped issuing visas for missions workers, and threatened to deport visitors who violate the restrictions.
So since the law requires evangelism to be confined to officially recognized churches and to be led by Russian nationals, the country's Protestant minority decided that's what they'll do. If they can't reach out, they'll get World Cup fans to come to them.
More than 400 evangelical congregations across Moscow, Saint Petersburg, and other host cities will open their buildings for game viewings and fellowship during the month-long international tournament.
Since many of the popular matches have sold out, the churches will offer fans a place to cheer on the Russian team (soccer is second only to hockey in popularity in the former Soviet state) on the big screen as well as snacks like popcorn and sunflower seeds, and, of course, God's Word.
Part of a campaign through US-based Mission Eurasia, hundreds of church volunteers hope to distribute biblical texts at the church events, including Russian New Testaments with special discipleship materials, and to recruit community members to attend follow-up Bible studies and youth camps.
The viewings, which may sound like standard evangelistic outreach for Americans whose churches regularly host Super Bowl parties and other community events, represent a fresh approach to ministry for the small community of Russian evangelicals, who number just 1 percent of the population.
While newer churches tend to be more engaged with community activities, it's "really unusual" for established evangelical churches to open their doors for this kind of event, said Sergey Rakhuba, Mission Eurasia president.
"'How come you can use the building not to worship and glorify God, but to watch the games that are useless?' That's what some older pastors would say," said Rakhuba. "Young people connect to the opportunity, and they convince their leaders to use this strategy."
Rakhuba's organization has trained young Russian leaders from Pentecostal, Baptist, Evangelical Lutheran, and Evangelical Free Church traditions to oversee this World Cup campaign and to navigate ministry amid the anti-evangelism law.
The host sites have to be officially registered with the government as churches; about a quarter of evangelical congregations meet in homes or private buildings without this designation, which puts them at risk for raids or fines.
Those outside of the Russian Orthodox Church can also be penalized for "missionary activity," meaning any effort to share information about their religious beliefs or doctrine or to get non-members involved with their organization, even if it takes place under their own roofs.
This year, several leaders have pushed back against the broad restrictions, including a Pentecostal congregation and two Baptist pastors who argued that they were unjustly charged under the Yaravoya law. One of the pastors had been penalized for posting an invitation to an Easter service on his social networking page.
Ultimately, each lost their appeals, but the Constitutional Court offered further clarifications that religious minorities hope will offer a bit more leeway under the law. The court stated that posting about events only qualifies as missionary activity if the announcement's defining feature is "about a specific religious belief" and it's disseminated among non-members.
Though the laws have been interpreted and applied differently in different locales, participants in World Cup events may have less cause for concern than usual.
"Even with the 2016 restrictions, I imagine the campaign will encounter less government opposition than might otherwise be the case because the Kremlin will be keen to avoid any kind of negative publicity abroad in connection with the World Cup," Geraldine Fagan, editor of the East-West Church and Ministry Report, told CT.
Russia ranks among the worst countries for religious freedom on a watch list designed by the US Commission on International Religious Freedom, which opposes the Yarovaya law as well as earlier "foreign agent" laws.
"Even as things change, and I hope they will not change more for the worse, we want to equip the national church using this opportunity to share the gospel with their communities," said Rakhuba. "The door is possibly closing but still there is a remaining window, so we need to use and mobilize the rest of the world to pray for the church to use [the World Cup] to share the gospel in Russia."
One Saint Petersburg pastor, Dmitry Lunichkin, said the upcoming campaign allows his church to have free resources for evangelism.
"We are sharing the living Word of God with the people of our city," he said "We believe that Christ will come one day and reveal how many people accepted him into their hearts as a result."
The 2018 World Cup in Russia isn't the first time government, sports, and the church have clashed. A decade ago, evangelical ministries adjusted their approach when the Olympic Games were held in Communist China, encouraging Christian athletes to share the gospel with fellow participants rather than sending missionaries to the event or organizing large-scale distribution of literature.

06/14/2018