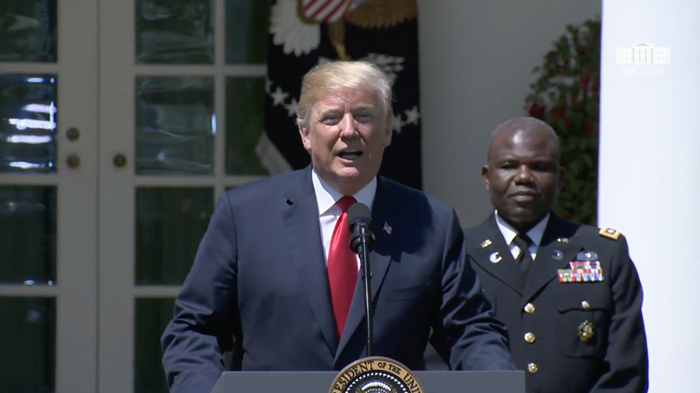 Image: White House / YouTube
President Donald Trump has once again marked the National Day of Prayer with a new policy designed to protect faith groups and their involvement with the American government.
Joined by his evangelical advisers and leaders from various religious traditions during a Rose Garden ceremony, Trump signed an executive order officially establishing his White House faith office, following in the footsteps of past presidents George W. Bush and Barack Obama.
After over a year of ad-hoc meetings with evangelicals and others, the White House Faith and Opportunity Initiative will formalize his administration's ties with faith leaders and, the President said, offer faith-based organizations equal access to government funding.
"Faith is more powerful than government, and nothing is more powerful than God," said Trump, before the crowd of about 200 guests.
According to Religion News Service, "those working on the initiative will provide policy recommendations from faith-based and community programs on 'more effective solutions to poverty' and inform the administration of 'any failures of the executive branch to comply with religious liberty protections under law.'"
At last year's observance, the President presented his executive order offering greater religious liberty protections throughout the federal government, including a promise to "never ever penalize any person for their protected religious beliefs."
"This order was the logical next step to last year's executive order which mandated a review of all federal departments, and during that review the White House maintained an open door policy to the faith community," said Johnnie Moore, the unofficial head of Trump's evangelical advisers and a frequent visitor to the White House. "That open door is now becoming a formalized initiative."
Moore said the program will allow the faith community to partner with the government on issues like mental health care, prison reform, education, and humanitarian causes.
President Bush was first to start such a White House-level effort, with his Office of Faith-Based and Community Initiatives. President Obama modified the idea with his Office of Faith-based and Neighborhood Partnerships.
"Ordering every department of the federal government to work on faith-based partnerships—not just those with faith offices—represents a widespread expansion of a program that has historically done very effective work, and now can do even greater work," said Moore. "Pulling the office back into the White House shows that the White House immensely values and intends on ensuring these partnerships are effective."
Fellow members of the evangelical advisory group have celebrated Trump's move, including Franklin Graham, who said in a statement: "I'm extremely grateful that we have a president who realizes the importance of prayer, faith, and religious freedoms to our nation."
Trump also used the National Day of Prayer as an occasion to pay tribute to the late Billy Graham, whose funeral he attended earlier this year. The President opened by quoting Graham—"Prayer is the key that opens up the treasures of God's blessing"—and thanking the evangelist's granddaughter Cissie Graham Lynch for offering one of several opening prayers at the Rose Garden event. He also told the story of a former inmate who came to Christ through Graham's radio ministry, and invited him up before the crowd.
At the National Day of Prayer's evening observance, former Southern Baptist president Ronnie Floyd interviewed Frank and Sherri Pomeroy from First Baptist Church of Sutherland Springs, the Texas congregation that six months ago suffered America's worst church shooting.
"I preached for many years on how to handle grief," said Frank Pomeroy. "However now we are on the other side and have experienced [it]. I would say it is a learning process, and we are still in that process.
"However, at the same time I am also seeing the hope that God has brought. From the blood that was spilled, from the ashes glory is rising," he said. "We are seeing a growth in the church, and there has been a change: there's cohesion in the community and cohesion within families and cohesion within our family that is stronger than it was before. And it's through the grace and mercy of an Almighty God that brought that to be."
"Certainly our lives have been turned upside down," said Sherri Pomeroy, "but we're able to get through the days one breath at a time because we know there's hope in Jesus Christ. We know where our family is. All of the victims from our church we knew personally, and we have not a doubt where they are, and that they're looking down."
Floyd then asked the couple, "When you hear about the Waffle Houses and the Parklands, what do you think of first?"
"I think of how I didn't pray enough before because it could never happen to us," said Sherri. "And now we're on the other side, and we're more aware of and in tune with the hurts of other people."
Frank criticized how many in the Parkland, Florida, community had turned its own tragedy into a push for gun control reform (one joined by many evangelicals). "Rather than reaching in and people going in and lifting up the name of Jesus so all men can be brought unto him, they are policitizing it and taking it every other direction and biases in this world.
"I praise God that in Sutherland Springs, our community chose not to take that path," he said. "They chose to look up, and by looking up we moved forward, and by moving forward we lift up Christ. And I wish that would happen in every other one of those situations."
Attendees then knelt at their seats as the Texas pastor prayed for the security of America's schools and churches.
The event ended with a series of video clips of Billy Graham delivering some of his most enduring lines, which led into a recitation of the Sinner's Prayer and an encouragement to follow up with the Billy Graham Evangelistic Association (BGEA) at PeaceWithGod.net. (After the famous evangelist's funeral, the BGEA reported that 10,000 people prayed for salvation via its website.)
Then Floyd led the crowd in reciting the 2018 event's official prayer:
Our Dear Heavenly Father, while we come to You in complete humility, we also come to You with boldness in the authoritative name of Your One and Only Son, Jesus Christ, who is the Lamb of God who takes away the sin of the world. In Jesus' name, fill us now with Your Holy Spirit and lead us as we pray in Jesus' name for America.

Oh God, we are burdened for our nation today. We turn from the sins that we have committed against your Word and your Name. We turn away from our contentious words and ways toward one another that has led us to division and polarization. We turn away from our disrespect and lack of dignity toward each other, and we turn away from our continual devaluation of all human life from the womb until death in this world. We also turn away from and refuse to participate in skepticism, criticism, and cynicism in our nation. We turn away from anything that divides us, and we run toward the gospel of Jesus Christ that is the only thing that has the power to unite us together.

Lord, in this critical hour in our nation, we pray for unity in America. Only You can bring unity, harmony, and oneness in America. As your Word calls us in Ephesians 4:3, "Making every effort to keep the unity of the Spirit through the bond of peace", we ask You to empower us to make every effort to live in unity, to call for unity, and to forward unity in America continually.

We pray for the churches in America to unify in Jesus Christ and to pray as one unified spiritual family for America. May Your Church pray for America passionately, perpetually, privately, and publicly.

We pray for God's power to unify families, workplaces, communities, and cities in America. By Your Spirit, lead us to forgiveness, reconciliation, healing, and unity.

We pray for people of all ethnicities and races in America to come together as one, living in peace and unity together. Oh Lord, because each of us is created in Your image, please give us the courage to stand against all racial and ethnic division, denouncing it as evil and sinful, while simultaneously coming together in unity with all persons knowing this is God's will for us.

We pray in unity for the security of our nation. We ask You to preserve the United States of America from the forces of evil that are threatening our lives and our future. God, please guard all persons in public and private settings from anyone or anything that desires to harm us or take our lives. Our future is in Your hands.

We agree clearly, unite visibly, and pray extraordinarily for the next Great Spiritual Awakening in America. Oh Lord, wake up Your church spiritually and convict Your people to agree clearly, unite visibly, and pray extraordinarily until the next Great Spiritual Awakening occurs in our generation.

Oh God, we stand together upon Your words in Psalm 133:1, "How good and pleasant it is when brothers live together in harmony." Through Jesus' name and by the Holy Spirit's power, we pray for all Americans to unify and to live together in unity.

In the mighty and majestic name of Jesus Christ who is the Only Savior and the Only Hope in this world, we pray. Amen.