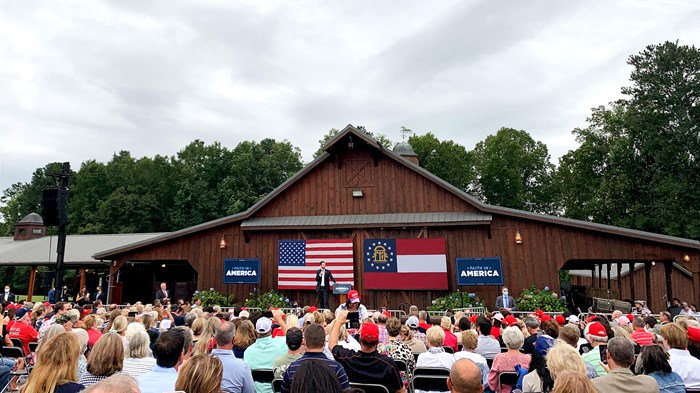 Image: Kate Shellnutt / CT
Joann Roberts had never been to a political rally before.
She prays for President Donald Trump every day and watches messages from his faith advisers online, including televangelists Paula White-Cain and Jentezen Franklin. When Roberts heard they would be speaking at a campaign event in Georgia, the Southern Baptist mom of three took off from her job as a hospital administrator and made the hour-long drive to a field in the far-flung Atlanta suburbs.
Wearing a neon pink shirt printed with the slogan "God, Family, Guns, and Trump," she fit right in.
The 500-plus crowd at this week's Evangelicals for Trump rally included local politicians, GOP organizers, and even an unannounced visit by Georgia Gov. Brian Kemp, but most were people like Roberts. They were veterans, retired couples, bikers, college students, and homeschool moms, all Christians who felt like this year they needed to do something more to show their support.
Several volunteers distributing hand sanitizer and masks ...
1