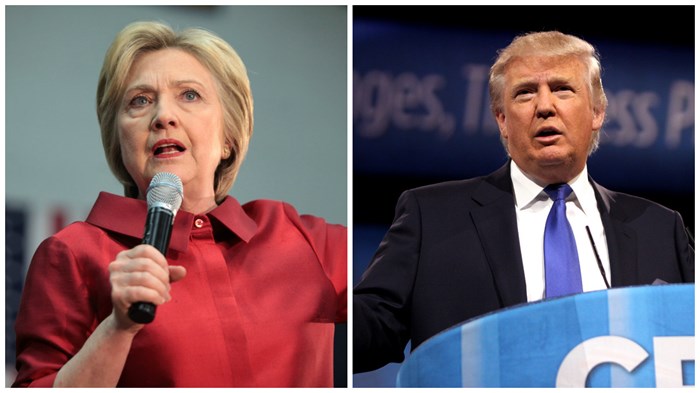 More than three-quarters of self-identified white evangelicals plan to vote for Donald Trump in the fall (78%). But they aren't happy about it.
According to a Pew Research Center survey of 1,655 registered voters released today, more than half of white evangelicals said they weren't satisfied with their ballot options (55%), reflecting the feeling of Americans at large (58%).
And 45 percent of white evangelicals said they meant their vote as opposition to Hillary Clinton, not as an endorsement of Trump.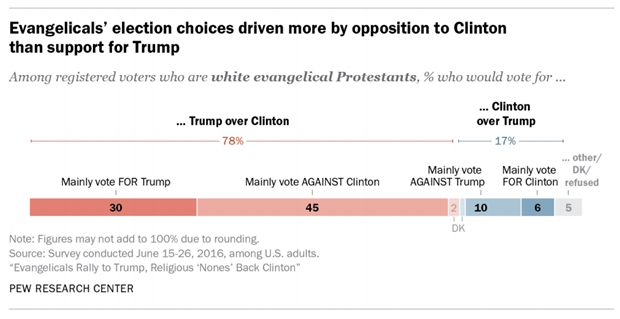 In stark contrast are black Protestants, two-thirds of whom are evangelicals (according to Pew). Almost 90 percent said they would be casting a vote for Clinton in the fall (89%), and 60 percent said they were satisfied with their choices.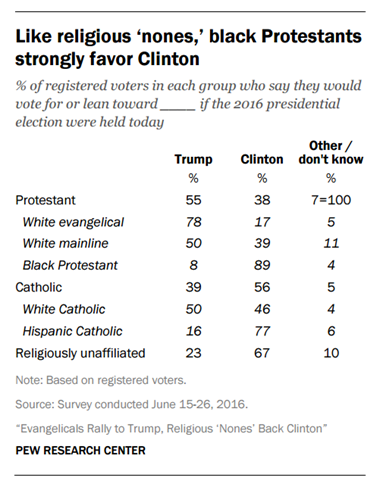 Half of black Protestant voters said their vote was in support of Clinton (53%), while one-third said they were voting against Trump (34%). This preference lines up with African Americans at large, who favor Clinton.
Black Protestant voters diverge from the much larger group of white evangelicals, who make up one out of five registered voters and one out of three Republicans.
"Despite the professed wariness toward Trump among many high-profile evangelical Christian leaders, evangelicals as a whole are, if anything, even more strongly supportive of Trump than they were of Mitt Romney at a similar point in the 2012 campaign," Pew stated. "At that time, nearly three-quarters of white evangelical Protestant registered voters said they planned to vote for Romney, including one-quarter who 'strongly' supported him. Now, fully 78 percent of white evangelical voters say they would vote for Trump if the election were held today, including about a third who 'strongly' back his campaign."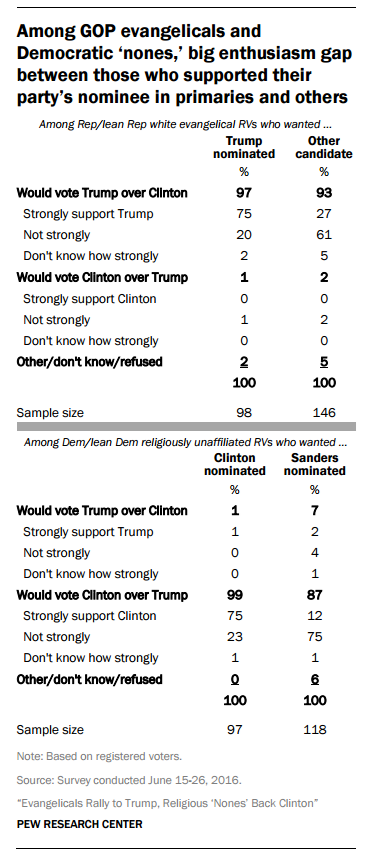 The two-thirds who don't strongly favor Trump backed other candidates in the primaries, Pew stated. But left with only Trump or Clinton as options, 93 percent of Republican or Republican-leaning white evangelicals said they will vote for Trump.
"While many evangelical voters say they 'strongly' support Trump over Clinton, this does not necessarily mean Trump is their ideal choice for president or that they are convinced he shares their religious convictions," Pew stated. "In the current survey, 42 percent of white evangelicals say it will be difficult to choose between Trump and Clinton because neither one would make a good president. And a January Pew Research Center poll found that 44 percent of white evangelical Republicans view Trump as 'not too' or 'not at all' religious."
While those who regularly attend church were more likely to support someone other than Trump in the primaries, that distinction has disappeared, Pew found. Three-quarters of those who attend church weekly or more (and also of those who attend less often) would vote for Trump. About a third of those who attend (and don't) strongly support him.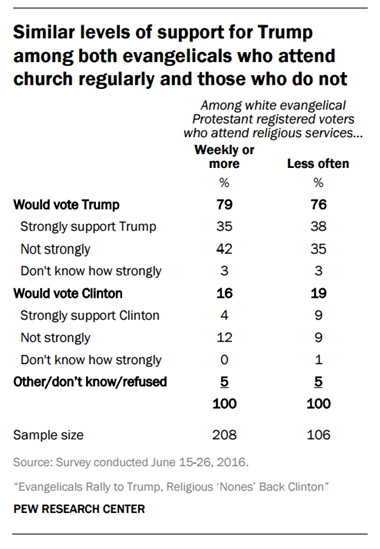 Evangelicals aren't the only ones dissatisfied with the ballot options. Religious 'nones,' who essentially act as the white evangelical counterpart in the Democratic party, are also unhappy. Like evangelicals, the 'nones' make up about one in five registered voters and 20 percent of the Democratic party.
More than a third of 'nones' are planning to cast their vote against Trump (36%), more than those voting for Clinton (30%), against Clinton (12%), or for Trump (10%).
Overall satisfaction with the nominees is at its lowest point since 1992, when Bill Clinton won over George H. W. Bush. Two out of five voters don't think Trump or Clinton would be a good president; half say they're voting against a candidate rather than in support of one. In the 2012 election, only a third voted against Barack Obama or Mitt Romney.
Among white evangelicals, dissatisfaction is also up: about 36 percent voted in support of a candidate in 2012, the same as 2016. But while 49 percent voted against a candidate in 2012, 55 percent are voting against one in 2016.
The trend is the same for black Protestants: 76 percent voted in support of a candidate in 2012, compared to 56 percent in 2016. And 14 percent voted against a candidate in 2012, compared to 38 percent in 2016.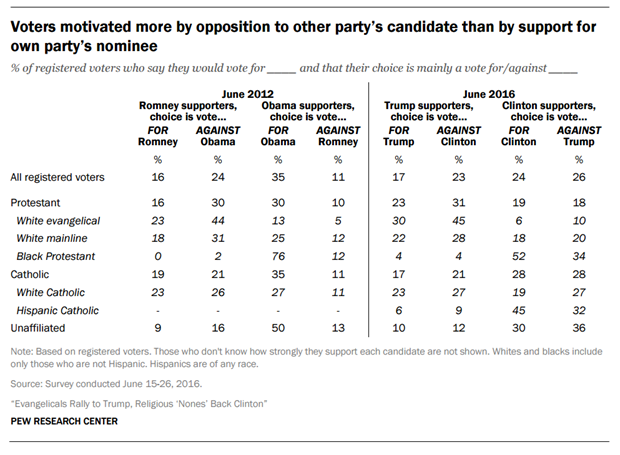 Besides that, the 2012 numbers look a lot like this election. About 73 percent of white evangelical voters said they would vote for Romney in 2012, while 78 percent stand behind Trump today. Romney ended up with almost 8 in 10 white evangelical votes in 2012, according to exit polls.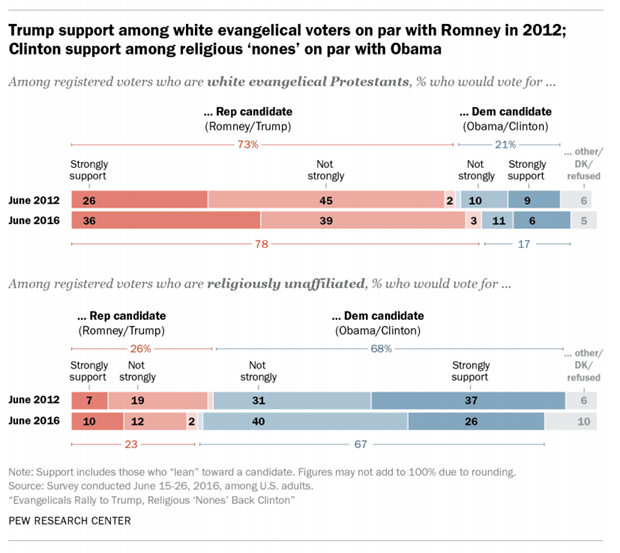 Black Protestant voters in 2012 again stuck with the African American voting bloc. Nearly all black Protestants (95%) in 2012 voted for Obama.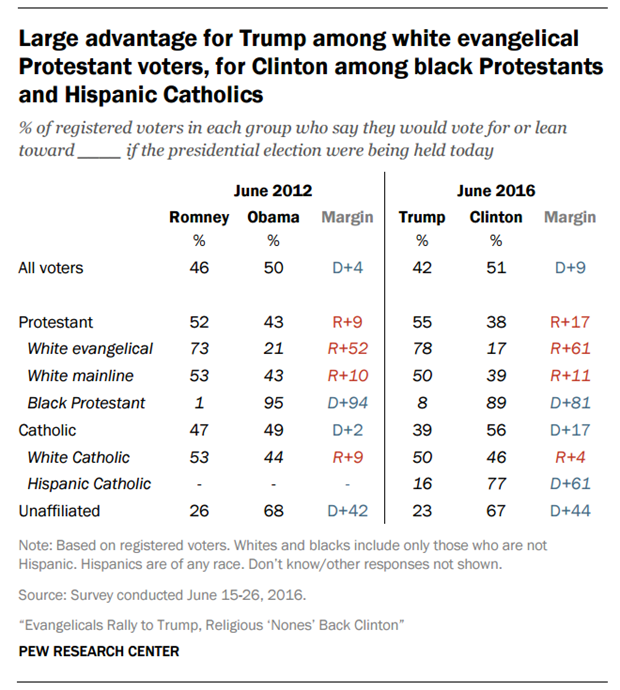 Even though voter satisfaction is down, voter engagement is up. White evangelicals and black Protestants are more likely to say that it "really matters" who wins the election and to follow the news about the candidates closely. More white evangelicals are also thinking "quite a lot" about the election, while the number of black Protestants doing likewise is the same as 2012.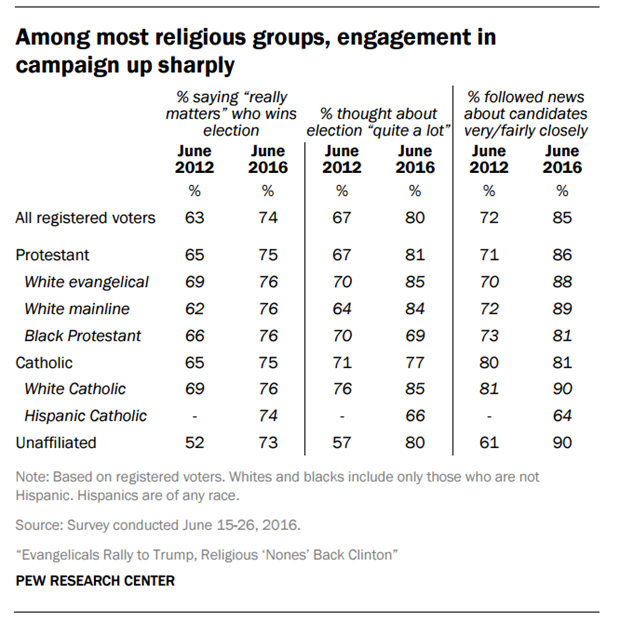 The majority of Americans want a president with strong religious convictions, though fewer than did so in the past, Pew found. Just 62 percent of adults said it was important to them to have a president with strong religious beliefs, down from 67 percent in 2012 and 72 percent in 2008.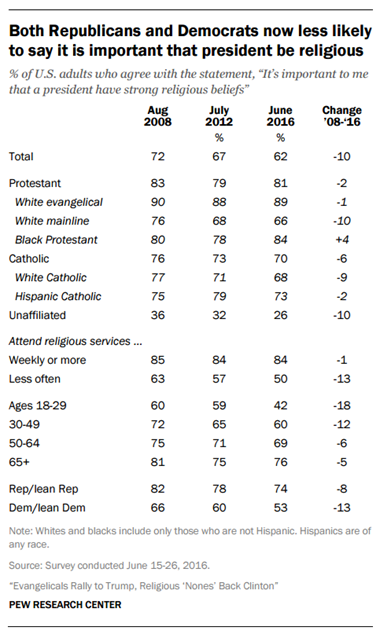 However, white evangelicals (89%) and black Protestants (84%) buck the trend, and are actually more likely to want a candidate that shares their faith than they did four years ago.
More American adults believe Clinton is religious (48%) than believe Trump is (30%).
Even if they wish there was another choice, white evangelicals do like Trump's position on the issues, or at least they like his positions more than Clinton's. White evangelicals (52%) consider abortion a "very important" issue when deciding who to vote for, but more consider issues such as terrorism (89%), the economy (87%), and foreign policy (78%) crucial when choosing a candidate.
The report also found:
Most white evangelicals (63%) and black Protestants (67%) said churches should express views on social and political matters, but fewer (37% white evangelicals, 45% black Protestants) thought churches should endorse candidates.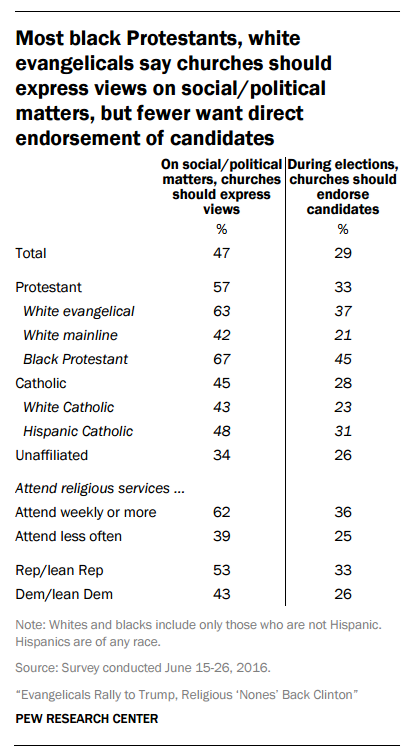 Seven in ten white evangelicals said churches, synagogues, and other houses of worship contribute to solving social problems (70%), down from 86 percent in 2008. Six in ten black Protestants believe the same, down from 75 percent in 2008.
Almost half of white evangelical Protestants (46%) report that it's become more difficult to be a Christian in America today, compared to one-third of non-white evangelicals (31%). White evangelicals that find life as a Christian to be harder are more likely to support Trump (84%) than those who don't (72%).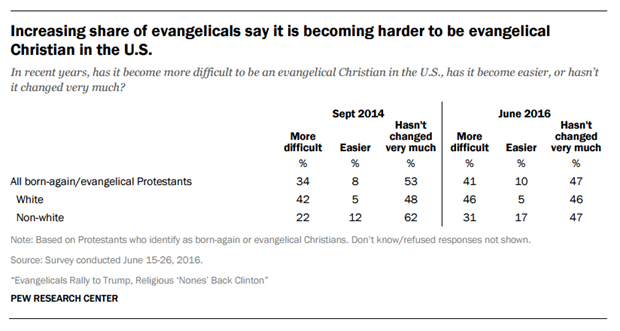 More white evangelicals (27%) than black Protestants (18%) think of themselves in 2016 as a member of a minority because of their religious beliefs. In 2014, 30 percent of white evangelicals and 26 percent of black Protestants felt that way.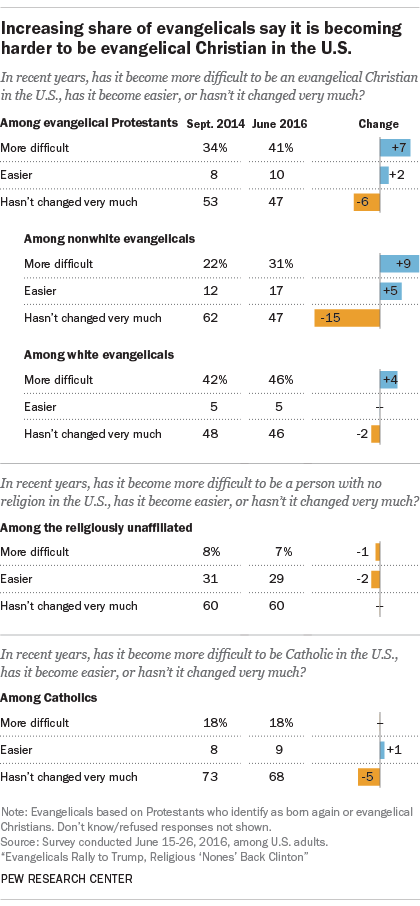 On only one issue do white evangelicals think Clinton would basically do just as good a job of addressing as Trump: dealing with race relations.