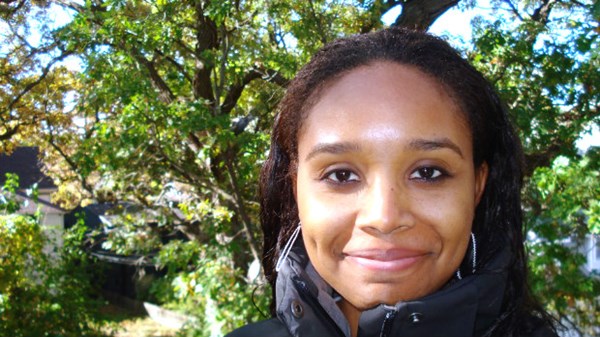 How Psychology Shapes Our Prejudice
Christena Cleveland, a social psychologist, is helping churches and faith-based groups transcend deep-seated divisions.
6.17.13
One of the most compelling speakers at the 2013 Inhabit Conference—a gathering about faith and place co-hosted by This Is Our City—was Christena Cleveland. A social psychologist with a PhD from the University of California, Cleveland is helping churches and faith-based organizations understand and heal social fragmentation. I recently spoke with Cleveland about her forthcoming book, Disunity in Christ: Uncovering the Hidden Forces That Keep Us Apart (IVP Books, 2013), and how social psychology can help Christians reconcile with diverse groups in their communities and cities.
Social psychology is "the study of the ways in which the imagined, implied or actual presence of others affects our thoughts, emotions, and behaviors," says Cleveland. As an African American growing up in Fremont, California (at the time one of most diverse cities in America), Cleveland's first brush with social psychology was on her neighborhood streets. "On my block alone, there were nine different nationalities represented," she says. "I was used to growing up with all sorts of different kids, dealing with cultural conflicts, celebrating everyone's different holidays and special occasions—that was the norm for me."
When she was in third grade, Cleveland's father started a multiethnic church comprising four equally proportioned groups: African Americans, Latinos, Asians, and whites. There, Cleveland sung and prayed in languages far beyond English. She also had racial slurs hurled at her at a local church's Vacation Bible School. These and other experiences piqued her interest early on about fundamental questions of social psychology, such as, "Why don't groups get along?" and "Why do they perceive each other inaccurately?"
Today Cleveland teaches the reconciling benefits of social psychology, working with groups to raise awareness of their social misperceptions and bringing conflicting groups together to find ways to collaborate. Disunity in Christ explores how social psychology reveals fragmentation in the body of Christ. Filled with many personal stories, the book highlights, among other things, how differences become divisions, and how the prevailing marketing culture feeds unhealthy competition between groups.
"The cognitive processes that drive categorization are most powerful when they are hidden from sight," says Cleveland. "Once individuals become consciously aware of these processes . . . the processes begin to lose their power." Another facet of her work, then, is helping groups to recognize those assumptions. She had the chance to practice this while working with her Young Life group in her, low-income, mostly African American neighborhood in North Minneapolis, after noticing the divisive ways that the group (8 to 10 African American girls) talked about Somali girls at their school. She began asking the girls questions that helped them see their assumptions. "When you give people the opportunity to see how others misperceive them," says Cleveland, "it makes them more interested in seeing how they misperceive others."
More Than 'Unity Events'
Cleveland also recently met with two local pastors in her part of Minneapolis—a black pastor of a church in a predominantly black, urban neighborhood, and a white pastor of a church in a predominantly white, suburban neighborhood. The pastors "had recently failed at their noble attempt to lead their churches in working together on a racial reconciliation project in the black neighborhood," says Cleveland. "The joint venture began well but soon ended quite poorly, leaving behind a trail of distrust, negative emotions, and bruised egos." The focus of her work with the pastors was to explore what happened:
After hearing each pastor's side of the story, it became clear to me that . . . each pastor had very different ideals about what a leader does and does not do, and each pastor projected his ideals onto the other pastor and negatively evaluated him based on criteria that pertained to those ideals. Essentially, each pastor gave the other a failing grade on leadership because they had very different criteria for evaluating leadership.
By working with Cleveland, the pastors uncovered their differing concepts of leadership and how that had led to misunderstanding and failed collaboration.
Cleveland's work awakens us to the language we use, particularly the ways in which we draw boundaries between us and them. "We must take active steps to expand our category of us," Christena says, "so that they are now included in us. We've learned that the mere act of categorizing Christian groups into smaller, homogeneous groups leads us to devalue, misperceive, and distance ourselves from them."
Once a divide goes up between groups, says Cleveland, they tend to exaggerate each other's differences—and cause further division in the body of Christ. Churches, says Cleveland, "tend to rely most on our smaller, cultural identities and ignore our larger, common identity as members of the body of Christ. . . . Christianity has been turned into a marketplace in which you can make money off your brand." Pastors and churches are pressured to distinguish themselves from others, as we compete for the loyalty of members and seemingly scarce resources. We need a theology, she maintains, deeply rooted in our essential unity in Christ that acts and speaks accordingly, seeking commonality and emphasizing shared characteristics between groups.
Instead of deepening the chasms between groups, we need sustained conversation. But Cleveland goes one step further, noting that one-time cross-cultural unity events are "not the way to go." Although well-intentioned, she says, such events tend to squeeze minority groups into the majority culture. Rather, healing and witness to unity in Christ comes from the long, messy work of naming issues of power and privilege. What we need are "long-term, ongoing partnerships that are proximal and mutually engaging."
Alongside sustained conversations, we need ministries on which our groups can collaborate. Cleveland recalls how many churches in Fremont ran VBS programs with the exact same curriculum at different times. "It's our empire approach to doing church," she says, that fuels such redundant behavior. Cleveland also maintains that it's better for a church to pick a single church of a differing social group (race, ethnicity, or even political inclination) and to deeply partner with that church rather than to host sporadic events with many churches. Her experience has shown that churches who immerse themselves in this kind of cross-cultural partnerships never regret it. "Yes, it's hard," she says, "but it's so much richer."
The call to follow Jesus, as Dietrich Bonhoeffer reminded us, is a costly one. The way of Christ is undoubtedly difficult as we lose ourselves, but as we follow in it, we find the abundant shared riches of God's kingdom. Cleveland's work rouses us from the patterns of speech and action that we mindlessly fall into within the confines of a homogenous social group. It points us toward healing: the healing of the church, the healing of our neighborhoods, and ultimately the healing of our own fragmented souls. May we have the courage to follow her lead.
C. Christopher Smith is the editor of The Englewood Review of Books and presently is co-writing a book entitled Slow Church (forthcoming, Likewise/IVP). He blogs at SlowChurch.com.
MORE FROM CHRISTIANITY TODAY