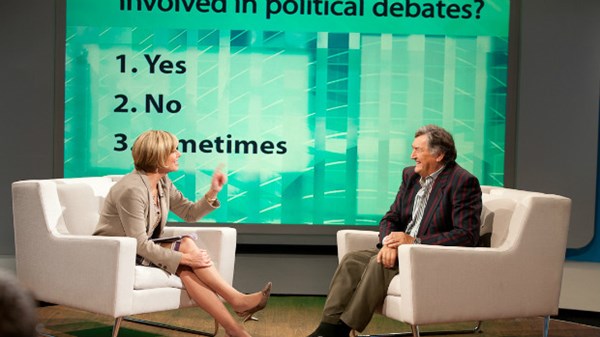 Image: Courtesy of Context with Lorna Dueck
'Let Me Impact the Media for You'
How Lorna Dueck is embodying a winsome apologetic on Canadian TV.
7.30.13
"Let me impact the media for you," Lorna Dueck prayed nearly 20 years ago. Dressed in her housecoat, she had awoken to another day's responsibilities as mother to two young children. But on that particular morning, as she scanned the headlines, Dueck noticed the conspicuous absence of faith. Where was God in the news?
Dueck had spent six years in journalism prior to becoming a mom. But that housecoat prayer, now 20 years old, would prove an inauspicious beginning for the popular television host and newspaper columnist who raises enough money to lease studio and office space in Toronto's Canadian Broadcasting Centre (CBC).
The CBC building, on the corner of Front and John streets, is one of Toronto's most valuable pieces of cultural real estate. Canada lives here. The lobby is plastered with the larger-than-life faces of Canadian broadcasting icons like Rick Mercer of the Rick Mercer Report and Jian Ghomeshi, host of Q. From the lobby windows, visitors glimpse Toronto's CN tower shooting upwards. Across the street, an exhibit of life-size black-and-white photographs captures the cosmopolitan profile of Canada's largest city.
If the CBC—and Canada—live at Toronto's bustling intersection of 250 Front Street West, by sheer providence, so does Lorna Dueck, the journalist who has dedicated herself to mastering "the art of telling the gospel story."
'I Thank God for the Pharisees'
Dueck hosts Context with Lorna Dueck, a half-hour television show entering its third season that explores current affairs from a Christian perspective but has a broad audience in mind. "We don't contrive a faith perspective," says M. Christine MacMillan, World Evangelical Alliance's senior advisor for social justice and interim COO of Media Voice Generation, the charitable organization that produces Context. "We work out the meaning of salvation in contemporary issues."
Context covers heated topics such as Fifty Shades of Grey, the legalization of marijuana, and jihad, and invites guests of various faith backgrounds to explore ideas beyond sound-byte superficialities. "I love the interview format," says Dueck, "and I love featuring guests that don't share my faith perspective."
The Context team operates from the belief that the gospel is made clearer when people are unafraid to ask their critical questions. "I thank God for the Pharisees," says MacMillan. "They trekked along with Jesus, and their questions brought out the richness of the gospel. That's what [Context] does." Every episode begins and ends with Dueck framing the show's content from a gospel perspective. It's winsome yet manages to remain unapologetic about biblical truth.
Moving Closer to Mainstream Media
Dueck had previously partnered with Canada's daily Christian TV program, 100 Huntley Street, to produce Listen Up, a segment similar in intent to Context. But she recalls the day she decided to move closer to Toronto's mainstream media community—and the CBC. Walking past the downtown building that had once housed the offices of the Methodist Church and published its Bibles, Dueck noticed a line of teenagers snaking out its doors, waiting to buy tickets to MuchMusic, Canada's MTV. Once the Wesley building, the building was now owned by one of Canada's largest media companies. It had shed its religious name—and its original mandate.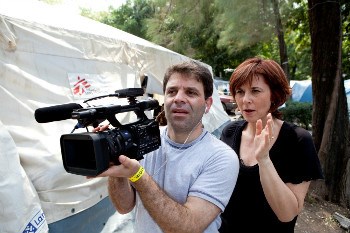 Image: Courtesy of Context with Lorna Dueck
"I realized I had been too comfortable in [my] evangelical world," Dueck says. She describes how she sensed a call to re-establish a noticeable Christian presence in Toronto's downtown.
For the next eight months, Dueck and Media Voice Generation pursued CBC executives to lease them studio and office space at 250 Front Street West. No one seriously entertained their bids.
Too small, too religious, Dueck and her team were told.
Nevertheless, the team persisted. In 2010, Media Voice successfully negotiated a five-year lease with the CBC. Within 30 days, the media charity had raised $1.8 million to secure the lease and to put the necessary financial safety net around what increased production costs would require.
A Christian media ministry had planted itself where Toronto's heart beats. Context was born.
Chaplaincy
The charitable listening that happens onstage at Context with Lorna Dueck isn't only for show. It continues long after taping has ended. As part of what she calls their "chaplaincy to the media," Dueck hosts events in the Context offices to make their team—and mission—visible to the CBC community. Dueck's request to advertise this "chaplaincy" on the front doors of the Context offices was not eagerly welcomed at first. "The presence of a Christian media ministry in a public broadcasting center made stakeholders nervous," Dueck admits.
For the past three years, Dueck and her team have worked patiently to build trust with their CBC neighbors. Presence—or one might say incarnation—is an essential value for Dueck. Once a month, she hosts a monthly chapel service in the Context office open to all. Context calls the service Selah: "the spiritual pause that refreshes." Early this summer, the team advertised and hosted Alpha classes for anyone interested in Christianity. Spiritual seekers don't come in droves, but some do find their way.
"We have a ministry of availability," says Dueck. "Ideally, we want to have eyes and ears to minister to the spiritual needs of the people who work in this industry here in Toronto. We understand their schedules and their pressures, so we're instantly on familiar terrain."
Even if people don't attend the events, there are other reasons why CBC employees visit the Context offices. Over the past year, for example, CBC media executives have rented the boardroom more than a dozen times, trafficking in and out of a space that has been architecturally retrofitted with Christ's hospitality in mind. The walls are hung with Christian artists from Toronto's vibrant arts community, Imago. A Jean Vanier quote invites visitors into the meeting space.
"I notice one big difference walking into the Context offices," says Richard Handler, producer of the CBC radio program Ideas. He self-describes as both a devout agnostic as well as a devoted fan of Dueck's work. "The glad tidings you sense there seem genuine. It's a pleasure to step into that little glass kingdom."
As a CBC insider, Handler understands the inevitable suspicions Lorna and her teams face as Christians in the media. He calls Context's presence in the CBC the equivalent of "sleeping with the enemy."
"CBC's mandate is relentlessly secular," Handler says. "At the CBC, Jesus is rarely mentioned, unless it's part of a story, or on a talk show, as a term conveying exasperation.
"But at Context, it's the real deal."
Credibility
Dueck has steadily built credibility through her network of relationships with CBC producers like Handler and CBC radio hosts like Anna-Liza Kozma. They now routinely share guests and source material. Dueck has also been invited as a guest on some of the CBC's top radio shows and has even served as a replacement for Kozma, hosting CBC's national radio show, Cross Country Check Up.
"One reason Christianity is a phenomenon is because of the power of eyewitnesses telling their stories throughout history. I'm here to continue that record." ~ Lorna Dueck
Dueck leverages her network of relationships for events like the invite-only luncheon she hosted at the Toronto Club this spring. She invited Toronto's biggest media giants to hear Mark Burnett and Roma Downey, producers of the Bible television miniseries, talk about the show as well as share their testimonies. Afterward, The Globe and Mail published a double-page spread on the miniseries. "We are thrilled that we helped the arts page understand and notice that broader story," says Dueck.
Dueck has long been a known commodity at The Globe and Mail. In 2001, after she had interviewed a Canadian politician for 100 Huntley Street, a Globe and Mail editor approached her about writing a monthly faith column. She later created the Globe's Faith Exchange panel, an online forum of interfaith dialogue.
Currently, Dueck is pursuing a master's in evangelism and leadership at Wheaton College. Although she might have easily pursued a graduate degree in journalism (she finished her undergraduate degree in religious studies years ago), she insists, "My call in life is to tell God's story."
"One reason Christianity is a phenomenon in the world today is because of the power of eyewitnesses telling their stories throughout history," Dueck says. "I'm here to continue that record."
MacMillan, consultant for Context and a longtime mentor to Dueck, calls her "a thoroughbred racehorse of broadcasting."
"She has courageously taken the way of the cross through media."
Jen Pollock Michel, a regular contributor to Her.meneutics, has written for This Is Our City about Toronto playwright Ins Choi. She has a book forthcoming on desire from InterVarsity Press.
MORE FROM CHRISTIANITY TODAY