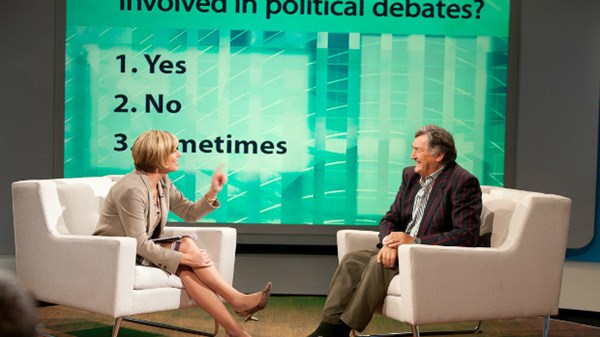 Image: Courtesy of Context with Lorna Dueck
'Let Me Impact the Media for You'
How Lorna Dueck is embodying a winsome apologetic on Canadian TV.
7.30.13
"Let me impact the media for you," Lorna Dueck prayed nearly 20 years ago. Dressed in her housecoat, she had awoken to another day's responsibilities as mother to two young children. But on that particular morning, as she scanned the headlines, Dueck noticed the conspicuous absence of faith. Where was God in the news?
Dueck had spent six years in journalism prior to becoming a mom. But that housecoat prayer, now 20 years old, would prove an inauspicious beginning for the popular television host and newspaper columnist who raises enough money to lease studio and office space in Toronto's Canadian Broadcasting Centre (CBC).
The CBC building, on the corner of Front and John streets, is one of Toronto's most valuable pieces of cultural real estate. Canada lives here. The lobby is plastered with the larger-than-life faces of Canadian broadcasting icons like Rick Mercer of the Rick Mercer Report and Jian Ghomeshi, host of Q. From the lobby windows, visitors glimpse Toronto's CN tower shooting upwards. Across the street, an exhibit of life-size black-and-white photographs captures the cosmopolitan profile of Canada's largest city.
If the CBC—and Canada—live at Toronto's bustling intersection of 250 Front Street West, by sheer providence, so does Lorna Dueck, the journalist who has dedicated herself to mastering "the art of telling the gospel story."
'I Thank God for the Pharisees'
Dueck hosts Context with Lorna Dueck, a half-hour television show entering its third season that explores current affairs from a Christian perspective but has a broad audience in mind. "We don't contrive a faith perspective," says M. Christine MacMillan, World Evangelical Alliance's senior advisor for social justice and interim COO of Media Voice Generation, the charitable organization that produces Context. "We work out the meaning of salvation in contemporary issues."
Context covers heated topics such as Fifty Shades of Grey, the legalization of marijuana, and jihad, and invites guests of various faith backgrounds to explore ideas beyond sound-byte superficialities. "I love the interview format," says Dueck, "and I love featuring guests that don't share my faith perspective."
MORE FROM CHRISTIANITY TODAY