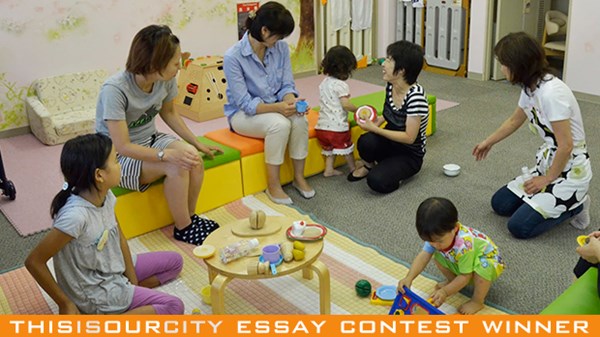 Image: Courtesy of Kathy Oyama
Meeting Our Tokyo Neighbors with Open Doors
In a culture suspicious of institutional faith, our church has found quiet ways to serve.
7.22.13
It was Sunday morning, and our church was preparing for a busy day ahead. At the park across the street, preparations for the Neighborhood Fall Festival were under way. Scores of people dressed in hapi coats were getting ready to carry the mikoshi (portable shrine) around our community and invite neighbors to a party in the evening.
Suddenly, a downpour unleashed. The leader of the community association called us, fellow board members, asking for help: Could residents take shelter in our lobby? We opened the doors and the crowd flooded in, dragging in dirt and mud. Upstairs the morning worship service continued, most people unaware of the group gathered several floors below them. By the time the last song was sung, the rain had stopped and the lobby held only the belongings some had left behind for safekeeping. Another evening downpour brought the final bash from the park back to the lobby. This was not what we had planned, but it seems it was part of God's plan.
The next day, our church staff sat waiting in the play center that we had opened a few months prior to serve young families in our community. Our residential neighborhood in Nerima-ku, Tokyo, is unique. We are one of only two regions in the city with a growing number of small children in a country whose population is aging and declining. This reality, and the vision of a recently retired church member who worked for decades in public childcare, led our church to open the center.
We were waiting for representatives from our local municipal government to arrive. In their hands rested the decision to grant or deny us accreditation and funding for the center. We had followed their instruction rigorously, and an inspection team had given us an initial positive response after visiting our site. But a sense of foreboding haunted us that day. Why were several officials coming to talk to us personally?
Meanwhile, the community association leaders had come over to thank us for opening our space the day before. Then they learned that several municipal officials were expected, probably to deliver bad news. So they joined us in waiting.
MORE FROM CHRISTIANITY TODAY