Is It God's Will?
The Leader and Decision-Making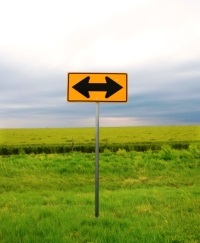 As a leader—of myself, of my children, of a ministry—I find no greater source of angst than making difficult decisions. I wonder and pray and talk with others about whether or not plan A or plan B or starting this and quitting that is "God's will."
The phrase itself has become so overused—and misused—that I wonder if "God's will" is just "the best plan I could think of" dressed up in spiritual clothing. Can we really know God's will for our decisions? Should I expect God to give specific guidance in every decision I need to make?
Searching Scripture reveals five simple truths we can rely on when making decisions:
1. Wisdom Is a Promise
James 1:5 says if we lack wisdom, we should "ask our generous God, and he will give it to you. He will not rebuke you for asking." Proverbs 2 promises that if we seek wisdom, searching for it "like hidden treasures," then we will find wisdom from God (verses 2-5). When I have a difficult decision to make, it is helpful to remember that God doesn't just suggest that he can help—he promises he will. I can draw on that promise in prayer and expect God to come through.
2. Humility Is a Prerequisite
"Who is this that questions my wisdom with such ignorant words?" So began God's inquiry into Job's complaints about the course of his life (Job 38). The first thing God told Job was that he spoke without full understanding. Proverbs 11:2 says, "With humility comes wisdom." We cannot assume that our instincts and leanings are always right. My own desire for how things "should be" clouds my judgment and can lead me to make self-promoting or self-protecting choices. Seeking God—not just my best plan—begins with a quiet humility and an open mind.
3. God's Understanding Always Trumps Our Understanding
Proverbs 3:5 says, "Trust in the Lord with all your heart; do not depend on your own understanding." In Scripture, God's understanding is often contrasted with our own. This guarantees that there will be times in life where we come to a decision that doesn't make perfect human sense. If we believe God's understanding is always greater than our own, then we are willing to accept answers that are outside our comfort zone. This opens us up to receiving God's direction even when we don't like what he says!
4. We All Need Counsel
"Plans go wrong for lack of advice," Proverbs 15:22 reminds us. Even when we earnestly seek the Lord, running our decisions by other wise believers is important. I recently considered a job change and consulted an older couple for counsel. The questions they asked were challenging—and just what I needed to sift out my own desires and feelings from a true God-given call. A wise leader is not only in a deep relationship with God, but also in deep friendships with a trusted circle of advisors.